Exclusive: China's Success in Wooing Companies Has Created Strategic Headache for U.S.
A long-standing Chinese strategy to attract U.S. multinational enterprises has met with success for Beijing, with operations of such companies growing at an unprecedented rate over 17 years in a trend that could prove a strategic headache for Washington as ties worsen with the People's Republic, a report obtained exclusively in advance by Newsweek shows.
The report was compiled by the U.S.-China Economic and Security Review Commission, an entity created and mandated by Congress in 2000 to report on and provide recommendations regarding how the bilateral trade and economic relationship between the United States and China affects U.S. national security. The report's findings detailed a growing interdependence between the U.S. and China between the turn of the millennium and 2017.
Within this period, the number of U.S. multinational enterprise affiliates in China grew by 227 percent, assets by 1,427 percent and sales by 1,325 percent, according to the report.
These enterprises "have leveraged China's cheap labor force, large economies of scale, low transportation costs, and concentration of global supply chains to build centers of production for global exports and serve China's growing consumer class," the report said. It added that the enterprises' "manufacturing in China focuses mostly on the production of computers and electronic products and, increasingly, chemicals."
"These industries not only contribute to U.S. companies' global economic competitiveness but also figure prominently in China's national development ambitions," the report found.
The downside for the U.S., however, is that these operations "may indirectly
erode the United States' domestic industrial competitiveness and technological leadership relative to China," according to the report. This trend may especially hurt in the cited industries, which the report said could "unwittingly enable China to achieve its industrial policy and military development objectives."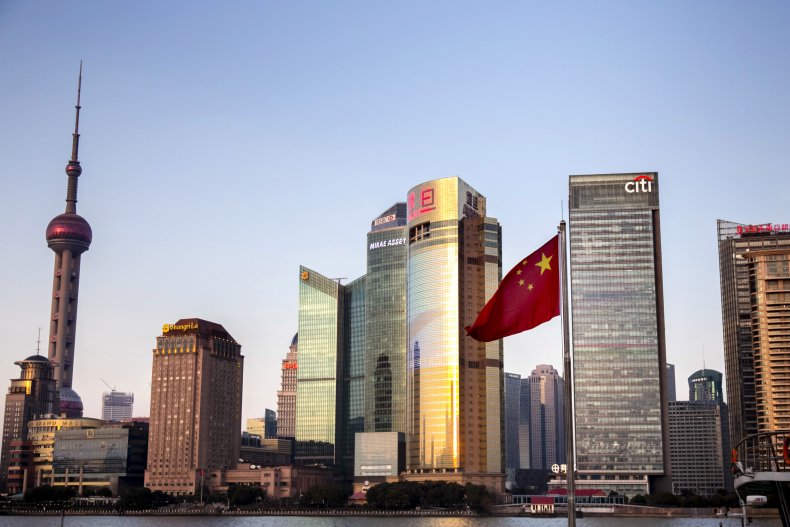 The report examined how China's massive domestic market—consisting of the world's largest population—as well as restrictive government policies designed to incentivize local production have helped fuel the flight of U.S. multinational enterprises into the country, where they employ more people than in any country outside the U.S. China also was the No. 1 destination for employment for these companies across every manufacturing category, with the exception of food and transportation equipment.
In both food and accommodation services, a rising Chinese middle class helped raise the country to second place in food and accommodation, data showed.
The report highlighted that China also represents the fourth-largest destination for U.S. multinational enterprise research and development expenditure, focusing especially on the production of computers and electronic items but also diversifying to include an emphasis on the improved manufacture of chemicals such as pharmaceuticals, the report showed. Capital expenditure for these U.S. businesses revolved around establishing production sites for technology products.
Throughout the first 17 years of the 21st century, China grew from the 20th-highest source of U.S. multinational affiliate value added in 2000, at $5.5 billion, to the fifth-highest in 2017, at $71.5 billion, according to figures in the report.
In an appeal to lawmakers, the report said, "Congress should consider approaches to preserve and protect U.S. innovative capacity and leadership as strategic
competition between the United States and China heightens." A failure to do so, the authors warned, "poses a risk of solidifying dependencies for selected industries that bear on U.S. national security" and "threatens to heighten the cost of supply chain diversification."
The intertwining of the U.S. and Chinese economies has played out since the late Chinese leader Deng Xiaoping began to open the country nearly three decades ago, but its effects have been particularly noted in recent years as Washington has adopted a more suspicious stance toward Beijing's rise. This skepticism has evolved into hostility as President Donald Trump took on his Chinese counterpart, Xi Jinping, in a trade war of competing tariffs, a conflict they were moving toward settling just as the coronavirus pandemic began to consume the global economy.
While Trump has said the U.S.-China phase one trade agreement reached in January remains intact, he has threatened a "decoupling" from his top competitor if their arrangement does not produce an environment he considers fair for U.S. businesses to compete in. COVID-19 chaos has emboldened a growing chorus of hawkish voices in Washington, though some experts have stressed strategic cooperation as a better route.
But geopolitical challenges also hinder U.S.-China ties, especially as tensions rise across flashpoints in Asia. Beijing's growing control in Hong Kong, a semi-autonomous financial hub and former U.K. colony given back in 1997, has also antagonized Western leadership looking to distance the territory from China's ruling Communist Party.
The U.S. has already responded by restricting visas to Chinese officials deemed to be directly involved in the passage of a recent national security law targeting separatist activity in Hong Kong. The U.S. has also restricted the export of certain defense equipment and sensitive dual-use technologies to the special administrative region.
Beijing, meanwhile, has announced retaliatory visa restrictions, and on Tuesday Foreign Ministry spokesperson Zhao Lijian threatened to take further "necessary retaliatory measures to resolutely safeguard its national interests."