Chinese state media has reacted defiantly to President Donald Trump's accusation that Beijing is tampering in the 2018 midterm elections in favor of Democratic candidates.
Speaking at the United Nations (U.N.) General Assembly in New York, Trump suggested the Chinese Communist Party is trying to undermine the Republican Party because Beijing is scared of his tough stance on tariffs and trade.
Trump also suggested the Chinese government—and President Xi Jinping in particular—respects him because of his "very, very large brain."
But an op-ed in the state-run Global Times did not display much respect for the strongman leader, suggesting his attacks on China were merely an effort to distract voters from the damage his party is inflicting on the American people and economy.
"Trump's accusations are part of his creative campaign strategy to connect China with the U.S. midterms," the op-ed read. "His goal here is to turn the issue into a game by targeting China to help him and the GOP attract more votes."
Trump tweeted last week that China was purposefully targeting farmers, ranchers and industrial workers "because of their loyalty to me." However, the Global Times argued Beijing "has few options but to implement countermeasures against agricultural and industrial products" given Trump's belligerence towards Chinese trade.
The op-ed said any resultant hardships for Americans is the fault of the Republican Party, not the Chinese Communist Party. "The White House needs to be upfront with its own party," it said, warning, "the more intense this trade war becomes, the more Republican voters will find themselves the targets of China's retaliation while diminishing Trump's reelection aspirations for 2020."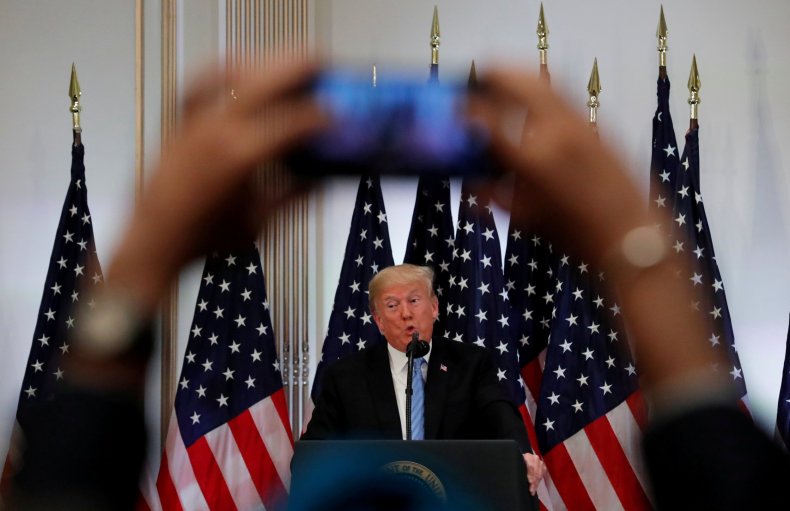 "China did not initiate this trade war, but it will not hesitate to seek revenge every time trade friction upgrades occur," the article continued. The op-ed suggested that in reality, "people currently in office at the White House are hitting out at their own supporters while placing the blame on China."
Trump's speech was clearly written for a domestic audience, and the Global Times warned the president, "Fabricated stories and slogans designed to trick American voters will not have the same effect with U.N. members." Indeed, Trump's self-aggrandizing speech at the General Assembly on Tuesday was met with laughter from diplomats.
Chinese Foreign Minister Wang Yi immediately dismissed Trump's concerns about election meddling. "The principle of non-interference with the internal affairs of other countries has been and will always be a cornerstone of China's foreign policy," Wang told the U.N. Council soon after Trump's speech.
The Global Times also took aim at the state of American democracy, arguing that if countries like Russia and China can meddle in elections, "then the system itself is obviously nothing short of a farce."