Prototype military drones and the latest in People's Liberation Army Air Force weaponry are among the homegrown hardware currently on display at a highly anticipated air show in southern China.
The biennial China International Aviation and Aerospace Exhibition in Guangdong province—also known as the Zhuhai Airshow—is the largest of its kind in the country and takes place following an unusual three-year gap due to the pandemic. Remaining public health measures mean the number of foreign visits were also scaled down for the 13th edition, which is taking place between September 28 and October 3.
The Zhuhai Airshow is where current and future PLAAF hardware—increasingly domestically designed and manufactured—is unveiled to the public. Chinese President Xi Jinping has put his country on a course of military modernization that will last until the middle of the century, when he expects the PLA to become a world-class fighting force.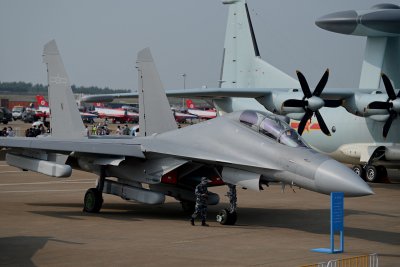 Among the warplanes and missiles to officially debut included the long-expected J-16D, an electronic warfare variant of the PLAAF's J-16 tandem fighter aircraft built by Shenyang Aircraft Corporation. The J-16D was seen with multiple radar-jamming pods alongside its conventional missiles. Analysts say they are likely to be integral to future aircraft fleets to counter air defenses and enemy communications jamming.
China's J-16s fly regular sorties into Taiwan's air defense identification zone and are also used as interceptors to shadow U.S. military aircraft operating off its coast.
In footage aired by China's state broadcaster CCTV, the Chinese air force's fifth-generation J-20 stealth fighter—fitted with new homemade engines by the Chengdu Aircraft Industry Group—took part in aerobatics and flybys.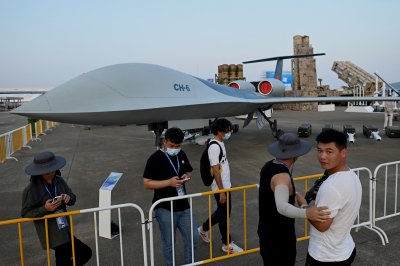 But some of the most notable new weaponry came in the field of unmanned aerial vehicles. These include two prototype combat drones developed by the China Academy of Aerospace Aerodynamics (CAAA), a research and development unit of the China Aerospace Science and Technology Corporation (CASC).
According to Communist Party newspaper The Global Times, the larger CH-6 drone has an endurance time of 20 hours at 50,000 feet. It can carry a 1,000-pound payload of air-to-ground and anti-radiation missiles as well as bombs. The state-owned tabloid said on Monday that the UAV would serve reconnaissance, early warning and anti-submarine warfare roles.
The CH-6 is a "high-altitude, high-speed, long-endurance, multipurpose unmanned aerial vehicle (UAV) system aimed at high-end arms and dual-use markets," said The Global Times.
A smaller CH-817 drone, meanwhile, was unveiled with a flight time of only 15 minutes but weighing a mere 28 ounces. The paper said the vehicle could be operated by individual soldiers or launched from larger drones.
China used the last Zhuhai Airshow in 2018 to unveil the Tianhe core module of its Tiangong space station. This year's exhibition included new aerospace technology designed by the Shanghai Academy of Spaceflight Technology and the China Academy of Launch Vehicle Technology—both subsidiaries of CASC.
According to the party newspaper, the former introduced a new replenishment aircraft that can be used to refuel satellites and increase their operational lifespan, while the latter unveiled a manned heavy-lift launch vehicle that could one day feature in China's manned lunar missions.