China Says U.S. Will Embarrass Itself by Platforming Taiwan at Joe Biden's Summit
China pushed back against the United States on Wednesday after the Biden administration announced a list of participants for December's democracy-themed summit that included Taiwan.
Of the State Department's list of 110 participants, Taiwan is the only government with which the U.S.'s has no formal diplomatic relations.
At a regular press briefing in Beijing, China's Foreign Ministry spokesperson Zhao Lijian said Beijing "firmly opposes the United States' inviting Taiwan to participate in the so-called "Leaders' Summit for Democracy.''
The Chinese government claims the island is a breakaway province. The U.S., meanwhile, takes no position on sovereignty over Taiwan, considers its political status undetermined, and wants differences across the Taiwan Strait to be resolved by peaceful means, "consistent with the wishes and best interests of the people on Taiwan."
Zhao added: "We solemnly urge the U.S. to abided by the 'one Chin' principle and the China-U.S. Three Joint Communiques, and stop providing a platform to 'Taiwan independence' forces to serve their purpose.
"Those who provide a platform to 'Taiwan independence' forces will only embarrass themselves. Those who join 'Taiwan independence' forces in playing with fire will ultimately burn themselves."
Zhao said democracy is "not a patent that only belongs to a few select countries."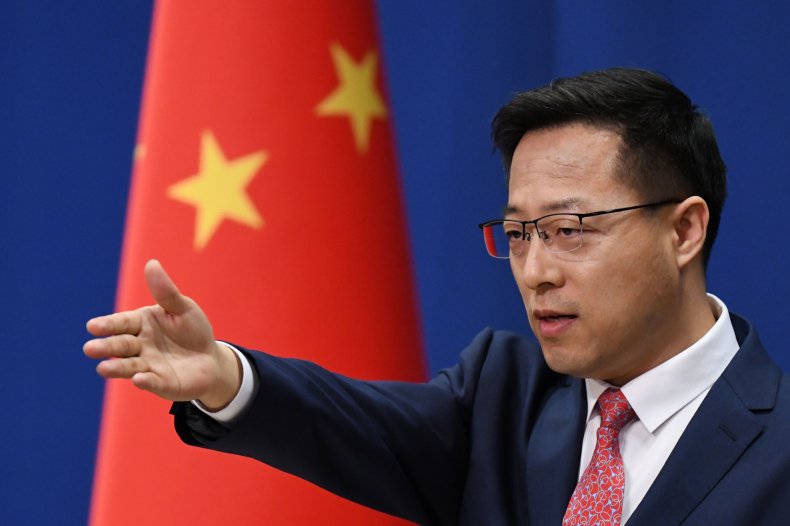 Taiwan says it is already an independent country under its formal name, the Republic of China—a decades-long U.S. ally until 1979. The administration of Taiwanese President Tsai Ing-wen was elected on a mandate of maintaining the "status quo," which includes adhering to majority public opinion in not declaring de jure independence under the name "Taiwan."
China, however, considers efforts by Taiwan to expand its international space to be subtle moves toward independence, despite the political threshold for constitutional change on the island remaining very high. That is, de jure Taiwan independence would be difficult for any leader to achieve.
Senior Biden officials including the White House's Indo-Pacific coordinator Kurt Campbell—a veteran Asia hand—have made clear the official U.S. position of not supporting Taiwan independence, in line with its policy of neutrality. This was also elaborated on last week by President Biden himself, when he said the U.S. isn't "encouraging" independence. "Let them make up their mind," he added.
At a July event with the Asia Society, Campbell said the Biden administration believes "Taiwan has a right to live in peace," and that the U.S. supports the island's "dignity."
The word "dignity" makes frequent appearances in the public addresses of Taiwan's Tsai, who seeks recognition for her country's achievements on the international stage.
On Monday, Taiwan Foreign Minister Joseph Wu told lawmakers in the island's legislature that U.S.-Taiwan ties and U.S. support for Taiwan would not change, whatever developments are to come in broader U.S.-China relations.
Last Thursday, Tsai's top aides described relations with Washington as being in their strongest form ever. Her national security adviser, Wellington Koo, told lawmakers that mutual trust with the U.S. was "very high," and that the two governments are in communication on a daily basis.