China Asks for 'Rational' Policies From U.S. After Biden Official's Remarks
China has said it wants "rational and pragmatic" policies from the United States amid increased competition between the two powers for a leadership role in the Indo-Pacific.
Kurt Campbell, the White House coordinator for the Indo-Pacific, described his astonishment at China's assertiveness and determination to reshape the international order in its favor during a virtual Asia Society event on Tuesday.
A veteran diplomat who served in the Obama administration, Campbell also issued clarifications of U.S. policy on Taiwan at a time of rising tensions over the democratic island.
The U.S. supports a "strong unofficial relationship with Taiwan," Campbell said, before adding: "We do not support Taiwan independence."
China's Foreign Ministry responded to Campbell's remarks by saying Washington should focus on cooperation, rather than on the differences between the two countries.
"China has always approached its relations with the U.S. on the principles of non-conflict, non-confrontation, mutual respect and win-win cooperation," ministry spokesperson Wang Wenbin said in Beijing on Wednesday.
"We hope the U.S. will meet China halfway, adopt a rational and pragmatic China policy, focus on cooperation, manage differences and promote the healthy and stable development of China-U.S. relations," he added.
On Taiwan, Wang said Beijing's position was "consistent and clear"—the island is part of China's territory. Washington should remain cautious on the subject, lest it "seriously undermine China-U.S. relations," he added.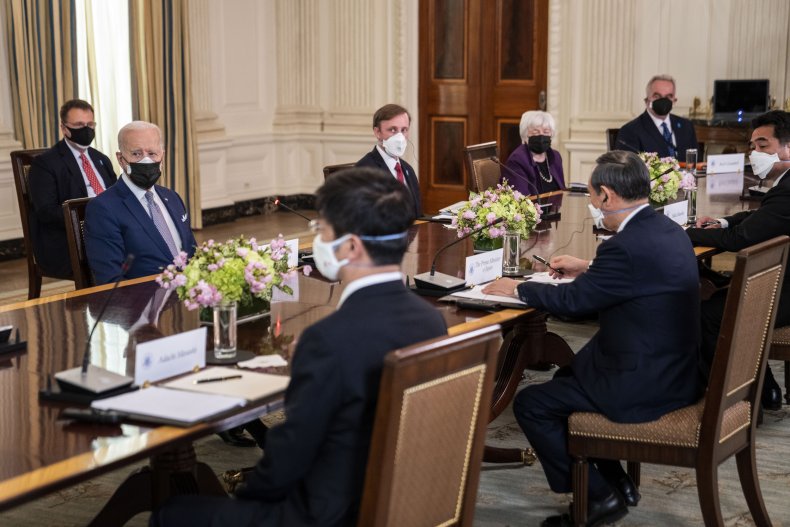 Campbell—whose role as Indo-Pacific coordinator sits within the National Security Council, led by Jake Sullivan—told the Asia Society he was "astonished" when he returned to government and found a "very assertive, determined China that wants to play the leading role on the global stage."
Beijing wants to "reshape the operating system of Asia" and replace principles including freedom of navigation and the peaceful resolution of disputes with a different system that would favor China, he added.
Following early engagements in Asia and Europe, the Biden administration has already seen anxiety among allies and partners about China's economic coercion, Campbell said. This includes trade restrictions placed on Australia last year.
The senior White House official gave the clearest indication yet that the Chinese leadership believes the U.S. can be surpassed and ultimately replaced. This view is emerging in Asian countries such as Singapore and China, he said.
"The more ideological people around President Xi do believe the United States is in a hurtling, fundamental decline," he added.
Campbell said the U.S. intended to dispel this notion and make clear that "rumors of our decline are greatly exaggerated."
Campbell said he hoped Washington and Beijing could reach a point of mutual recognition, "that the Indo-Pacific and the world is big enough for two great powers."
But he added: "Some of what we've seen from President Xi and his colleagues suggests that China's ambitions surpass that."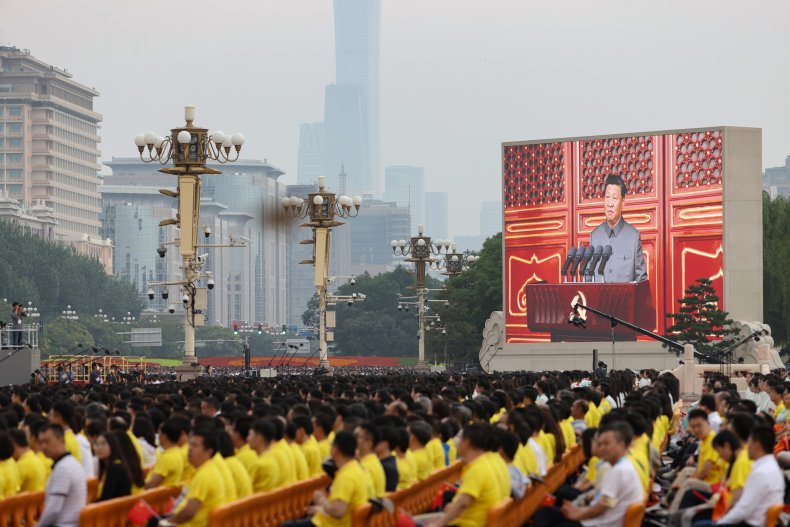 Following the U.S. withdrawal from the Middle East, Asia will be the central focus. This shift is happening throughout government, including most notably at the Pentagon, Campbell said.
Intense and sustained engagement with allies in Europe and Asia is now "top of the list," he added, especially in Southeast Asia, which many critics say the U.S. has neglected at a time of growing Chinese influence in the region.
The U.S. shift to the Indo-Pacific would be a generational task and would experience a "significant period of refinement," as well as uncertainty and tensions with China despite occasional "alignment" on issues of mutual interest, according to Campbell.
The Asia Society event was hosted by its president, Kevin Rudd, former prime minister of Australia.
Asked about the prospects of improved relations between Canberra and Beijing, Campbell told Rudd he feared China might not have the "strategic thinking" to step back from its "Wolf Warrior" diplomacy, which has been characterized by aggressive rhetoric and unofficial trade bans on Australian goods.
"I see a harshness in their approach that appears unyielding," he said.
Campbell, who is familiar with leadership figures in Taiwan including President Tsai Ing-wen, told the panel that the U.S. fully recognized and understood the "sensitivities" surrounding the island's de jure independence.
"We do believe that Taiwan has a right to live in peace," he said. "We've tried to send a very clear message of deterrence across the Taiwan Strait."
Campbell also explained that U.S. concerns over the crackdown on democratic freedoms in Hong Kong was related to deterrence in the Taiwan Strait.
"One of the reasons why the international community, and the United States, is so clear about our dissatisfaction by what China has undertaken in Hong Kong is a clear sense that quietly behind the scenes, Chinese interlocutors have studied and tried to make an assessment: if we can do this, what's the international response? And what does that tell us about what the response would be with respect to Taiwan?" he said.
Asked about the possibility that China might attempt to take Taiwan by force, Campbell said: "I just want to underscore that such an effort would be catastrophic."
"[W]e need to signal when China has taken steps that are completely antithetical to international order," he added, saying the international community needed to "signal that accordingly."
He concluded: "[I]t's a dangerous balance, but it's a balance that must be maintained. The United States has extraordinarily important interests in the maintenance of peace and stability."
Campbell said other countries were coming to recognize that peace and stability in the Taiwan Strait was "in the profound interests of international stability."
Newsweek has contacted the White House for comment on the foreign ministry spokesman's remarks.