China Vs Japan: Tokyo to Get First Aircraft Carrier Since Ww2 Amid Growing Tensions
Japan will begin work on its first aircraft carrier since World War Two as Tokyo nervously eyes Chinese naval expansion in the Pacific.
New defense guidelines—set to be released next month—will include a plan for Japan to acquire at least one aircraft carrier, The Guardian reported.
Japan's post-World War Two constitution specifies that the country's military may only be used in a defensive role, a limitation designed to avoid a return to the country's wartime expansionism.
Past governments have refused to consider carrier acquisitions, arguing that such vessels could be interpreted as inherently offensive weapons, given their capacity for force projection far from homeland bases. Prime Minister Shinzo Abe has repeatedly voiced his desire to change the constitution to remove existing limitations on the role of the Japanese military.
The Japan Times suggested the government will upgrade at least one of its two existing 813-foot Izumo-class helicopter carriers to allow it to carry and launch fighter jets. The ships can currently host 14 helicopters. The class's lead ship, the JS Izumo, is the first vessel that will be modified.
"It's desirable that the Izumo can be used for multiple purposes," defense minister Takeshi Iwaya told reporters this week, according to The Guardian.
The news comes alongside Japan's fresh order of American stealth fighter jets—100 Lockheed Martin F-35 Lightning II aircraft at a cost of more than $8.8 billion. This is in addition to the 42 planes already purchased in the country's initial F-35 order.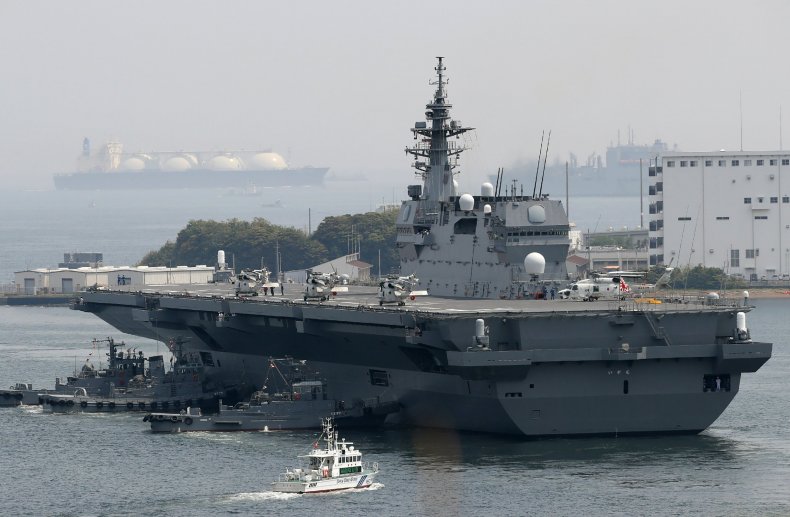 The new order comes around two months after Abe told President Donald Trump that American military equipment would be "important to strengthen Japan's defences."
In its annual defense white paper published in August, Japan noted that historic rival China has embarked on its own aircraft carrier program to create a potent and far-reaching naval force. Earlier this week, state-backed Chinese media confirmed work on China's third aircraft carrier—and its second to be produced within the country—is underway.
China's rapidly-modernizing navy is vital in allowing Beijing to address strategic goals in the Pacific. These include territorial disputes with neighbors in the South China Sea, East China Sea and the question of sovereignty in Taiwan.
China and Japan have a territorial dispute of their own. China claims ownership of the Japanese-administered Senkakus, uninhabited islands in the East China Sea. Beijing calls the isles the Diaoyu.
The Mainichi Shimbun newspaper suggested Japan's new aircraft carriers would be used to defend the Senkakus and other remote islands to the south west of the country.
Beijing has shown it is willing to employ unusual and belligerent methods to enforce its territorial claims. Its use of man-made islands in the South China Sea has damaged relations with Malaysia, Vietnam, Brunei, the Philippines and Taiwan, all of whom have overlapping claims.
The creation and militarization of this island network has also created tension between Beijing and Washington. U.S. air and naval forces regularly conduct "freedom of navigation" operations to remind China it considers much of the area international waters.