China 'Wantonly Engaged in Military Aggression,' Taiwan Premier Warns Amid Record Incursions
Taiwan has reported that 38 Chinese aircraft entered the island's air defense identification zone (ADIZ) on Friday, marking the largest daily Chinese incursion into the area.
The Taiwanese military used aircraft to warn away the Chinese planes, and deployed missile systems to monitor them, Reuters reported on Saturday.
"China has been wantonly engaged in military aggression, damaging regional peace," Taiwan Premier Su Tseng-chang told reporters, according to the news organization.
In a tweet on Friday, Taiwan Foreign Minister Joseph Wu wrote: "Oct. 1 wasn't a good day. The #PLAAF flew 38 warplanes into #Taiwan's ADIZ, making it the largest number of daily sorties on record. Threatening? Of course. It's strange the #PRC doesn't bother faking excuses anymore."
PLAAF refers to the People's Liberation Army Air Force.
The incursion came on the day Beijing celebrated the founding of the People's Republic of China, 72 years ago.
"PLAAF sorties are pretty routine at this point, but stepping up bomber flights on a major PRC (People's Republic of China) holiday underscores that this is political warfare and part of a massive coercion campaign," Drew Thompson, a visiting senior research fellow at the Lee Kuan Yew School of Public Policy at the National University of Singapore told CNN.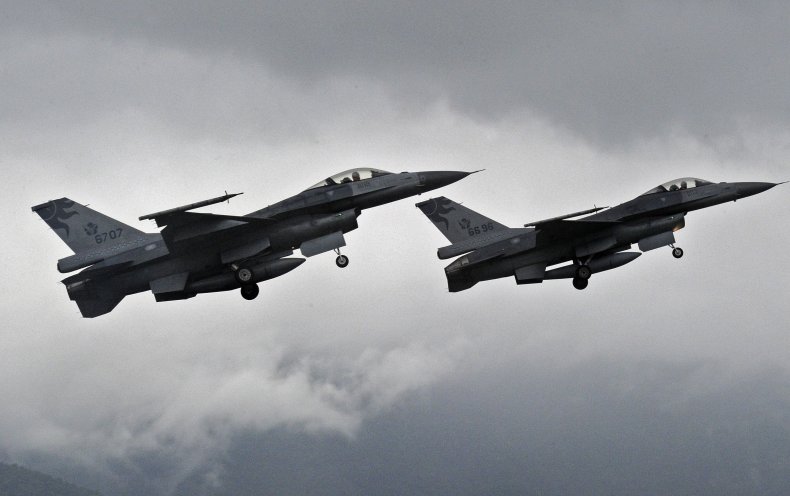 Taiwan has been publicizing PLA Air Force sorties into its air defense identification zone for the last 13 months. As Newsweek previously reported, it saw its highest number of monthly Chinese flights on record in September, when it recorded 117 incursions by Chinese military aircraft including nuclear-capable bombers, fighter jets and reconnaissance planes.
The previous record occurred in April, when Taiwan saw 107 incursions.
China views Taiwan as part of its territory, and earlier this year, warned the island that "independence means war" after it increased military activities near the island.
"Xi Jinping has instructed the PLA to heighten its readiness and prepare for warfighting under 'realistic fighting conditions.' Hence, it is relatively unsurprising that the PLA continues to fly into Taiwan's ADIZ as part of realistic training and preparation for armed conflict," Derek Grossman, a senior defense analyst at the RAND Corporation told CNN.
Last month, Chinese state media warned that Taiwan would face "severe" military and economic consequences if Washington allowed the self-ruled island to change the name of its representative office in the U.S.
The Biden administration has considered allowing the office to change its name from the "Taipei Economic and Cultural Representative Office" (TECRO) to the "Taiwan Representative Office."