China's Military Aircraft Flights Near Taiwan Hit Monthly Record High
The return of a single Chinese maritime patrol aircraft to the skies off southwestern Taiwan on Thursday marked the end of another month in which People's Liberation Army (PLA) activity reached new highs in the region, but not every flight is a deliberate warning to the island's democratic government, experts say.
Taiwan's Defense Ministry has been publicizing PLA Air Force sorties into its air defense identification zone for 13 months. An ADIZ is a self-declared airspace not regulated under international law, and a part large of Taiwan's zone extends into the Chinese provinces of Fujian, Zhejiang and Jiangxi, even though it only concerns itself with activity that occurs on its side of the Taiwan Strait median line.
As of September 30, Taiwan had logged 117 ADIZ incursions by Chinese military aircraft including nuclear-capable bombers, fighter jets and reconnaissance planes. It's the highest monthly figure on record, surpassing the 107 observed in April. It means Taiwan's air force has detected and sought to expel 522 PLA flights into the air defense zone since the start of the year, compared to its estimate of 380 sorties for the whole of 2020—itself a record at the time.
It's been described as the most alarming escalation of China's military coercion since the Taiwan Strait Crisis of the mid-1990s, although a defense official told Newsweek there were no complete records of PLA aircraft sorties prior to September 2020, when the activity intensified following visits to Taipei by Donald Trump administration officials, Alex Azar and Keith Krach, the most senior U.S. cabinet-level officials to set foot on the island in over four decades.
Commentators including Taiwanese military researchers have tried to identify links between PLA activity near Taiwan and signals sent by China's political leadership. Last Thursday, a day after Taipei submitted its application to join the Comprehensive and Progressive Agreement for Trans-Pacific Partnership (CPTPP) trade bloc, 24 Chinese warplanes buzzed the skies south of the island. After Joe Biden and other G7 leaders mentioned Taiwan in their communique in June, Taiwan said it scrambled jets to head off 28 planes—a single-day record that still stands today.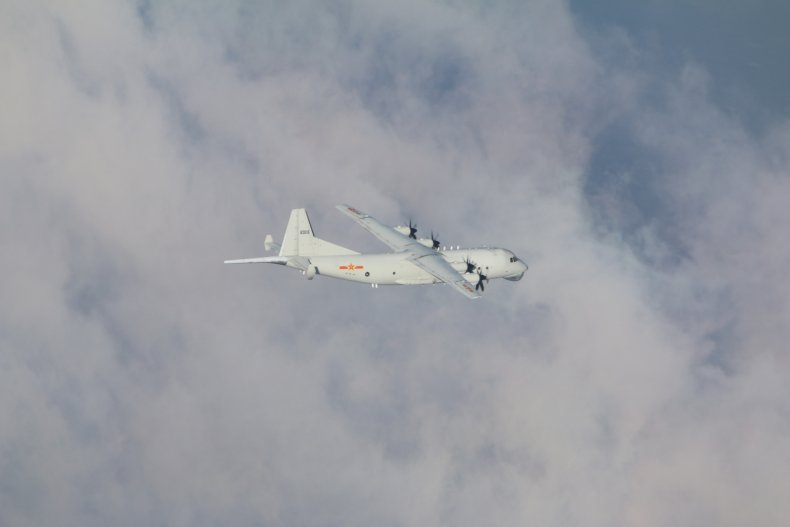 But these patterns don't always hold. July—the quietest month on record with just 17 ADIZ sorties and zero fighter aircraft—would've offered Beijing plenty of opportunities to use the PLA for political signaling.
In the first days of July, an official in Tokyo intimated that a Chinese attack on Taiwan could trigger a collective response from Japan and the United States. The following week, Japan linked Taiwan's survival to its own security in an annual defense white paper. A few days later, China accused the U.S. of trespassing in its airspace after a U.S. Air Force cargo plane carrying items for American diplomats landed briefly in Taipei.
Later in July, Taiwan and Lithuania announced plans to open de facto embassies in each other's capitals, and a U.S. Navy destroyer sailed through the Taiwan Strait for what was then the seventh time in 2021. Yet on each of these occasions, PLA patrols were either entirely absent or flew in ones and twos.
During a lecture for Harvard's Fairbank Center for Chinese Studies, cross-strait policy expert Bonnie Glaser, who is director of the Asia Program at the German Marshall Fund think tank, focused on the location of PLA flights in what is essentially international airspace.
"They're not flying over Taiwan. They're not even flying within Taiwan's territorial airspace, within 12 nautical miles of its shore," she said. While some formations are specially arranged to fly into Taiwan's ADIZ, Glaser added, much of the activity falls under PLA Air Force annual training plans.
This is an assessment shared by the defense establishment in Taipei. During a legislative hearing on Monday, Taiwanese Defense Minister Chiu Kuo-cheng said China had been conducting military exercises between July and September.
He said activity would also spike whenever the PLA deployed planes to shadow foreign military aircraft or vessels appearing in areas such as the Taiwan Strait or the East and South China seas. Chiu agreed there exists a political dimension to the Chinese maneuvers but said he was focused on military aspects including China's aim to "familiarize itself with the area as part of preparedness training."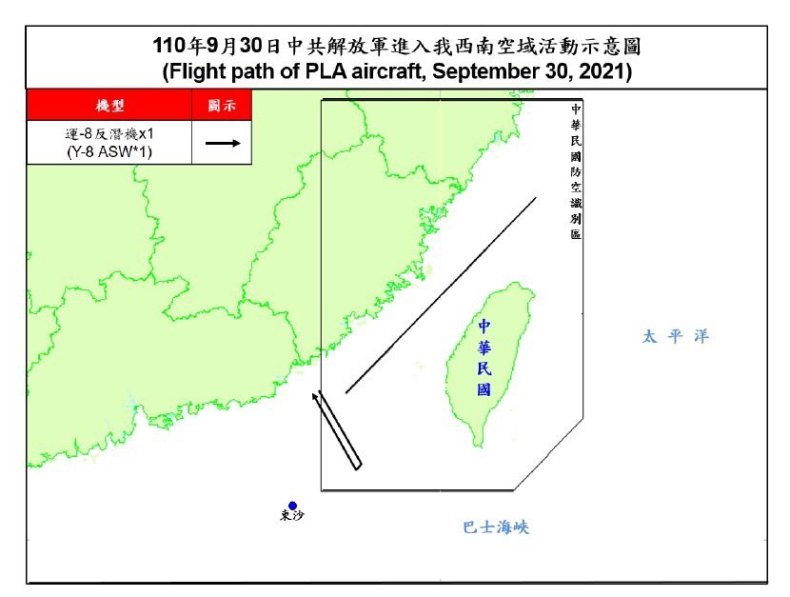 Data compiled by Washington, D.C.-based defense analyst Gerald Brown shows China's Y-8 anti-submarine warfare maritime patrol aircraft making the most frequent flights into Taiwan's ADIZ since last year, followed closely by PLA Air Force J-16 strike fighters, likely serving as interceptors or escorts. His analysis of the activity concludes similarly to that of Glaser and Chiu.
"We risk falling into the trap of attributing it only to signaling," Brown said. "It certainly is sometimes, but it doesn't necessarily always correlate with signaling. A lot of the times they're likely simply training, gathering intelligence, etc."
In recent interviews with Newsweek, Su Tzu-yun, a fellow at the Institute for National Defense and Security Research in Taipei, has stressed the strategic importance—to China and the U.S.—of the deep-water Bashi Channel, a waterway south of Taiwan connecting the South China Sea to the Western Pacific.
It's also in this area that U.S. reconnaissance planes often appear, and where Taiwanese lawmakers are particularly concerned by PLA flights that appear to cut directly through the space between Taiwan's southern coastline and the Taiwan-controlled Pratas Island.
Chiu told legislators that Taiwan's air force could only continue to intercept and warn away approaching PLA aircraft to prevent China from establishing air superiority in the southwest corner of its ADIZ.