Taiwan said it intercepted a fleet of nine military aircraft that took off from coastal China and flew sorties near the island on Wednesday, as the Taiwanese armed forces conducted anti-landing drills as part of their largest annual exercise.
The Republic of China (ROC) Air Force tasked combat air patrols and issued radio warnings to approaching People's Liberation Army (PLA) warplanes, which were also tracked with surface-to-air missile systems as they entered the southwest corner of its air defense identification zone (ADIZ), Taiwan's Defense Ministry said in a statement.
An ADIZ—also declared by neighboring China, Japan and South Korea—is a category of airspace that extends beyond a country's territorial airspace, often used to request advanced identification of foreign civil and military aircraft.
It is not regulated under international law.
Taipei said the PLA formation included six J-16 strike fighters, one Y-8 anti-submarine warfare aircraft, one Y-8 reconnaissance variant, and a KJ-500 airborne early warning and control aircraft.
Taiwan's defense authority has reported ADIZ incursions 14 times this month—every day except September 2.
With three and a half months left in 2021, the near-daily "gray-zone" activities already number significantly more than last year's estimate of around 380 total ADIZ violations—once considered the most alarming escalation in the three decades since the Third Taiwan Strait Crisis of the mid-1990s.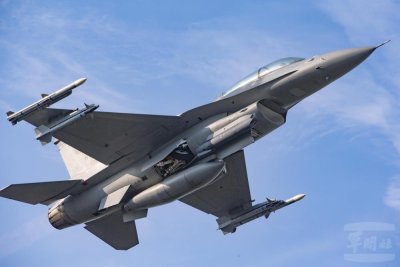 As the ROC Army conducted live-fire anti-invasion exercises along fortified beaches and on outlying islands as part of the week-long 37th annual Han Kuang war games, Taiwan's President Tsai Ing-wen attended the inaugural use of the ROC Air Force's fifth wartime strip, converted from a section of highway in Jiadong, Pingtung County, and to be used in the event that all other civilian and military runways are destroyed during a Chinese attack.
Tsai watched as a domestically manufactured IDF fighter jet, an American-made F-16V, a French-built Mirage 2000 and an E-2K early warning aircraft—also bought from the U.S.—successfully landed on the emergency runway.
The PLA aircraft sorties near Taiwan are thought to have happened around midday, when civilian air traffic monitors in Taiwan intercepted six ROC Air Force broadcasts directed at Chinese military aircraft between 11:14 a.m. and 2:01 p.m. local time.
On September 5, Taiwan's Defense Ministry said China dispatched 19 warplanes—fighter jets and nuclear-capable bombers—into the island's ADIZ.
It was among the largest displays of hard power by the PLA in recent months, surpassed only by a record fleet of 28 warplanes that buzzed Taiwanese air defenses in June.