Taiwan War Games Simulate Chinese Biological and Chemical Attack
The live-fire portion of Taiwan's largest annual military exercise began this week with troops simulating a biological and chemical attack by China and preventing a decapitation strike against their president.
The 37th Han Kuang war games—already scaled down due to the coronavirus pandemic—will involve the mobilization of both standing and select reserve forces. Drills will take place throughout Taiwan as well as on its outlying islands in the Taiwan Strait.
Army troops in the southern city of Tainan trained in treatment and decontamination following a mock bioweapon attack, Taiwan's Defense Ministry said. Soldiers were triaged and sent to field hospitals, while affected vehicles and equipment were hosed down by members of the 39th Chemical Group.
Day one also saw the armed forces practice combat preservation. Taiwan's fighter jets, main battle tanks and warships were relocated to assigned shelters in preparation for counterattack and redeployment.
Local media outlets captured newly retrofitted F-16Vs and Mirage 2000s taking off from the west of the island and landing at Chiashan Air Base in the eastern county of Hualien, where the key defense installation facing the Western Pacific reportedly includes underground hangers, a lengthy taxiway and space for around 200 aircraft.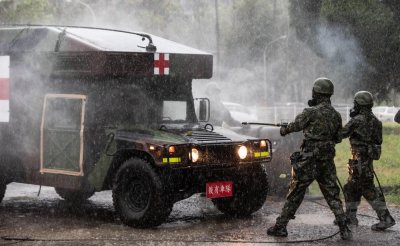 The military drills take place as China's People's Liberation Army warplanes continue to buzz radars by flying into the southwest corner of Taiwan's air defense identification zone. On September 5, a fleet of 19 PLA aircraft, including nuclear-capable bombers, intruded into the ADIZ, said Taiwan's defense authority.
Amid the combat preservation exercise, the Taiwan Air Force dispatched two armed Mirage 2000 fighters from Taitung's Chihhang Air Base in southeastern Taiwan to intercept a PLA Y-8 electronic warfare aircraft operating near the island, according to Taiwan broadcaster CTS.
On Tuesday, Taiwan's military police simulated sabotage attacks on critical infrastructure, its Defense Ministry said. In northern Taiwan, Guandu Area Command of the 6th Army Corps conducted defense drills along the Tamsui River estuary. The exercise assumed an amphibious assault and attempted decapitation attack against Taiwan's leadership in downtown Taipei.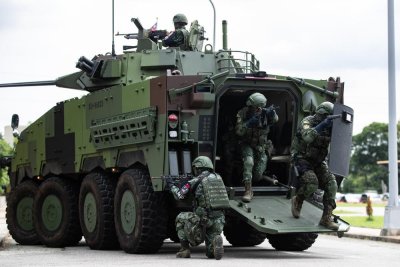 The highly watched main event of the Han Kuang war games—anti-landing exercises along Taiwan's fortified beaches—are scheduled for the latter part of the live-fire drills, which conclude on Friday.
At 1:30 p.m. local time on Wednesday, the Wanan air defense drill will be held simultaneously throughout Taiwan, with citizens expected to shelter in place as air-raid sirens sound for 30 minutes to simulate a wave of incoming Chinese missiles and warplanes.
Taiwan's armed forces are to hold urban warfare, electronic warfare and cyberattack exercises in the coming days as well. Among the highly watched drills will be the air force's use of wartime highway strips, which assume the destruction of all other military and civilian runways.
Phase one of the Han Kuang exercise took place in April and involved a weeklong computer-simulated Chinese invasion. The live-fire drills were initially scheduled for July but later postponed due to a local COVID-19 outbreak.
China's military outspends Taiwan's defense forces by between 15 and 25 times, based on different estimates. The island's defense planners, who are also advised by the United States, have assumed a posture that is focused on asymmetric warfare and missile defense.
In the event of a Chinese invasion of Taiwan, strategists predict the first wave of attack will involve a saturation missile strike to cripple key defense installations and critical infrastructure, followed by an ambitious amphibious assault across the Taiwan Strait.
In a report into PLA capabilities last month, Taiwan's Defense Ministry said China had yet to acquire the transportation and logistics needed to launch a large-scale crossing, but it said the Chinese military was increasing its capabilities in that area.