A fleet of 24 Chinese warplanes—including 18 fighter jets and two nuclear-capable bombers—violated Taiwan's air defense identification zone (ADIZ) on Thursday, the island's Defense Ministry said, hours after officials in Taipei confirmed they had applied to join a coveted trade bloc.
The latest incursions by People's Liberation Army aircraft bring the total warplane sorties to 502 this year, according to publicly available data released by Taiwan's Ministry of National Defense. The country's defense officials estimated there were around 380 ADIZ violations in 2020.
ADIZs are self-declared and extend beyond a country's territory into international airspace. The zones—also declared by neighboring China, Japan and South Korea—are used to request advanced identification of foreign civil and military aircraft, but the practice is not regulated by international law.
Taiwan's air force tasked combat air patrols, issued radio warnings and deployed air defense missile systems, the ministry said in separate reports logging activity on Thursday morning and afternoon local time in the Bashi Channel, at the mouth of the South China Sea.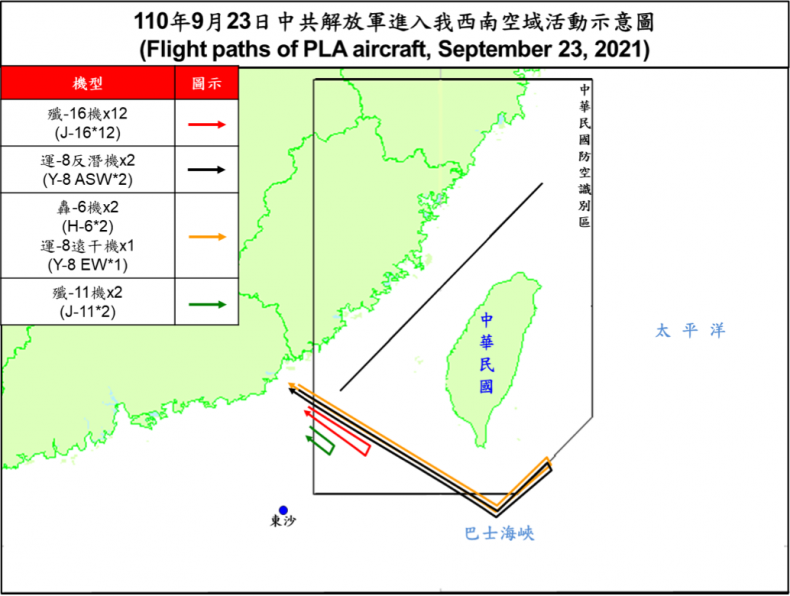 China claims Taiwan as part of its territory and has vowed to "unify" it, by force if necessary. U.S. military officials have warned that a looming Chinese invasion of the democratic island could occur this decade or is at least much closer than most believe.
However, analysts in Taipei say Beijing frequently uses its military to send political signals, deploying warplanes and warships to express the Chinese leadership's opposition to diplomatic developments related to Taiwan. The pattern of military coercion emerges whenever Taiwanese officials try to rally international support, and when allies like the U.S. publicly back Taipei's efforts.
As the Chinese military aircraft buzzed the island's air defenses, officials in Taipei held a press conference to confirm that Taiwan had requested formal accession to the Comprehensive and Progressive Agreement for Trans-Pacific Partnership on Wednesday, just days after Beijing submitted its own CPTPP application.
The trade pact has potential strategic significance for both Taiwan and China. For the former, it is a chance to further reduce its trade dependence on the mainland Chinese market. The latter, meanwhile, may see an opportunity to stifle such an effort while increasing its own economic influence.
John Deng, Taiwan's chief trade negotiator, told reporters on Thursday that the administration of Taiwanese President Tsai Ing-wen had been working on CPTPP accession for several years. Her government has already made the necessary legal and regulatory preparations, he said.
Japan—in its role of this year's rotating chair—has pledged support for Taiwan, which has existing free-trade agreements with CPTPP member states Singapore and New Zealand.
Taipei faces an uphill struggle, with China voicing opposition to Taiwan's participation on Thursday.
Asked about the timing of Taiwan's application, Deng told reporters that it was not linked to Beijing's submission last week. China "will have had its own considerations," he said.
Acknowledging potential diplomatic challenges in the application process, Deng added: "China has always obstructed Taiwan's international space—everybody can see that. If China joins first, Taiwan's application will, of course, face considerable risks. This is a fairly obvious fact."
Deng also talked up Taiwan's relative readiness to join the trade pact. "It is our view that CPTPP relates to each country's system, level of openness and willingness to comply with the contents of agreements."
Taiwan and China are "two different systems," he said. "We are a full market economy; China is... I think we all know the situation."
Deng said Taiwan's application is as the Separate Customs Territory of Taiwan, Penghu, Kinmen and Matsu—the same designation it uses at the World Trade Organization and for its other trade deals.