China 'Will Never Allow' Military Intervention Over Taiwan: Beijing
China has said it "will never allow" any country to intervene militarily in a Taiwan Strait conflict, one day after Japan's deputy prime minister posited a collective defense of the self-ruled island by Japanese and U.S. forces.
Zhao Lijian, a spokesperson for the Chinese Foreign Ministry, called recent remarks by senior Japanese official Taro Aso "extremely wrong and dangerous," saying they "undermine the political foundation of China-Japan relations."
Aso, who is Prime Minister Yoshihide Suga's deputy as well as the country's finance minister, told a political fundraiser in Tokyo on Monday that a Chinese invasion of Taiwan could be seen as an "existential threat" to Japan and its outlying islands.
"If a major incident occurs in Taiwan, it's not at all unusual to consider it an existential threat [to Japan]," Tokyo's Jiji Press quoted him as saying. "In such a case, Japan and the United States will have to work together to defend Taiwan."
Zhao said China "deplores and firmly opposes" Aso's remarks, and had filed a diplomatic complaint with Japan. It was China's third such protest in the space of four weeks, following separate incidents in June involving Suga and Japanese Deputy Defense Minister Yasuhide Nakayama—both over Taiwan.
At the daily press briefing in Beijing on Tuesday, Zhao referenced Japanese militarism in World War II and suggested recent remarks out of Tokyo were a callback to that era, saying the country had not "learned lessons from history."
He also channeled Beijing's defiant recent pronouncements and dismissed the possibility of military assistance by countries allied with Taiwan.
"China today is no longer the China of that era," Zhao said, apparently referring to the Japanese invasion of Manchuria in 1931 and the subsequent outbreak of the Second Sino-Japanese War in 1937.
During its conflict with the Empire of Japan, China was known as the Republic of China. The modern state, the People's Republic of China, was not established until after the war, in 1949, the same year the Chinese Civil War ended and the ROC government moved its capital to Taipei.
"We will never allow anyone to intervene in the Taiwan question in any way," Zhao declared.
"No one should underestimate the great resolve, strong will and extraordinary capability of the Chinese people to defend their national sovereignty and territorial integrity," he added, echoing the exact words uttered by Chinese President Xi Jinping on July 1, when the Communist Party of China marked its 100th anniversary.
Asked about his fundraiser remarks, Aso told reporters Tuesday that Japan was "closely monitoring the situation" in the Taiwan Strait.
A member of Japan's National Security Council, Aso had said Tokyo "could exercise its right to collective self-defense in limited ways."
He warned that, after a Chinese invasion of Taiwan, "Okinawa may be next."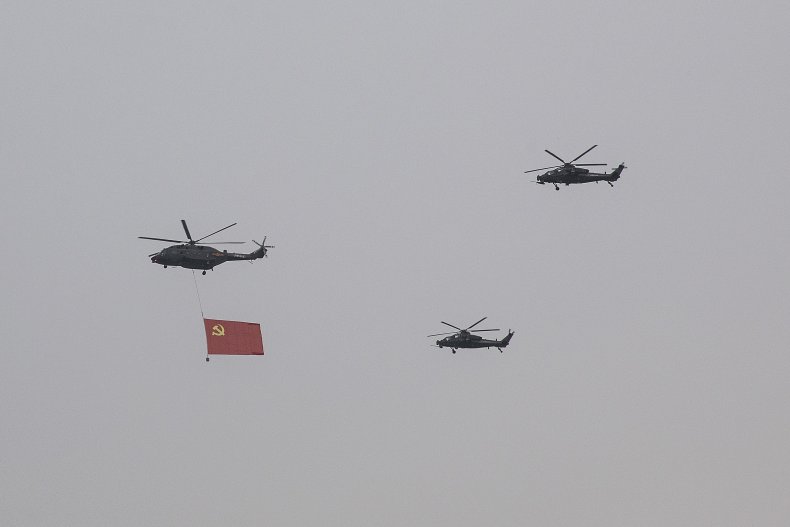 Despite much discussion in the recent decade surrounding Japan's move toward rearming, its pacifist constitution has no provisions to initiative a military conflict.
However, a 2015 reinterpretation of the post-war constitution led by former Prime Minister Shinzo Aze allowed for Japan to exercise "collective self-defense" in a contingency involving Japan or its treaty ally, the U.S.
Critics of the government have pointed to the Japanese public's aversion to conflict, but recent assistance given to Taiwan—in particular the donation of nearly 2.5 million COVID-19 vaccine doses—have been well received in the country, according to local reports.
In a July 1 report, the Financial Times revealed Japan and the U.S. had begun conducting war games in preparation for a Taiwan Strait conflict between China and Taiwan.
Analysts say Tokyo perceives a real threat to its outlying territories, such as the island of Yonaguni and the Senkaku islet chain, which are east and northeast of Taiwan, respectively.
As China and Taiwan both claim the Senkakus, some predict a likely attempt by Beijing to occupy the inhabited islands during an attack on Taiwan.