China's Xi Says Socialism Will Defeat Capitalism Because Communist Party Is 'Glorious'
Chinese President Xi Jinping had warned fellow communists during his debut speech that capitalism had its benefits and socialism could only beat it out if its application remained dynamic and ready for reform.
Qiushi, a top political journal by the Central Party School of China's ruling Communist Party, published excerpts Monday from Xi's address to officials in January 2013, about two months after he was elected general secretary of the party and about two months before he became president. He recalled errors made by Moscow in the leadup to the Soviet Union's collapse as well as "mistakes" made by his predecessors, especially Mao Zedong but maintained that "the history of our party is, generally speaking, glorious."
He cautioned, however, that "the eventual demise of capitalism and the ultimate victory of socialism must be a long historical process" that would present challenges for both sides.
"We must profoundly understand the self-regulating ability of capitalist society, fully appraise the objective reality of the long-term advantage of Western developed countries in the economic, scientific and military spheres and conscientiously prepare for all aspects of long-term cooperation and struggle between the two social systems," Xi said.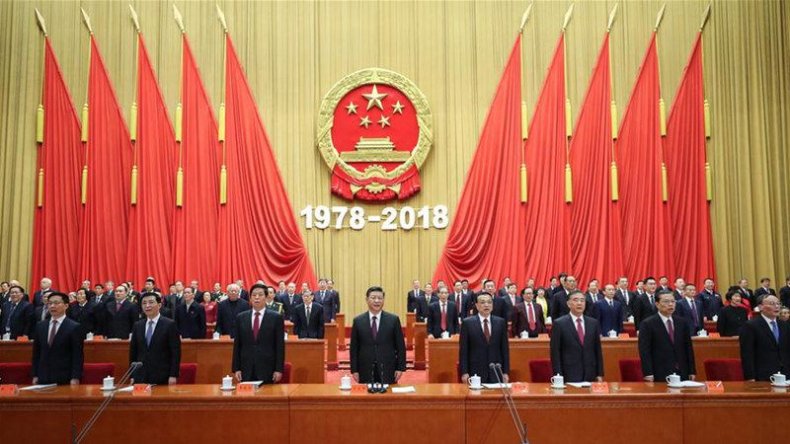 Since taking office six years ago, Xi has been described as the most influential Chinese leader since Deng Xiaoping, whose sweeping changes to Mao's strict political and economic order were widely commemorated in 40th anniversary celebrations late last year. Xi's own family was once targeted by Mao's Cultural Revolution in the 1960s, but he rose through the ranks and eventually had his own take on the country's signature "socialism with Chinese characteristics" ideology inserted into the Chinese Communist Party's official doctrine last year.
Regardless of any updates made throughout his "new era" of reform, Xi argued in his 2013 speech that "socialism with Chinese characteristics is socialism" and not state capitalism or any mixture of the two systems.
Xi's leadership has been marked by anti-corruption efforts, military reorganization and the ambitious Belt and Road Initiative that has seen billions of dollars worth of Chinese investment across Asia, Africa and, more recently, Europe. However, China's growing economic footprint and its increased presence in the disputed South China Sea have created frictions with its leading economic competitor, the United States.
China, along with Russia, has been designated as a U.S. adversary in a number of strategy documents released under President Donald Trump. The administration has also boosted ties with Taiwan, the self-ruling island nation that Xi has repeatedly vowed to reclaim through diplomacy or force, and has criticized China's human rights record, pointing to "re-education camps" allegedly targeting the majority-Muslim Uighur community and other forms of reported repression.
With Washington and Beijing at odds, Xi has boosted bilateral relations with Russian President Vladimir Putin, who shared the Chinese leader's suspicion of unchecked U.S. influence around the world.
Putin, too, has discussed the errors made by his hard-line, communist predecessors in the Soviet era, during which he served as a KGB intelligence agent. At the same time, he has evoked his country's past as a military superpower in promoting his own military modernization campaign that too received criticism from the U.S. of renewed "great power" competition between Washington and its top two near-peer rivals.