China's Warnings Ignored As Taiwan Joins Joe Biden's Summit for Democracy
Taiwanese officials will be among leaders from 110 governments to take part in President Joe Biden's inaugural Summit for Democracy in December, the State Department confirmed on Tuesday.
The decision to include the island, which the United States doesn't officially recognize as a country, was the subject of public discussions as early as March. China, which claims democratic Taiwan as part of its territory, made clear its opposition to Taipei's potential participation. Beijing, however, is not on the guest list.
Taiwan's inclusion at the democracy-themed summit appeared all but certain as senior Biden officials continued to praise the island as a "vibrant democracy" throughout their first year in office. But it was never clear to what degree Taiwanese officials would be represented, given the lack of formal diplomatic relations between Washington and Taipei.
Taiwan's Foreign Ministry confirmed through a statement to Newsweek on Wednesday Taipei time that the island nation's Digital Minister Audrey Tang and de facto ambassador in Washington, Hsiao Bi-khim, would join the virtual event, whose themes include defending against authoritarianism, fighting corruption and promoting human rights.
The ministry said it would "happily share with all countries Taiwan's democratic success story" at the summit booked for December 9 and 10.
Among all the countries slated to take part next month, Taiwan stands out as the only participant with which the U.S. has no state-to-state relations. Any public addresses by Tang and Hsiao are also likely to be highly scrutinized due to the politically sensitive nature of Taipei's relations with both Washington and Beijing.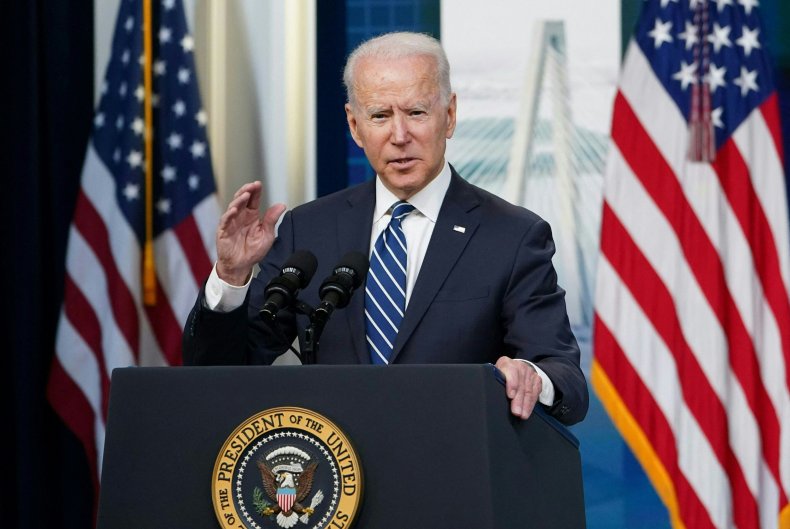 Chinese Foreign Ministry spokesperson Zhao Lijian told reporters in Beijing on Wednesday that China "firmly opposes" the U.S. decision to invite Taiwan, a move he likened to "playing with fire."
Zhu Fenglian, a spokesperson for China's cabinet-level agency the Taiwan Affairs Office, said the U.S. had made "a mistake" by inviting the self-governing island to the two-day forum along with other governments.
"We firmly oppose any form of official interaction between the United States and the island, which is a clear and consistent stance," said Zhu.
During their 3.5-hour dialogue last week, Chinese leader Xi Jinping told Biden that tensions between Beijing and Taipei were the result of the Taiwanese government's "independence agenda" and "the intention of some Americans to use Taiwan to contain China."
The Chinese Communist Party's nationalistic tabloid the Global Times elaborated on Zhu's comments in an article shortly after, running a headline that called the Biden administration's decision a "dangerous provocation" that was sure to have "severe implications."
The hawkish media outfit suggested that the U.S. should have listed Taiwan as an "observer" instead of a "participant" in order to highlight its unique status among other countries.
When the White House announced the Summit for Democracy in August, Global Times editor-in-chief Hu Xijin said China would "never sit back and tolerate" the U.S.'s inviting Taiwan to the virtual event. He warned of "unprecedented storms" in the Taiwan Strait.
Key American diplomatic partners joining the December summit include Australia, Canada, the United Kingdom, Japan, South Korea, India, France, and the Philippines. Major Asian, African and Latin American countries to take part include Indonesia, Malaysia, Brazil, South Africa, Kenya, and Nigeria.
There are also some notable absentees, such as Russia, China and Vietnam. Surprisingly, Singapore's name also is not on the list, although it was unclear whether the U.S. had failed to invite the city state, or whether the invitation was simply declined.
The State Department didn't return Newsweek's request for comment in time for publication.
The upcoming summit—one of Biden's presidential campaign pledges in July 2019—is the first of two such gatherings that have already been announced. The second, to be held one year after the first, will follow up on commitments made in the inaugural summit. It's likely to be an in-person event in Washington.