Chinese Coronavirus Vaccine Taken by Nearly 1 Million People, Company Says
Nearly a million people in China have taken an experimental coronavirus vaccine through the country's emergency use program as of Wednesday, according to vaccine developer China National Pharmaceutical Group (Sinopharm).
China initiated the emergency use program in July. The program so far includes three vaccine candidates for essential workers and high-risk individuals, although clinical studies have not yet proved the vaccines' safety and efficacy, according to Reuters.
Two vaccine candidates are developed by Sinopharm's subsidiary China National Biotec Group (CNBG), and the third is developed by Sinovac Biotech. All three vaccines have been used for China's emergency program.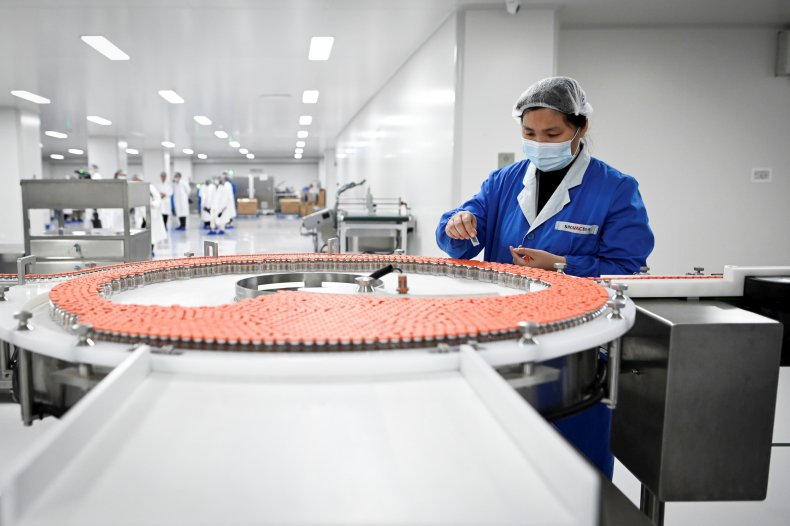 "In terms of emergency use, the vaccines were applied to nearly a million people and there has not been a single case of a serious adverse event. People have had only mild symptoms," Liu Jingzhen, chairmen of Sinopharm, said in an interview, as reported by South China Morning Post.
Sinopharm's vaccines use an inactive form of the virus that is unable to reproduce in human cells to kick off immune responses in the body. Both vaccines require two doses, according to clinical trial registration data, according to Reuters.
The experimental vaccines are undergoing phase 3 clinical trials. They have recruited approximately 60,000 people and blood samples of over 40,000 for their trials.
"Until now, all our progress, from research to clinical trials to production and emergency use, we have been leading the world," Jingzhen continued.
Pharmaceutical companies around the world have been working on a COVID-19 vaccine since the early stages of the pandemic.
American company Pfizer and German firm BioNTech announced on November 9 that their candidate, called BNT162b2, was more than 90 percent effective in preventing COVID-19.
On Monday, U.S. company Moderna said its version, mRNA-1273, had an efficacy of 94.5 percent in phase 3 clinical trials. Pfizer and BioNTech then followed by Wednesday and said their candidate was in fact 95 percent effective against COVID-19 as well.
Both Pfizer and Moderna's vaccines use messenger RNA (mRNA), boosting the body's immune response against the virus.
While doses of the vaccine candidates are forecast to be made before the end of 2020 the firms each said global rollouts are likely to take place next year. Demand is clearly high, and several wealthy nations already have their pre-orders in place.
Sinopharm didn't respond to Newsweek's request for comment in time for publication.