Chinese State Media Calls Donald Trump's Tariffs 'Irrational' Because They Will 'Hurt the U.S. Economy'
Chinese state-run media blasted President Donald Trump's decision to increase tariffs on billions of imports, arguing the move was "irrational" and would "hurt the U.S. economy."
"The fierce U.S. offensive is irrational. It will hurt the U.S. economy. Washington obviously hopes that the fierce tariff war, which is unprecedented in trade history, will crush China's will in one fell swoop and force China to accept an unequal deal in a short term," an op-ed in China's English-language The Global Times newspaper published on Sunday read. "The U.S. is gambling. Its continuous provocations are an indication of its anxiety and eagerness to see its approach to quickly take effect."
The op-ed argued that "the perception that China cannot bear it is a fantasy and misjudgment." Taking aim at Trump's inaccurate claims that China would be paying the additional tariffs, the op-ed called these statements "ridiculous" arguing they were "obviously fooling the American public."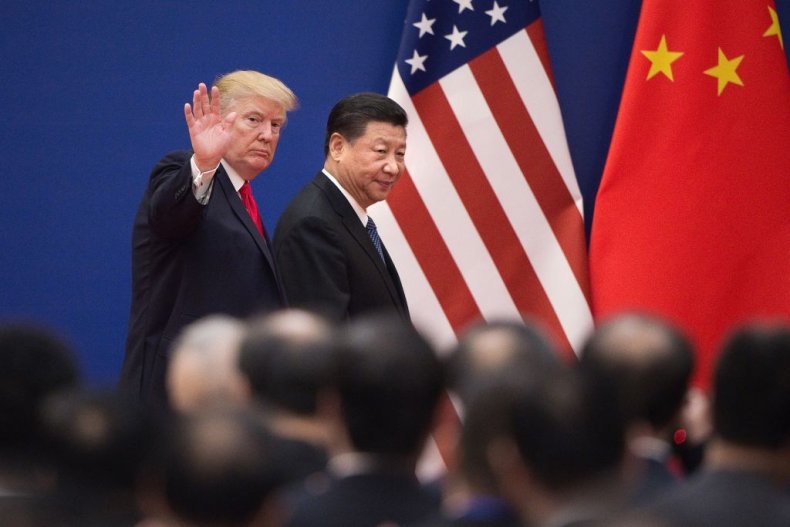 A similar article ran Monday in China's People's Daily publication. It warned that "U.S. policymakers have placed a big bet to 'fight,' allowing immediate benefits to cloud their long-term perception," according to the South China Morning Post .
"The way China and the U.S. evaluate each other's strategic intentions will have a direct impact on their policies and the type of relationship we will develop," it argued. "There cannot be mistakes on this fundamental issue, or else there will be mistake after mistake."
As trade talks between Beijing and Washington reached an impasse last week, the Trump administration moved forward over the weekend with raising tariffs on $200 billion of Chinese imports to 25 percent. The president also directed officials to begin the process of raising tariffs on nearly all remaining imports from China, valued at about $300 billion.
The Chinese government revealed Monday it would retaliate by raising tariffs on a wide range of U.S imports to 20 or 25 percent. However, the additional levies will not go into effect until June 1, in a small showing of goodwill to U.S. negotiators. Additional retaliatory steps targeting U.S. imports and American business interests could also be implemented moving forward. The escalating trade war has already taken its toll on the stock market, which has plunged sharply in a sign that investors are concerned about the long-term repercussions.
As Chinese state media argued, the tariffs are expected to have a negative impact on the U.S. economy. Although Trump has repeatedly argued that China will pay the additional charges, that assessment is incorrect. The tariffs are paid by U.S. businesses who import from China and the charges are then passed on to American consumers. While China may suffer economic fallout as U.S. businesses turn to more affordable alternatives, the Chinese government and businesses will not be paying Trump's tariffs.
Larry Kudlow, who heads Trump's National Economic Council, admitted "both sides will suffer" due to the tariffs during an interview on Fox News Sunday. He agreed with host Chris Wallace, who pointed out that U.S. consumers will pay for the tariffs, despite the president's insistence that Beijing would pay.