Chinese State Media Mocks Biden Over 'Hysterical' Reaction to Spy Balloon
A Chinese state media outlet has described the U.S. reaction to a suspected Chinese spy balloon as "hysterical" and criticized President Joe Biden for his response to it.
The op-ed was authored by Chen Weihua, chief of the EU Bureau with China Daily, a newspaper owned by the Central Propaganda Department of the Chinese Communist Party.
The Chinese government and state media have repeatedly mocked and criticized the U.S. response to the balloon and denied that it was being used for spying, but the Department of Defense (DOD) has identified it as a surveillance balloon.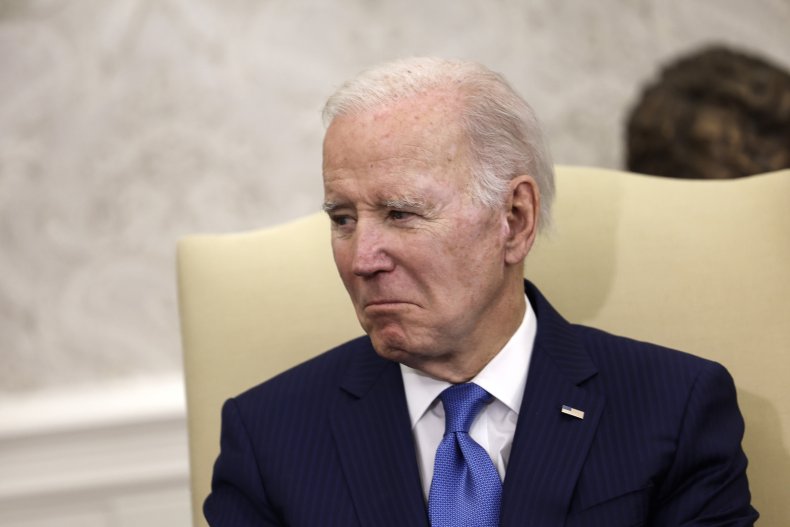 "The Joe Biden administration's handling of the Chinese balloon case last week was meant to showcase the United States' strategic strength amid fierce attacks by Republicans and the low approval ratings of U.S. officials," the article began.
"But instead it has shown to the world how immature and irresponsible—indeed hysterical—the U.S. has been in dealing with the case," it said.
The article repeated the claim that the U.S. had called the object a spy balloon "despite not having any evidence to back up their claim and regardless of China explaining that it was a balloon for research."
The article went on to accuse the U.S. of conducting surveillance flights "near China's shores," and asked: "How would the U.S. respond if China were to conduct frequent surveillance flights off the coast of California, New York or Florida?"
Pointing to the fact that Biden's second State of the Union speech took place while he was being criticized by Republicans for his handling of the balloon, it argued that the criticism, combined with Biden's low approval rating, had led him to "overreact to the balloon incident."
"The U.S. should have dealt with the balloon case in a calm and responsible way without letting it being hijacked by the bitter domestic partisan politics because a conflict between the two countries would spell disaster for the entire world," the op-ed concluded.
The balloon was shot down last week off the coast of Myrtle Beach, South Carolina. The administration defended its decision not to shoot down the balloon while it was over land.
Lieutenant General Doug Sims, director of operations for the Joint Chiefs of Staff, told a Senate committee on Thursday that the risk to people on the ground was assessed by the military to be greater than the threat of potential Chinese intelligence-gathering.
On Friday, the U.S. announced that an unidentified object had been shot down over Alaska. National Security Council Strategic Communications Coordinator John Kirby told reporters that the object was unmanned and flying at around 40,000 feet.
Both objects were shot down with the AIM-9X missile fired by an F-22 Raptor fighter jet, according to Pentagon Press Secretary Air Force Brigadier General Pat Ryder.
Newsweek has asked the White House for comment.