Chinese State Media Outlet Calls Pompeo an 'Arrogant, Hysterical' Hypocrite as Beijing Tightens Grip on Hong Kong
An editorial published by a Chinese state media outlet called Secretary of State Mike Pompeo's Wednesday remarks about Hong Kong "arrogant" and "hysterical" while describing the U.S. as "narcissistic."
Hu Xijin, editor of Global Times, an English-language newspaper put out by the Chinese Communist Party, published the editorial on Thursday. Titled "Pompeo makes arrogant, hysterical statements about HK autonomy," the piece argued that the secretary of state "represents the U.S.' hysterical geopoliticization of everything that has to do with China."
"Whether Hong Kong has a high degree of autonomy must not be defined by the U.S. Washington is much too narcissistic. U.S. politicians such as Pompeo arrogantly believe that Hong Kong's destiny is in their hands," Xijin wrote.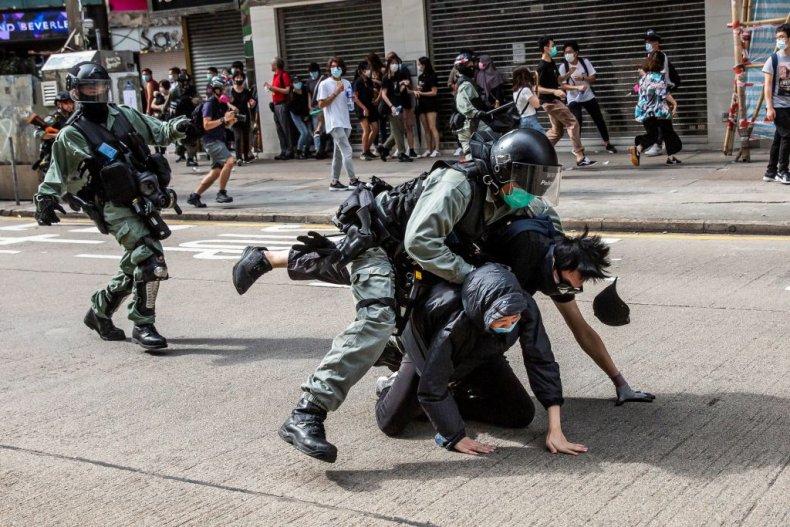 "The U.S. is a superpower, but its national strength has weakened in recent years because of this trade war and nonsense they push. Now, it is seriously ill. Pompeo better wear his face masks before he talks wildly," the editor asserted.
Newsweek reached out to the State Department for comment but did not hear back before publication.
"After careful study of developments over the reporting period, I certified to Congress today that Hong Kong does not continue to warrant treatment under United States laws in the same manner as U.S. laws were applied to Hong Kong before July 1997," Pompeo said in a Wednesday statement.
"No reasonable person can assert today that Hong Kong maintains a high degree of autonomy from China, given facts on the ground," he added.
Pompeo's remarks came as China aims to implement a new national security law in Hong Kong, which critics argue would bring an end to the "one country, two systems" policy that was put in place after the special administrative region was transferred from British control to Beijing in 1997. The United Kingdom, Canada and Australia have also been highly critical of China's efforts, which analysts warn would stifle the relative freedoms Hong Kong citizens have enjoyed for decades.
Despite the international outcry, China's national legislature endorsed the new national security law on Thursday. The legislation passed with overwhelming support from Chinese lawmakers, with 2,878 approving, one opposing and six lawmakers abstaining.
"The decision adopted by the [National People's Congress] session is designed for steady implementation of 'one country, two systems' and Hong Kong's long-term prosperity and stability," Chinese Premier Li Keqiang said at a news conference, defending the law.
In a statement to Newsweek, a spokesperson for the Chinese Embassy in Washington, D.C., said the U.S. was attempting to meddle in Hong Kong's affairs.
"Hong Kong affairs are China's internal affairs and allow no external interference. The central government is responsible for upholding national security in China, as is the case in any other country," the spokesperson said.
"The National People's Congress' decision about Hong Kong SAR [special administrative region] national security legislation targets a very narrow category of acts that seriously jeopardize national security and has no impact on Hong Kong's high degree of autonomy, the rights and freedoms of Hong Kong residents, or the legitimate rights and interests of foreign investors in Hong Kong," the spokesperson added. "It will provide a fundamental guarantee for the effective implementation of 'one country, two systems.'
"As for foreign meddling in Hong Kong affairs, we will take necessary countermeasures in response," the statement said.
Thousands of protesters have demonstrated in Hong Kong against the law, which came after severe clashes between demonstrators and police over a period of months in 2019. Following those mass demonstrations, residents of Hong Kong voted overwhelmingly to back pro-democracy and opposition candidates in the region's local elections last November.
Kenneth Roth, executive director of Human Rights Watch, strongly criticized China's efforts to crack down on Hong Kong's freedoms and specifically called out Chinese President Xi Jinping.
"Xi Jinping moves to crush the essence of Hong Kong—what makes it Hong Kong. Now he must confront the reality that the people of Hong Kong don't want to live under a dictatorship—which is why their example is so intolerable for Xi Jinping," Roth tweeted on Thursday.
This article has been updated with a statement from the Chinese Embassy in Washington, D.C.