Protesters Call for 'Hong Kong Independence' as Police Arrest 180 Demonstrators Over China's Proposed Security Law
Authorities in Hong Kong have said they have arrested at least 180 demonstrators after thousands took to the streets on Sunday to protest China's proposed national security law for the special administrative region.
"Police have taken resolute action to enforce the law. Up to 9:30 p.m., at least 180 persons had been arrested mainly for offenses like participating in an unauthorized assembly, unlawful assembly and disorderly conduct in a public place," the Hong Kong Police Force said in a press release on its website, describing the protesters at "rioters."
According to Reuters, police used tear gas and water cannons as thousands demonstrated in the streets, with many chanting: "Hong Kong independence, the only way out." The pro-Democracy demonstrators were voicing their discontent with an effort from Beijing to significantly curtail the region's relative freedom and autonomy under the "one country, two systems" policy laid out in the 1997 Joint Declaration, when the United Kingdom ceded control of the former colony to mainland China.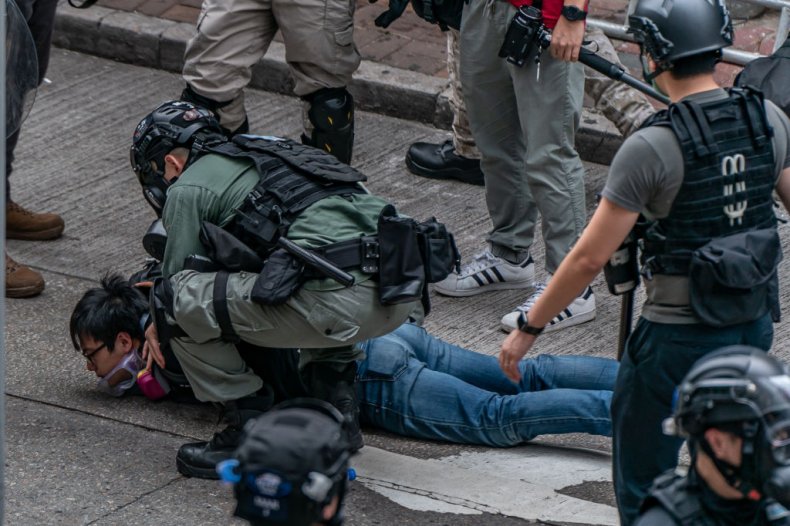 Newsweek has reached out to the Chinese embassy in Washington, D.C. and the U.S. State Department for comment.
The highly controversial measures proposed by Beijing, entitled "Establishing and Improving the Legal System and Enforcement Mechanism of Hong Kong" aims to crack down on escalating anti-Beijing and pro-democracy protesters. Anti-mainland protests continued for months last year as demonstrators routinely clashed with police. Pro-democracy lawmakers also won a landslide victory in the region's November local election, but Beijing has continued to push for stricter control.
Videos uploaded to social media showed large crowds of demonstrators raising their hands and singing "Glory to Hong Kong," an anthem composed during the 2019 demonstrations. Photos circulated online also showed police wrestling demonstrators to the ground and making arrests.
Speaking to Newsweek on Friday, Human Rights Watch Senior Researcher Maya Wang warned that the region's autonomy was under threat. She explained that "this decision will fundamentally change the ways of Hong Kong."
"These restrictions on so many different fundamental freedoms and values would alter our way of life. It would impact, for example, media freedom, the free press, the ability of civil society to exist," Wang warned.
British Foreign Secretary Dominic Raab, Australian Foreign Minister Marise Payne, and Canadian Foreign Minister François-Philippe Champagne issued a joint statement expressing concern about China's actions on Friday.
"Making such a law on Hong Kong's behalf without the direct participation of its people, legislature or judiciary would clearly undermine the principle of 'One Country, Two Systems', under which Hong Kong is guaranteed a high degree of autonomy," they warned.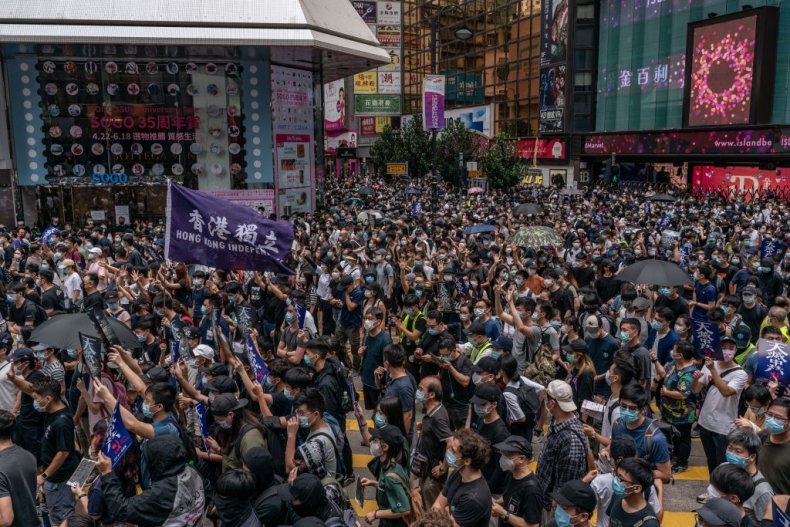 President Donald Trump and Secretary of State Mike Pompeo have also criticized China's efforts to erode freedoms in Hong Kong.
"If it happens, we'll address that issue very strongly," Trump said last week. Pompeo warned that China's proposed law "would be a death knell for the high degree of autonomy Beijing promised for Hong Kong under the Sino-British joint declaration."
But a spokesperson for China's Foreign Ministry dismissed the concern from foreign leaders in a Saturday statement.
"Doomed is your plot to undermine China's sovereignty and security by exploiting the troublemakers in Hong Kong as pawns and the city as a frontier for secession, subversion, infiltration and sabotage activities against China," the statement from the ministry's commissioner's office in Hong Kong said. It pushed back against the criticism, arguing it came from "meddling politicians."