Chinese State Tabloid Compares Closure of Hong Kong's Apple Daily to Trump's Twitter Ban
A Chinese state publication dismissed concerns about the shuttering of Apple Daily, Hong Kong's pro-democracy newspaper, comparing the closure to Twitter's decision to ban former President Donald Trump.
The Global Times, an English-language tabloid published by the Chinese Communist Party, argued in a Thursday editorial that Hong Kong still enjoys press freedom despite the shutting down of Apple Daily. Jimmy Lai, the owner of the newspaper, was arrested last year and several employees were detained in recent days as well, after authorities raided the publication's offices.
"No Western country would allow the existence of such a hub that manipulates public opinion to counter constitutional system of the country. Any media outlet that has gained inciting power to oppose the mainstream will not be spared. For example, after former U.S. President Donald Trump's Twitter account was permanently shut down, his supporters gathered on the app Parler, which was banned for good," the Global Times editorial said.
The Chinese tabloid argued that the "silencing" of Trump "reflects the extent to which anti-establishment dissent is truly tolerated in the U.S."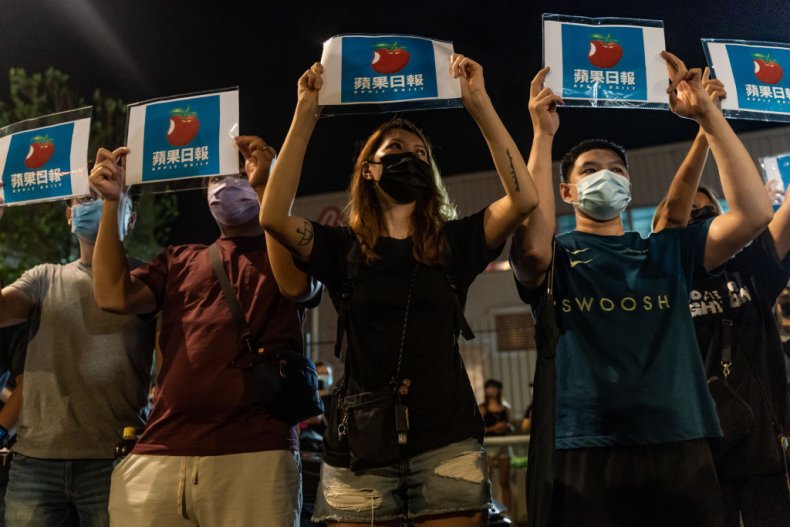 Although Trump was banned on Twitter, Facebook and a number of other social media platforms, the former president continues to regularly promote his false claims about the 2020 election in interviews with right-wing media. The companies' decisions to ban him came after he helped incite his supporters to violently attack the U.S. Capitol on January 6 in a bid to overturn President Joe Biden's election victory.
While the former president may now have less direct access to his supporters, he continues to regularly communicate falsehoods and misinformation about the election—as a wide variety of right-wing publications, TV channels, radio programs and online platforms amplify his claims.
Meanwhile, the Chinese government is working systematically to stamp out dissent and pro-democracy activism within Hong Kong after a wave of massive anti-mainland protests in 2019 and 2020. Hong Kong previously enjoyed special freedoms after it was ceded back to China by the United Kingdom in 1997.
China initially maintained a "one country, two systems" approach—allowing Hong Kong to maintain substantially more democratic governance as well as greater freedom of speech. But those freedoms have eroded rapidly over the past several years, culminating in the passage of a national security law in 2020. That legislation essentially criminalized pro-democracy activism and significantly curbed freedom of expression in the special administrative region.
"The forced closure of Apple Daily by the Hong Kong authorities is a chilling blow to freedom of expression in Hong Kong," the U.K. Foreign Secretary Dominic Raab said in a Wednesday statement, condemning China's crackdown.
"It is crystal clear that the powers under the National Security Law are being used as a tool to curtail freedoms and punish dissent—rather than keep public order," Raab asserted.
Newsweek reached out to the U.S. State Department for comment but did not immediately receive a response.