'Chip 'n Dale: Rescue Rangers' Soundtrack: Every Song From the Disney+ Film
Chip and Dale are back and they have a brand new case to solve together, and the chipmunk duo have a killer soundtrack to support them on their journey.
Disney's new animated film Chip 'n Dale: Rescue Rangers finds its titular characters 30 years after the conclusion of their flagship series, and they are estranged from one another because of it.
While Chip (John Mulaney) now works as an insurance salesman, Dale (Andy Samberg) relies on doing the convention circuit, but the mysterious disappearance of one of their former co-stars prompts them to work together again.
As expected of an animation of this kind, the film does have its own soundtrack, the details of which can be found below.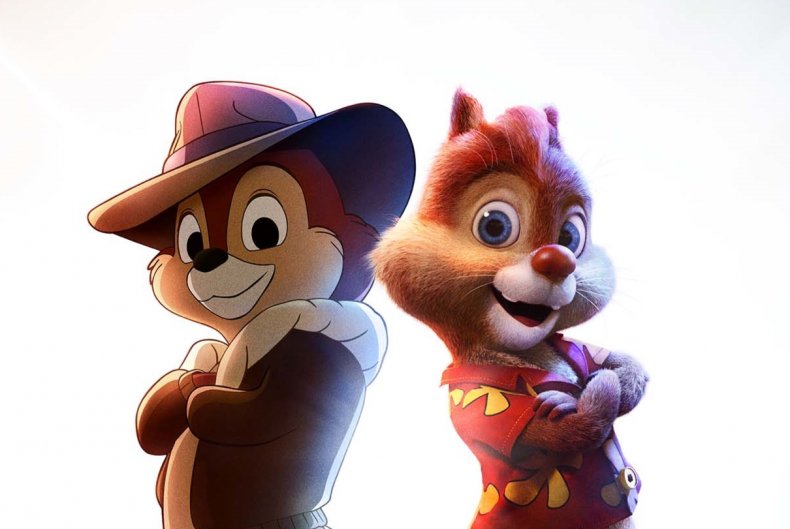 Every Song in the 'Chip 'n Dale: Rescue Rangers' Soundtrack
While the film is a Disney animation, viewers hoping for a full-blown musical will be disappointed to know that Chip 'n Dale: Rescue Rangers isn't that kind of kid's film, but it does have a few notable songs.
For one, the film's theme song has been remixed especially for the new film, with the classic song recorded to an upbeat tune by rapper Post Malone.
In the film, actors Mulaney and Samberg perform an impromptu rap song when they are trying to distract a snake DJ (voiced by Flula Borg) who is a big fan of their hit show.
Samberg's Dale initiates the song in order to give Mulaney's Chip the opening he needs to carry out a covert investigation, and Chip later switches places with him so that he can try his hand at looking for a piece of evidence.
The rap song sees Dale rhyme his name with "whale" repeatedly, and it culminates in the two chipmunks rapping about the fact they "don't eat whale" until they get the evidence they need.
While it is a surprisingly catchy song for one with such simple lyrics, the finished version does not appear on the film's official soundtrack.
However, the soundtrack does include a fun, upbeat score composed by Brian Tyler, whose past work includes seven of the Fast & Furious films and also Avengers: Age of Ultron.
Here is the Full Soundtrack for 'Chip 'n Dale: Rescue Rangers':
1. "Chip 'n Dale: Rescue Rangers Theme" – Post Malone
2. "Rescue Rangers Anthem" – Brian Tyler
3. "Sweet Pete Suite" – Brian Tyler
4. "New School, Same Dale" – Brian Tyler
5. "Best Friends" – Brian Tyler
6. "Just a Showbiz Thing" – Brian Tyler
7. "Chip Off the Ol' Block" – Brian Tyler
8. "Monterey Jack" – Brian Tyler
9. "Bootlegging" – Brian Tyler
10. "The Case of the Missing Monty" – Brian Tyler
11. "Main Street" – Brian Tyler
12. "The Cheese Cellar" – Brian Tyler
13. "Old Merchandise" – Brian Tyler
14. "A Beary Narrow Escape" – Brian Tyler
15. "Double O' Dale'd" – Brian Tyler
16. "The Crime Lab" – Brian Tyler
17. "The Russian Bathhouse" – Brian Tyler
18. "San Pedro Rocks" – Brian Tyler
19. "Mission Chippossible" – Brian Tyler
20. "Not Heroes" – Brian Tyler
21. "Sniffing Out a Clue" – Brian Tyler
22. "Chipnapped" – Brian Tyler
23. "The Bare Necessities" – Brian Tyler
24. "Dirty Putty" – Brian Tyler
25. "Rangers Reunited" – Brian Tyler
26. "Rescuing Chip" – Brian Tyler
27. "Frankenpete" – Brian Tyler
28. "The Smartest Chipmunks" – Brian Tyler
29. "Rescue Rangers" – Brian Tyler