Chris Jericho Talks AEW Dynamite's First Episode and Creating New Stars
It's a new era in professional wrestling as All Elite Wrestling's first live episode of Dynamite on TNT premiered Wednesday garnering praise from critics and fans. The debut episode averaged 1.41 million viewers, according to The Hollywood Reporter, putting the WWE on notice for the first time in almost 20 years.
Many fans and those in the industry perceive All Elite Wrestling as the first real competition to the WWE juggernaut and a big part of that is AEW World Champion Chris Jericho.
"We basically changed the entire industry before we had one minute of national television time," Jericho told media at New York Comic Con on Friday. "And now we have a show under our belts that was very successful as both in the ring as a program and of course the ratings and the demographics."
"I think it has shut up a lot of people and it has excited a lot more people," he said.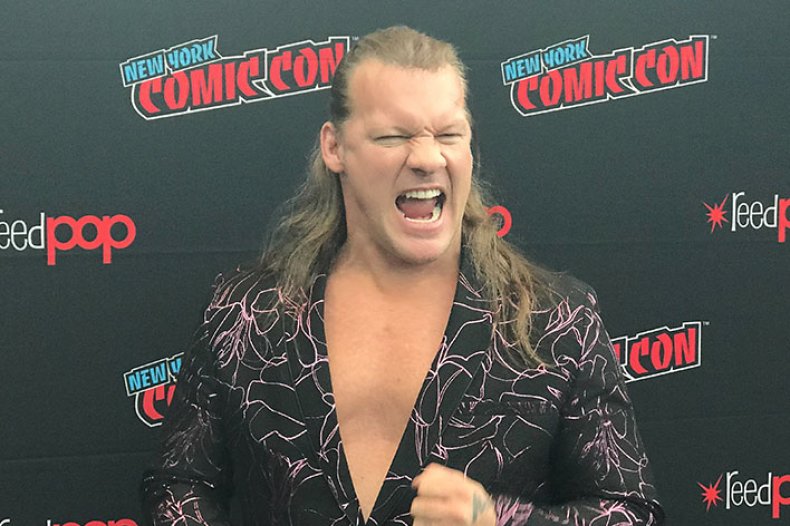 With the emergence of AEW, a sense of brand loyalty has surfaced in the wrestling industry between its upstart promotion and WWE. Many have dubbed this upcoming era of wrestling as the "Wednesday Night Wars" between AEW and NXT. Jericho was in WCW during the "Monday Night Wars" of the late 90s so he understands how competition works, but he doesn't believe AEW and WWE are in another war—at least not one created by them.
"We're not in a war with anybody. This is a war not created by, encouraged or sponsored by us. We are in a war with ourselves to put on the best show that we can, and worry about our product only," Jericho said.
Jericho added that he believes word of mouth is very important to keep the momentum of Dynamite's first episode, and getting the newer, unknown talent "over" with the fans, something the multi-time champion acknowledges can be a challenge. But AEW has a plan.
"If you look at the end of the show, who was there? Jericho, Moxley, Cody Rhodes, Dustin Rhodes, Jake Hager—that's star power. And as a result then you get to know The Young Bucks, Kenny Omega, Sammy Guevara, Santana and Ortiz," Jericho explained. "We build stars by putting them with stars—that's how you get people over. If you have a lot of names no one has heard of it's hard to build momentum."
AEW hopes that the big names like Jericho and Moxley will bring in fans who don't know the rest of the roster, and when the fans see the action they'll become fans of the Young Bucks, the Kenny Omegas and more.
"For us we have to bridge that, bring people that haven't seen AEW. That's how it works," Jericho said. "So we have a balance like a great football or hockey team of rookies, guys in their prime and a very select few of seasoned vets who are working at the top level helping guys with their experience."
All Elite Wrestling Dynamite airs every Wednesday night at 8 p.m. EDT on TNT.