Chris Rock's Brother, Tony, Says Their Mom Hits 'Harder' Than Will Smith
Chris Rock's brother, Tony Rock, has spoken out about Will Smith after his elder sibling was slapped by the actor on stage at Sunday's Oscars.
Smith has faced backlash after he bounded onto the stage at Hollywood's Dolby Theatre and slapped Chris Rock in retaliation for a joke that the comedian made about his wife, Jada Pinkett Smith.
The screen star later apologized to his fellow nominees and the Academy of Motion Picture Arts and Sciences as he accepted his Best Actor prize for King Richard. On Monday, he took to Instagram to apologize to Chris Rock.
However, Tony Rock—who starred in the sitcom All of Us, which was created and executive produced by Smith and Pinkett Smith—has revealed that he wasn't satisfied with the actor's apology, as he answered a string of questions on Twitter.
During a Q&A session with his Twitter followers on Tuesday, Tony Rock was asked who "hits harder Will or Jada boyfriend," in an apparent reference to August Alsina, with whom Pinkett Smith revealed she'd had a relationship during her marriage to Smith.
Responding to the question, Tony Rock quipped: "Mama Rock."
When asked if he approved of Smith's apology, Tony Rock wrote back: "No."
Another follower asked Tony Rock, who grew up as one of seven siblings, how his brother was doing, prompting the comedian to write: "All of them are fine."
One fan asked if Tony Rock and his family would be "open" should Smith speak "directly" to Chris Rock. Tony Rock answered: "Waiting..."
When he was asked how he felt about "the Oscar fiasco," Tony Rock said: "Foul."
"Replace your brother with Jerry Seinfeld on the stage that night," wrote a follower. "Would the narrative still be the same or Will Smith be locked up by LAPD?"
"You know," responded Tony Rock, who also alleged that Sean "Diddy" Combs wasn't telling the truth amid reports that he said Chris Rock and Smith had settled their feud on the night of the Oscars.
In response to the accusation, Combs told Newsweek, via his representative: "I never confirmed they had reconciled. I said 'as brothers, they will work it out' and let's move on with love.'"
Newsweek has contacted a representative of Tony Rock for comment.
As the Q&A session drew to a close, Tony Rock promoted his brother's upcoming stand-up comedy tour, which has seen a surge in ticket sales since the Oscars, as well as Chris Rock's 2009 documentary Good Hair, about Black women's hair.
He tweeted: "Be sure to watch 'Good Hair' since the narrative is now changed to all my bro does is disrespect women of color."
Meanwhile, the Academy of Motion Picture Arts and Sciences has shared a statement with its members, reiterating its condemnation of Smith's behavior and revealing that a decision on the action to be taken would be made in the coming weeks.
"We are upset and outraged that those moments were overshadowed by the unacceptable and harmful behavior on stage by a nominee," read the statement, per Deadline. "To be clear, we condemn Mr. Smith's actions that transpired Sunday night.
"As outlined in our bylaws, the Academy's Board of Governors will now make a determination on appropriate action for Mr. Smith. As governed by California law regarding members of nonprofit organizations like the Academy, and set forth in our Standards of Conduct, this must follow an official process that will take a few weeks.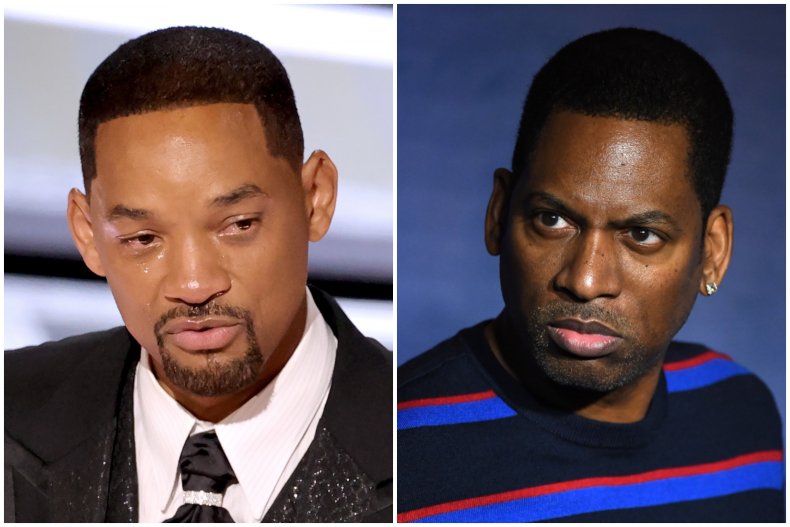 "We will continue to update you on any developments, but we also ask that you respect your Board, Academy staff and the process as this unfolds so it can work in the considered way it was intended and mandated.
"Please trust that the Board of Governors will conduct this process in a manner that is both expedient and respectful of all involved while maintaining the standards of the Academy."
Shortly after the incident, the Los Angeles Police Department said in a statement on Sunday: "LAPD investigative entities are aware of an incident between two individuals during the Academy Awards program.
"The incident involved one individual slapping another. The individual involved has declined to file a police report. If the involved party desires a police report at a later date, LAPD will be available to complete an investigative report."
Update 3/30/22, 2:25 p.m. ET: This article was updated to include a statement from Sean "Diddy" Combs.