Chris Rock Seemingly Ignored After Slap as Stars Rush to Comfort Will Smith
Comedian Chris Rock was seemingly ignored following the now-infamous slap on Sunday night's Academy Awards broadcast and multiple stars flocked to console Will Smith.
Smith took the stage while Rock was gearing up to present the Oscar for Best Documentary, during which time he made numerous jokes, including one about Jada Pinkett-Smith's buzz cut. Pinkett-Smith has publically disclosed her recent diagnosis with alopecia, a medical condition that causes sporadic hair loss.
Seemingly offended on behalf, Smith took to the stage, slapped Rock, and went back to his seat, later shouting for the famed comedian "Keep my wife's name out of your f***ing mouth." It is unknown if Rock was aware of Pinkett-Smith's diagnosis when he made the joke.
In the aftermath of the viral incident, those present in the Dolby Theater noted that numerous celebrities approached Smith to console him, including Denzel Washington, Tyler Perry, and Bradley Cooper. Washington later went to comfort Pinkett-Smith as well while Smith discussed the situation with a representative. This led some online to wonder why Rock, the recipient of the assault, was not also approached for comfort.
"Wait a minute," one Twitter user, going by "Bad Betty," wrote in response to another post from entertainment reporter Scott Feinberg. "Why are people comforting Will Smith? He is the perpetrator of a crime. This is a perfect example of toxic masculinity."
"Did anyone check... on the guy that got punched or is he not 'famous enough'?" another user wrote.
"I feel they're comforting the wrong guy?" New York Post columnist Karol Markowicz added.
It should be noted that the discrepancy is likely due to the fact that Rock, as a presenter, went backstage after presenting the award to the Summer of Soul filmmakers. If he was comforted by anyone, it would not have been visible to anyone in the audience, as it was for Smith.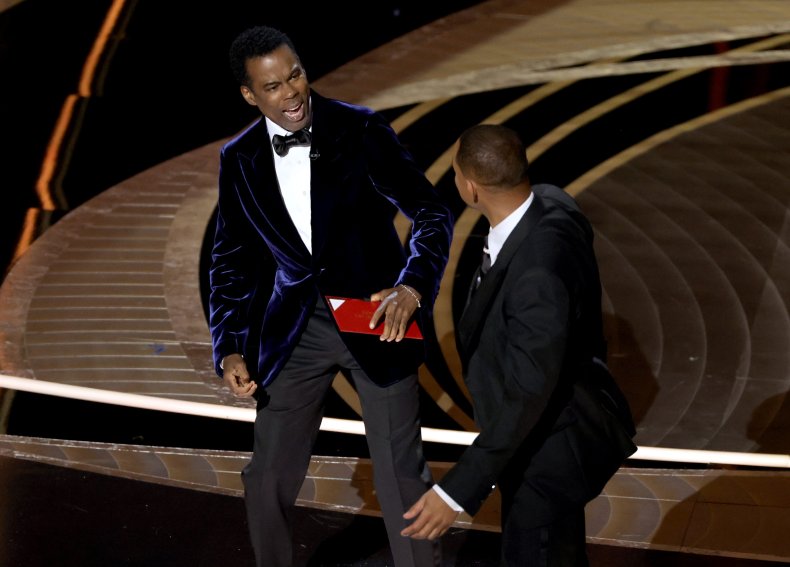 Newsweek reached out to Rock's agency for comment or clarification on this story.
Shortly afterward, Smith, best known for blockbusters like Independence Day and Men in Black, won his first Oscar, taking home Best Actor for playing the father of Venus and Serena Williams in King Richard. During his acceptance speech, the teary-eyed Smith apologized to the Academy and the other nominees for the incident but notably did not mention Rock.
"Richard Williams was a fierce defender of his family," Smith said during the speech, seeming to tie the themes of his film to his confrontation earlier in the night.
The Los Angeles Police Department confirmed that Rock declined to file a police report against Smith. As Smith walked off stage, the comedian appeared to take the slap in stride and with a characteristic sense of humor.
"Will Smith just smacked the s--t out of me," Rock was heard saying in unedited international broadcasts.