Chris Rock Won't Talk About Will Smith's Oscars Slap—'Not Until I Get Paid'
Chris Rock on Friday night refused to talk about the moment he was slapped by Will Smith on stage at the 2022 Oscars ceremony.
"I'm OK, I have a whole show and I'm not talking about that until I get paid. Life is good. I got my hearing back," the comedian and presenter said during his show at Fantasy Springs on Friday night, according to the California-based Desert Sun newspaper.
Rock was struck by Smith during the March 27 Academy Awards ceremony after the comedian made a joke about Smith's wife, Jada Pinkett Smith, who suffers from alopecia—an autoimmune condition that causes hair loss.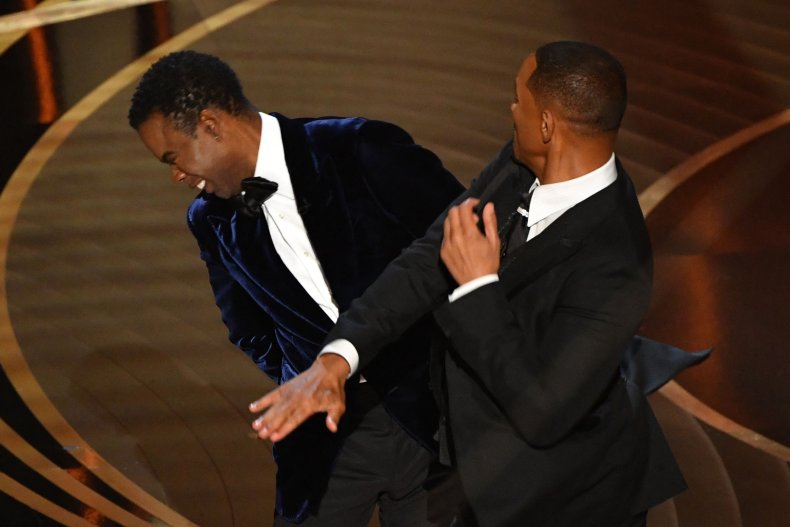 Rock joked that Pinkett Smith should star in G.I. Jane 2 because of her appearance. He was making reference to the 1997 film G.I. Jane in which actress Demi Moore shaved her head.
"Jada, I love ya. G.I. Jane 2, can't wait to see ya," Rock said at the 94th Academy Awards.
Smith then abruptly stood up from his seat and slapped Rock across the face onstage, before returning to his seat and yelling, "Keep my wife's name out your f**king mouth."
Avoiding discussion of the Will Smith slap, Rock's set on Friday consisted of jokes about the Kardashians, Meghan Markle, and Hillary Clinton according to the newspaper.
Rock had briefly addressed the controversial incident at a sold-out show in Boston, Massachusetts, on March 30.
"How was YOUR weekend?" Rock asked the crowd at Boston's Wilbur Theatre. "I'm still processing what happened, so at some point I'll talk about that sh*t."
Rock told the crowd that when he did decide to talk about the incident, it would be funny but also serious.
"It'll be serious. It'll be funny, but right now I'm going to tell some jokes," Rock said.
"Let me be all misty and sh*t," Rock continued. "I don't have a bunch of sh*t to say about that, so if you came here for that...I had written a whole show before this weekend."
Smith, who won an Oscar for King Richard at the ceremony, has publicly apologized for the incident.
"I would like to publicly apologize to you, Chris," Smith said in a statement on March 28. "I was out of line and I was wrong. I am embarrassed and my actions were not indicative of the man I want to be. There is no place for violence in a world of love and kindness."
The Academy of Motion Picture Arts and Sciences on Friday announced that Smith has been banned from all Academy events, including the Oscars, for 10 years, over the slapping incident.
"I accept and respect the Academy's decision," Smith said in a statement, responding to news of the decade-long ban.