Chris Rock Stops Fan Yelling 'F*** Will Smith' During Comedy Show
Chris Rock shut down a fan as they yelled "f*** Will Smith" while attending his sold-out Boston comedy show on Thursday night.
Smith is facing an official review and public backlash after he bounded onto the stage at Hollywood's Dolby Theatre and slapped Rock during Sunday night's Oscars over a joke the comedian made about his wife, Jada Pinkett Smith.
But as Rock returned to Boston's Wilbur Theatre for the second night of his comedy stop in the Massachusetts city, the comic responded to a disparaging outburst about Smith by saying, per People: "No, no, no, no, no."
During Wednesday's show at the same venue, Rock broke his silence on the matter, when he told the audience that he was "still processing what happened, so at some point I'll talk about that s***."
"Let me be all misty and s***," Rock continued, with tears in his eyes. "I don't have a bunch of s*** to say about that, so if you came here for that... I had written a whole show before this weekend."
According to People, there were also "Will Smith" chants at Wednesday's opening show, though Rock is said to have not engaged with the shouting.
The show, which opened Rock's Ego Death World Tour 2022, proved to be a dramatic affair, when an attendee was arrested after disrupting the proceedings by yelling and being physically aggressive to police officers.
Boston Police Department told Newsweek that an officer monitoring the crowd at 246 Tremont Street noticed "a loud disturbance inside the theater" and found that staff of the Wilbur Theatre were trying to remove two participants who refused to follow the venue's masking requirement.
While one of Rock's fans was compliant with the request, police said, the other "became increasingly agitated, yelling loudly, disrupting the show, and physically assaultive towards the officer and theater staff."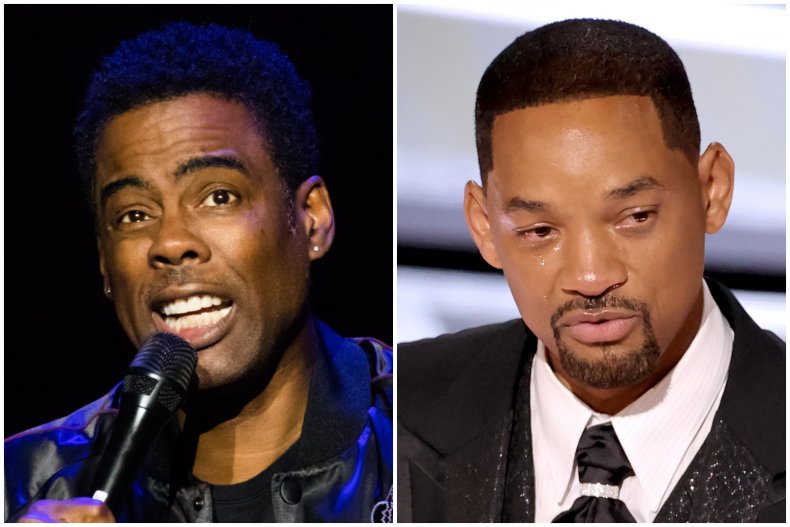 Rock has seen a surge in ticket sales for his comedy shows after he was slapped by Smith while presenting onstage at Sunday's star-studded Academy Awards.
During the show, Rock quipped: "Jada, I love ya. G.I. Jane 2, can't wait to see ya," in reference to Demi Moore's 1997 movie G.I. Jane, in which her character shaves her head to join U.S. Navy SEAL training. Pinkett Smith has publicly spoken about losing her hair due to alopecia.
While he initially laughed at the joke, Smith, whose wife was visibly unimpressed, got up and slapped Rock, before returning to his seat and yelling: "Keep my wife's name out your f****** mouth."
Later on in the show, Smith returned to the stage to accept a Best Actor Academy Award for his role in the biopic King Richard.
During his acceptance speech, Smith tearfully apologized to his fellow nominees and the Academy of Motion Pictures Arts and Sciences for his actions.
Smith issued a public apology to Rock via Instagram on Monday, writing: "I would like to publicly apologize to you, Chris. I was out of line and I was wrong. I am embarrassed and my actions were not indicative of the man I want to be."
In an interview with ABC's Good Morning America, which is set to air on Friday, Oscars producer Will Packer said that Los Angeles Police Department officers were "prepared" to arrest Smith on the spot following the incident.
"They were saying, you know, this is battery was the word they used in that moment," Packer said. "They said, 'We will go get him; we are prepared. We're prepared to get him right now.'"
"'You can press charges,'" Packer went on to quote the officers as saying. "'We can arrest him.' They were laying out the options, and as they were talking, Chris was being very dismissive of those options. He was like, 'No, I'm fine.' He was like, 'No, no, no.'"
Following the ceremony, the LAPD said in a statement: "The individual involved has declined to file a police report. If the involved party desires a police report at a later date, LAPD will be available to complete an investigative report."
The Academy of Motion Pictures Arts and Sciences, which governs the Oscars, has claimed that Smith was asked to leave Sunday's awards ceremony after slapping Rock but he "refused" to leave.
It was also revealed by the Academy that Smith is facing disciplinary action that could include suspension, expulsion or other sanctions.
A representative with the Academy said Smith has been given the opportunity to defend himself from repercussions in the form of a written response before the board meets again on April 18.