Chris Wallace, the former "FOX News Sunday" host, spent 18 years with a network that showed him, by his own estimation, the utmost respect. Wallace is now unwilling to do the same in return. Is this really how he wants to be remembered?
"Fox News has employed me for 18 years," Wallace recently told the Financial Times, before he bolted for CNN+. "They've never interfered with a question, with a guest I've brought on or a question I've asked. They have changed my life. They've changed my career. So to paraphrase William Casey, why on earth would I share any concerns I have about FOX News with the readers of the Financial Times?"
Wallace should not forget that the network helped him cement a career that would not merely be relegated to the shadows of his father, the late "60 Minutes" host Mike Wallace. But he no longer seems particularly grateful.
Wallace has started the twilight of his career with CNN+. The new streaming offering is a bit of a head-scratcher. It's inexplicably meant to supplement a cable news network that has underperformed for years. If no one watches the parent product, it seems hard to imagine its streaming offshoot will garner many eyes.
So how do you bring attention to a product few people want? Drama. For Wallace, that came in the form of an exclusive interview with The New York Times where he trashed the network that built him.
"I'm fine with opinion: conservative opinion, liberal opinion," Wallace said in the interview. "But when people start to question the truth—Who won the 2020 election? Was January 6 an insurrection?—I found that unsustainable."
The irony here is rich. He's fine with opinion, just not the wrong kind.
Does Wallace have any problem with CNN using its platform to question the truth around the (now-entirely-corroborated) Hunter Biden laptop story? CNN anchors told its viewers there was no evidence to support the underlying claim by the New York Post, while FOX News was actually advancing the investigation.
CNN has a news product that treats opinion as facts. Forget the 2020 election; CNN leans into Democrats' claims that not passing their federal elections-takeover bill means the next election will be stolen.
And no, January 6 wasn't an "insurrection"—it was a riot, much like what transpired nightly in Portland, Oregon after the death of George Floyd. CNN labeled those "mostly peaceful protests" when its highest-profile anchors weren't affirmatively justifying violence.
Wallace always attempts to play the adult in the room: the down-the-middle, no-nonsense newsman who won't be defined by what he views as fringe conservative opinions. But it's hard to see his newfound "bravery" as anything more than petty and unprofessional potshots at his old employer taken in the service of pleasing his new management.
Neither FOX News nor CNN hide their competitive spirit. Both networks criticize the other's coverage. And I'm sure CNN sees snagging Wallace as a coup, with management hoping to use him to re-establish a brand as a news-focused network. But Wallace is certainly no white knight, and he won't pull viewers from FOX News to CNN+.
"Some people might have drawn the line earlier, or at a different point," Wallace told The New York Times, adding: "I think FOX has changed over the course of the last year and a half. But I can certainly understand where somebody would say, 'Gee, you were a slow learner, Chris.'"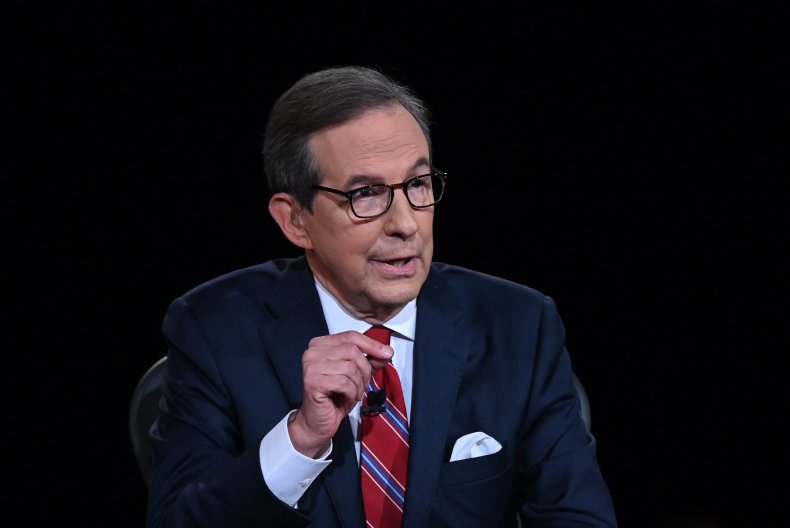 CNN used its platform to breathlessly spread the lie that President Donald Trump was a Russian asset. It gave a seemingly endless amount of air time to fraud Michael Avanati while pushing the lie that Brett Kavanaugh was a gang rapist. Trump broke the network that used to be known for objective news coverage. But none of this crossed a line for Wallace?
Is this really the best way to promote a streaming service tied to an unstable network navigating high-profile controversies? Does Wallace really want to compare CNN coverage to FOX News coverage? He certainly wouldn't want to note the vast ratings differences between the two networks.
It's also worth noting that Wallace's description of FOX News, which he defines by disingenuous criticisms on two issues, is hardly accurate. While there have been some lineup changes, the substance of FOX News—a complementary mix of editorial shows and news programs—has remained steady. And the network has done some of its best work of late.
Reporters and producers have risked their lives covering Russia's unprovoked war of aggression in Ukraine. The network even lost two journalists, Pierre Zakrzewski and Oleksandra Kuvshynova, while reporter Benjamin Hall is still recovering from his injuries. They put their lives on the line to bring American audiences the news about an important geopolitical and human rights event. Why call out the entire network after the network's staff have more than proven their dedication to the pursuit of news?
Wallace's flippancy is also dismissive to the hard-working personalities and equally talented producers, bookers, editors, and cameramen who work tirelessly to produce market-dominating content.
As a frequent FOX News guest myself, I get first-hand experience to see the team's dedication. But so did Wallace, who doesn't seem to think his criticisms hit the dozens of people who helped him put together his show each week as much as they hit his former on-air colleagues.
Peter Doocy and Jacqui Heinrich are some of the only reporters unafraid to call President Joe Biden to task. Bret Baier and Martha MacCallum can break down nuanced political debates with ease. Shannon Bream can make sense of even the most complex Supreme Court decisions.
I pity the politician or talking head foolish enough to try spinning their way out of a Harris Faulkner interview. Good luck to the incompetent lawmaker who earns Jesse Watters' snark or Greg Gutfeld's ire; their monologues cut abusive politicians down to size.
And then there's Tucker Carlson. He is unafraid to explore issues that deserve attention, daring to ask questions others won't simply because it makes our elites uncomfortable. He leads with compassion and is refreshingly honest, while also mixing in genuinely funny commentary.
If CNN had a Tucker Carlson—or any of the FOX stars—perhaps it wouldn't be so poorly rated. Instead, CNN has Chris Wallace relegated to a streaming channel with an app that no one is downloading.
And rather than respond to Wallace's childish criticisms, what is FOX News management doing? Nothing. They're giving Wallace the independence to say what he thinks to whomever he wishes. They're still treating him with the loyalty and respect Wallace himself had while working at FOX News.
Jason Rantz is a frequent guest on FOX News and is the host of the Jason Rantz Show on KTTH Seattle, heard weekday afternoons. You can subscribe to his podcast here and follow him on Twitter: @jasonrantz.
The views expressed in this article are the writer's own.