Chrissy Teigen returned to social media yesterday with a lengthy apology for her past behavior.
The model had been absent online for a month but broke her silence to apologize for bullying several people on Twitter, and said she'd been reflecting on "the crushing weight of regret for the things I've said in the past."
After posting the statement, her husband John Legend and celebrity friends Jennifer Garner, Zoe Saldana, Yvette Nicole Brown and many more commented their support.
It's important to know the context which prompted this apology. We'll start with the most publicized feud before looking back at Teigen's past public comments made about other celebrities.
Courtney Stodden
Teigen posted a series of tweets in May apologizing for past comments she made against TV personality Courtney Stodden
Stodden, who prefers non-binary pronouns, came to international attention when they were 16-years-old and married 50-year-old actor Doug Hutchison in 2011.
Teigen, who was 25-years-old at the time, sent Twitter messages to Stodden, urging them to take their own life.
Stodden revealed some of the comments she received from Teigen in an interview with The Daily Beast. They said: "She wouldn't just publicly tweet about wanting me to take 'a dirt nap' but would privately DM me and tell me to kill myself. Things like, 'I can't wait for you to die.'"
Teigen has since addressed the accusation, and apologized for her previous comments. She promised her followers she will forever work on being a better person than she was 10 years ago.
Lindsay Lohan
Another tweet from a decade ago that regularly surfaces online involves a comment Teigen allegedly made about Lindsay Lohan.
On January 16, 2011, Teigen wrote to her followers, "Lindsay adds a few more slits to her wrists when she sees Emma Stone." The tweet has since been deleted.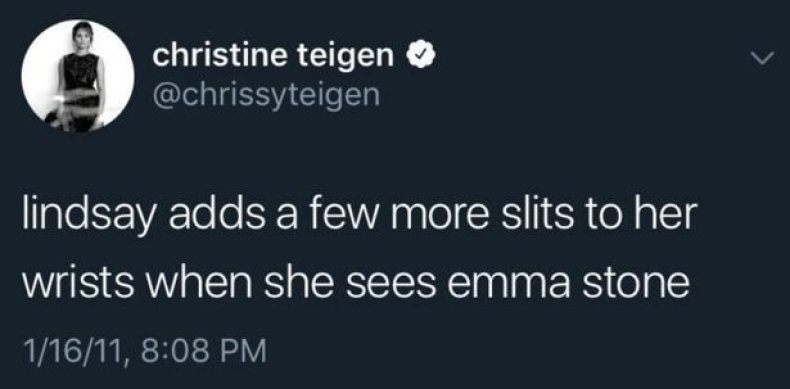 Lohan has never addressed the tweet but according to Page Six, her mother Dina recently told The New York Post: "When someone says hurtful words, they're not just hurting that person, they're hurting their siblings, their mother, their grandma. They're inflicting so much pain."
Farrah Abraham
Former 16 and Pregnant star Farrah Abraham was another recipient of Teigan's comments on social media.
In 2013, Teigen allegedly wrote on Twitter that Abraham thinks she is pregnant from her sex tape. She said: "In other news you're a w**** and everyone hate you whoops not other news sorry.
After receiving backlash for her comments, Teigen doubled down: "Wow. amazed to see the outrage behind calling a staged leaked sex tape chick from teen mom exactly what she is. go on with your bad selves."
In an interview with UK publication OK! Magazine, Abraham says she never got an apology and claims Teigen silences her victims.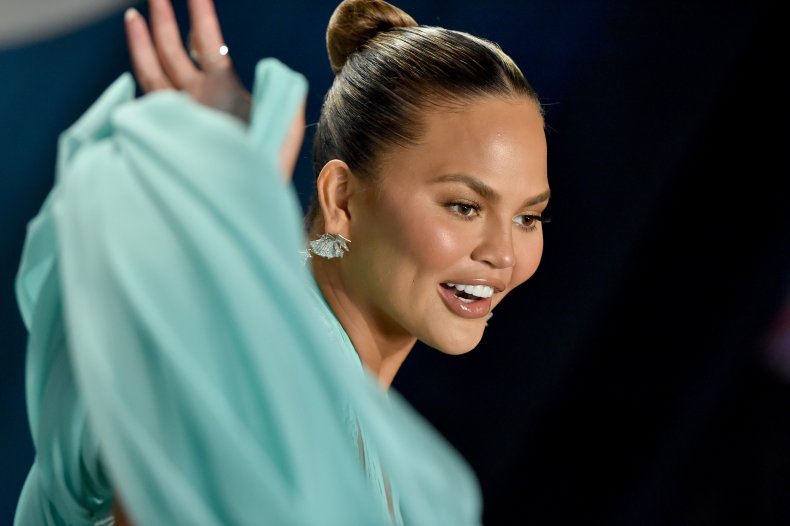 Jay Mohr
A surprising and widely reported feud between former Saturday Night Live actor Jay Mohr and Teigen started in 2011, when she commented on the selection of his new son's name.
Teigen wrote: "Nikki Cox and Jay Mohr named their son Meredith. Their son, Meredith. Meredith is their son's name. The name of their son is Meredith.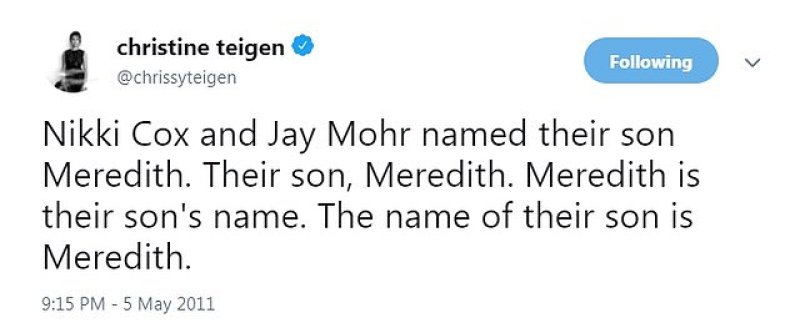 Mohr bit back in angry fashion, writing: "Why are you even NEAR me? Take your skank a** somewhere where guys like six's in bikinis. Matt Leinert wouldn't sleep w you."
Teigen then said she was simply pointing out the name was feminine before Mohr brought Teigen's husband John Legend into the conversation, He wrote: "Tell John to stop texting my wife. He put on a great show in Irvine. JL texted my wife for well over a year. We used it to get free tix in Irvine. Check his phone."
Avril Lavigne
Another tweet from 2011 hasn't aged well for Teigen. This time it's a scathing indictment on what she thinks about the Canadian singer Avril Lavigne.
In April that year, after watching an interview of her on TV, Teigen wrote: "If u told me I could have 1 kid, but it would be exactly like Avril, I would choose to have a barren, sterile existence that ends when I die."
Lavigne didn't respond to the comment.
After receiving hate from Lavigne's fans, Teigen then apologized with a "sorry you are offended" apology.
Chris Brown
Teigen reportedly received death threats from Chris Brown fans after she criticized him on her Twitter account in 2012 at the Billboard Music Awards. She wrote: "So excited to see Chris Brown! I love loud and surprising background fits of rage I can hear from the audience!"
After receiving hate, Brown attempted to take the high ground and told his fans to back off. He tweeted: "Team Breezy! Lets stop sending death threats! I know y'all bout that life but it's the wrong message! Ur turning haters into victims!"
Teigen later revealed in 2015 that she'd been blocked by Brown on Twitter.
Quvenzhané Wallis
In 2013, Teigen voiced her opinion about 9-year-old Academy Award-nominee Quvenzhané Wallis.
On February 24, she asked her followers: "Is it ok to call a small child cocky?" And then followed it up by saying, "I am forced to like Quvenzhané Wallis because she is a child right? okay fine."

Newsweek has reached out to Wallis' representatives for comment.
Donald Trump
Teigen and Donald Trump were involved in multiple furious Twitter exchanges over a number of years. Trump blocked Teigen on Twitter in 2017, to which Teigen wrote on Twitter: "After 9 years of hating Donald J Trump, telling him 'lol nobody likes you' was the straw."
In 2019, Trump reignited the feud when he called Teigen the "filthy mouthed wife" of "boring" John Legend.
Teigen laughed off the accusation, saying she cackled off the pointless addition.
Candance Owens
Author and political commentator Candance Owens has been incredibly outspoken about Teigen's past behavior, going as far as to unearth more tweets and bring them to the public's attention.
Owens posted several screenshots allegedly highlighting since deleted tweets that Teigen wrote about other celebrities. One image sees Teigen call for Sarah Palin to shoot herself in the face while Owens purports in another tweet that Teigen mocked Demi Lovato for seeking treatment for addiction at a rehab center in 2010.
Teigen has yet to publicly reply to any of the allegations Owens has made against her.