What Chrissy Teigen Allegedly Said About Quvenzhané Wallis in Deleted Tweets
Chrissy Teigen is facing backlash this week after model Courtney Stodden revealed they had been cruelly harassed by the Lip Sync Battle host on Twitter back in 2011.
The model and social media personality has apologized for being an "insecure, attention-seeking troll," but fans are demanding she also say sorry to actress Quvenzhané Wallis over alleged insulting tweets.
During the 2013 Oscars, the Oscar-nominated, then-9-year-old, Wallis won the Best Dressed award at the ceremony, prompting Teigen to allegedly comment. The tweets have since been deleted but have been well-documented by various media outlets and on social media.
Teigen seemed to be implying that the young actress was bratty or precocious while in attendance at the ceremony for her role in Beasts of the Southern Wild.
"Is it okay to call a small child cocky?" she allegedly tweeted, before adding: "I am forced to like Quvenzhané Wallis because she's a child right? Okay fine."
The comment sparked backlash at the time and prompted satirical website The Onion to tweet a joke based on Teigen's musings on Wallis.
"Everyone else seems afraid to say it, but that Quvenzhané Wallis is kind of a c***, right?"
The site later deleted the tweet and apologized, and Teigen's tweets about Wallis were also deleted from Twitter.
In light of Teigen's apology to Stodden, many Twitter users are asking where Wallis' apology is.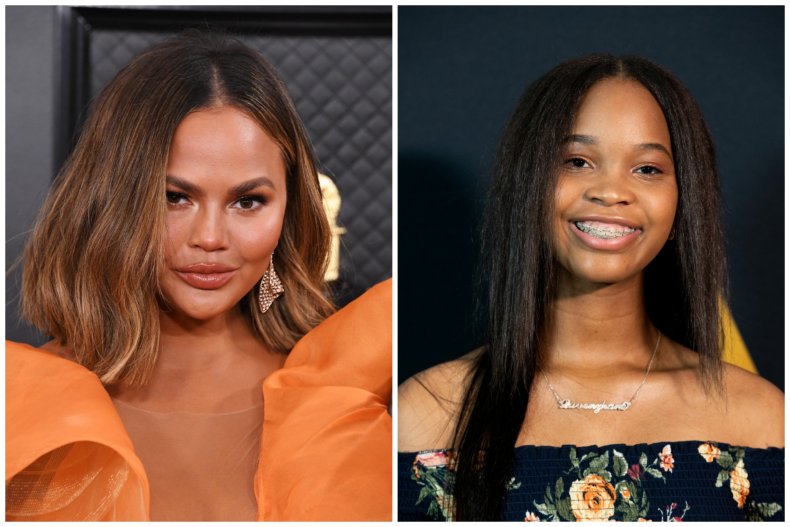 "Apologize to Quvenzhané Wallis as well, writer Clarkisha Kent tweeted. "Additionally you're still a troll so you might not want to use that in the past tense. I hope this is the day you realize that some things come with their own punishment & that projecting your self-hate onto others isnt 'quirky.'"
"Quvenzhané Wallis was only 9 when she was in the line of fire..." said another. "Chrissy Teigen apologizes for being a cyberbully."
While another person added: "Still waiting for her to apologize to Quvenzhane Wallis."
Newsweek has reached out to Wallis' representatives for comment.
Teigen issued an apology to Stodden on Wednesday, tweeting: "Not a lot of people are lucky enough to be held accountable for all their past bullshit in front of the entire world. I'm mortified and sad at who I used to be."
She continued: "I was an insecure, attention seeking troll," she continued. "I am ashamed and completely embarrassed at my behavior but that...is nothing compared to how I made Courtney feel.
"I'm so sorry, Courtney. I hope you can heal now knowing how deeply sorry I am."