What Courtney Stodden Alleges Chrissy Teigen Said in Deleted Tweets
Chrissy Teigen has come under fire for allegedly writing tweets insulting the model Courtney Stodden and telling Stodden to kill themselves.
The TV and social media personality is facing a huge backlash over the claims by Stodden, who identifies as non-binary and uses they/them pronouns.
Stodden, now 26, has spoken about how they were publicly shamed when, at the age of 16, they married 50-year-old actor Doug Hutchison in 2011.
The model said they received abusive tweets—since deleted—and direct messages from Teigen in 2011 and 2012.
"[Teigen] wouldn't just publicly tweet about wanting me to take 'a dirt nap' but would privately DM me and tell me to kill myself. Things like, 'I can't wait for you to die,'" Stodden told The Daily Beast.
Stodden labeled the Lip Sync Battle host a "hypocrite" in March when Teigen briefly left Twitter because of bullying.
"It was just so hypocritical of her," they said in a video. "I think, for me, because I experienced so much harassment and bullying from her when I was just 16 years old, just 17 years old, just 18 years old, at a time when I needed help. Like, I was being abused."
Stodden added: "She has sent me so many different tweets. Private DMs, up 'til a couple years ago. It's so damaging when you have someone like Chrissy Teigen bullying children."
Newsweek has contacted Teigen's representatives for comment. The 35-year-old has yet to comment publicly on Stodden's allegations.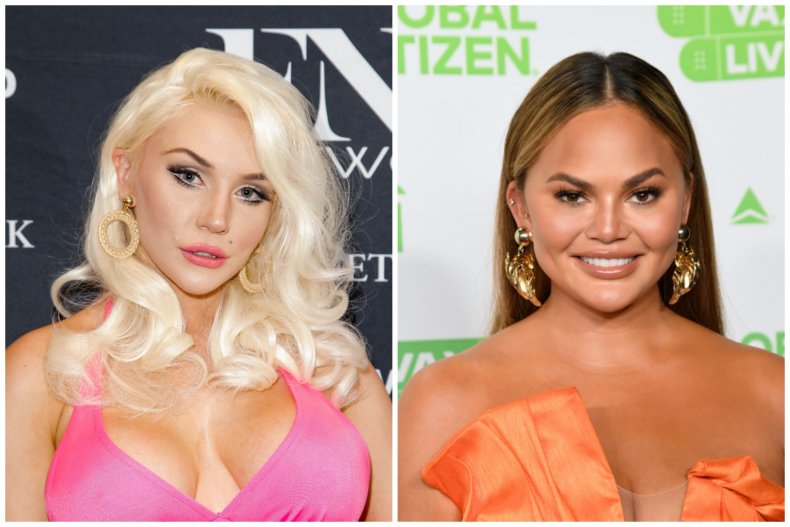 What Chrissy Teigen allegedly said to Courtney Stodden in deleted tweets
Stodden's claim that Teigen sent insulting DMs has not been substantiated.
However, screenshots of the alleged tweets that Teigen sent publicly to Stodden in 2011 and 2012 have been collected and republished by Buzzfeed and TMZ.
The public posts, since deleted, contain a number of insults. One suggests her "Friday fantasy" is that Stodden take a "dirt nap." Another retweets a post by Stodden, adding the comment: "go to sleep forever."
Another taunting tweet reads: "what drug makes you do that with your mouth? Asking for a friend who really wants to know how to look like an idiot. Thanks."
Yet another post asks Stodden if they have a family. Another tweet simply reads: "I hate you."
The reports have led to widespread criticism of Teigen on Twitter, with conservative pundit Candace Owens accusing her of having "mental derangement."
If you have thoughts of suicide, confidential help is available for free at the U.S. National Suicide Prevention Lifeline. Call 1-800-273-8255. The line is available 24 hours, every day.
Update 5/12/21, 2:10 p.m. ET: The headline of this article was updated to reflect that the allegations of the contents of Teigen's messages were made by Stodden.