Chrissy Teigen Says She Was 'Insecure, Attention Seeking Troll' in Courtney Stodden Apology
Model Chrissy Teigen has apologized for her tweets insulting fellow model Courtney Stodden and messages telling Stodden to kill themselves. In her apology, Teigen said she was an "insecure, attention seeking troll" when she published the offending messages in 2011 and 2012.
The tweets were sent after Stodden's 2011 marriage to 50-year-old actor Doug Hutchison. Stodden (who identifies as non-binary and uses they/them pronouns) was 16 years old at the time. Their mother gave them permission for the wedding. Stodden said numerous media members publicly shamed them as a slut after the wedding.
Around that time, Teigen tagged Stodden in public tweets saying that they looked "like an idiot" and were "so effing weird." Stodden said that Teigen also sent them private messages telling Stodden to kill themselves and wishing they were dead. Stodden was a teenager at the time.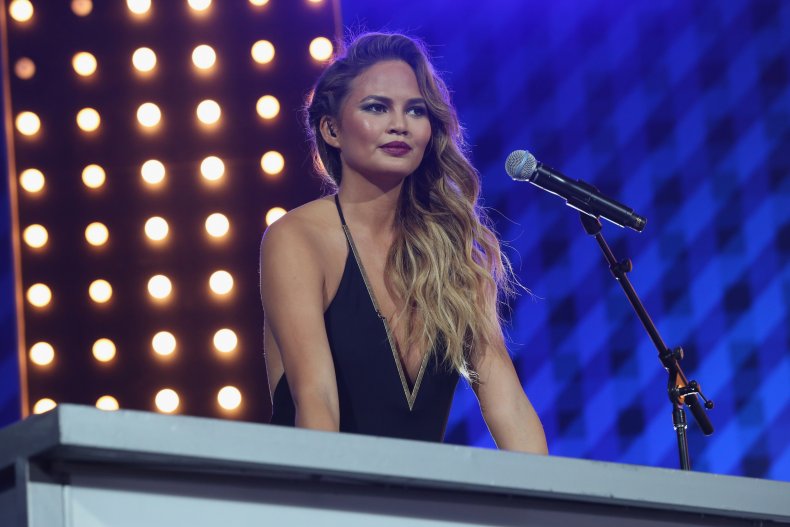 "Not a lot of people are lucky enough to be held accountable for all their past bullshit in front of the entire world," Teigen said in a series of tweets published Wednesday. "I'm mortified and sad at who I used to be."
"I was an insecure, attention seeking troll," she continued. "I am ashamed and completely embarrassed at my behavior but that...is nothing compared to how I made Courtney feel."
Teigen said that she has tried to connect with Stodden privately, but wanted to publicly apologize since her tweets insulting Stodden had been public as well.
"I'm so sorry, Courtney. I hope you can heal now knowing how deeply sorry I am," Teigen added. She also apologized to her Twitter followers and said that she constantly works to be better than she was in the past.
Stodden said that they accepted Teigen's apology, but said that they had never personally heard from Teigen. Stodden added that Teigen's apology felt like an attempt to save her partnership with the retailer Target. The company has a homeware collection with Teigen's name attached to it.
On Tuesday, conservative commentator Candace Owens criticized Teigen's for her tweets and messages against Stodden.
"How is [Teigen] not beyond canceled by now?" Owens asked in the caption of an Instagram video published Tuesday. "She is a deranged human being who should be wiped from the internet by Facebook/Twitter standards."
Teigen briefly left Twitter in mid-March because of bullying from other users. The bullies included QAnon conspiracy theorists who accused her and husband, musician John Legend, of being pedophiles.
"What a shame @chrissyteigen is leaving Twitter," Stodden wrote on Twitter at the time. "it's too 'negative' for herrrrrr #chrissyteigen #bully"
Newsweek contacted Teigen's agent for comment.