Christian Petition Against Donald Trump Receives Over 20,000 Signatures
A petition opposing Donald Trump's 2024 presidential bid from a progressive Christian group, formed to oppose the "religious right," has received more than 20,000 signatures online.
The petition was created by Faithful America, a group founded in 2004 which claims to be the "largest online community of Christians putting faith into action for social justice." As of 7.00 a.m. ET on Saturday morning it had been signed by 20,723 people, surpassing the original goal of 20,000.
It reads: "On November 15 at Mar-a-Lago, Donald Trump officially announced that he is running for president in 2024. In a speech laced with fearmongering and lies, Trump made it clear that he intends to double down on the fascist tactics that led to the deadly January 6 Christian-nationalist attack on our Capitol.
"We don't know much yet about how the 2024 election will play out, but one thing is certain: Another Trump presidency would be a disaster for our country."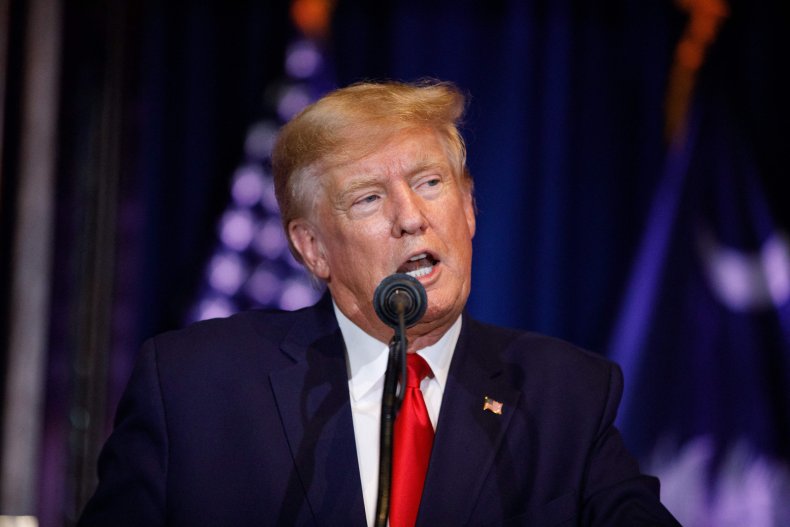 The petition goes on to argue the pro-Trump Make America Great Again (MAGA) movement "clearly rejected" core Christian teachings in the Gospel.
It continued: "The insurrectionist ex-president—who infamously tear-gassed peaceful protesters to take a photo-op with a Bible outside an Episcopal church that didn't support him—repeatedly weaponized religion in his last two campaigns, and 2024 will be no different.
"The Gospel teaches love, equality, and dignity, all values that the MAGA movement clearly rejects. We can't let anyone believe that these Christian-nationalist politicians and far-right pastors speak for our faith—especially not when it comes to Donald Trump.
"At this pivotal moment, let's speak out as Christians and make it clear that Donald Trump does not share our values and will never have our votes."
Last month Trump hit out at what he branded "disloyalty" from some conservative evangelicals who were refusing to support his 2024 presidential bid.
Speaking to conservative journalist David Brody, he said: "Nobody has ever done more for Right to Life than Donald Trump. I put three Supreme Court justices, who all voted, and they got something that they've been fighting for 64 years, for many, many years.
"There's great disloyalty in the world of politics and that's a sign of disloyalty."
Last June, the Supreme Court overturned Roe v. Wade, ending the constitutional right to an abortion, in a major win for the religious right.
Separately, Trump is urging the Biden administration to shoot down a suspected Chinese "high-altitude surveillance balloon" which has been making its way across America.
Newsweek has contacted Donald Trump for comment.