Over 1 million TikTok viewers have watched the moment that a Christian woman prays for a drag queen.
Jessica L'Whor told Newsweek: "I feel like when I was asked if she could pray for me, mentally I prepared myself to be numb to whatever response because it's not common to get a good prayer."
However, L'Whor, 30, was pleasantly surprised to hear the woman say the following prayer: "I just ask, Lord, would you protect Jessica? She's out here spreading good things and good cheer to people and just watch over and protect her. And the people that are here with her here today. Amen."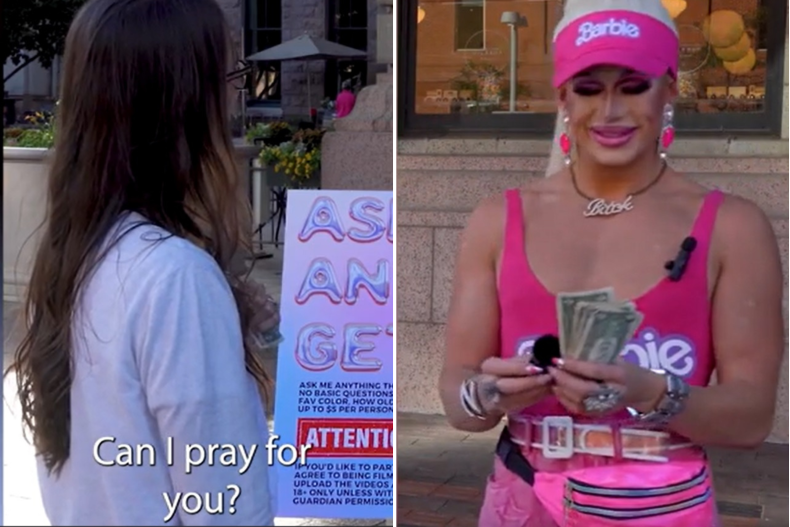 During the clip, L'Whor is sporting a Barbie-inspired outfit and wearing a blonde wig, with dollar notes in her hands. The drag queen was filming a new series for her TikTok [@jessicalwhor] where she gives strangers $1 for every question they ask.
"It felt amazing to hear the prayer was about my safety. She used my pronouns with the way I was presenting, and it was just simply kindness," L'Whor told Newsweek.
A study based on more than 35,000 Americans from all 50 states found that 62 percent of adults believe homosexuality should be accepted. The Religious Landscape Study conducted by Pew Research Center revealed Buddhists were most in favor of accepting same-sex relationships, whereas Jehovah's Witnesses were least. The results showed that 62 percent of Orthodox Christians support acceptance, too, while 31 percent said homosexuality should be discouraged.
So far, the wholesome video has racked up over 211,700 likes and 1.1 million views. L'Whor said: "I was shocked but I don't think that I was as shocked as the world is."
More than 3,400 people have commented on the clip since it was shared on August 10. Many TikTok users have admitted that they thought the worst was going to happen with the prayer so they were surprised by the outcome.
One comment read: "Now THAT is a Christian."
One user wrote: "Wow, I was not ready for her kindness."
"I was worried for a sec but wow what a beautiful plot twist!!" posted another.
"Now, this whole interaction was so respectful!!" added a third.
"See. Now that is appropriate. Asked consent and gave a positive prayer. Beautiful," wrote one person.
L'Whor said, "Drag is not a crime," and it seems like many Christians couldn't agree more. In July, a drag performer/contemporary Christian musician Flamy Grant took the No.1 position on iTunes' Christian music charts in the top songs and top albums categories.