Christian Slater and Rainn Wilson on Teaming Up For Murder-for-Hire Series
"Robert Evans was larger-than-life," Christian Slater recently told Newsweek in an interview, "he's a bona fide part of Hollywood history." Indeed, the film mogul produced some of the biggest hits of the 70's and 80's including The Godfather, Chinatown, Urban Cowboy, and Love Story; but he's often remembered for a movie that fizzled at the box office: The Cotton Club.
While that 1984 film had all the trappings of a massive hit with Richard Gere as its star and Francis Ford Coppola as its director, the production was overshadowed by the suspicious disappearance of one of the film's principal investors—with all roads of the subsequent murder investigation seeming to lead back to Evans.
"I had no idea how many layers this story had," Slater said, "it's a ticking time bomb of a tale." At last, the explosive true story is being told in all its grisly glory in a new drama series, Killing Hollywood: The Cotton Club Murder.
The eight-part Audible Original production was written by Daniel Thomsen (Westworld) and Jeffrey Baker (Law & Order: Special Victims Unit) and produced in association with Treefort Media and The Komak Company.
It stars Academy Award and Emmy-nominated actress Juliette Lewis (Natural Born Killers), Emmy-nominated actor Rainn Wilson (The Office), and Golden Globe Award-winning actor Christian Slater (Mr. Robot).
Slater portrays Evans in the series—the first time he said he's ever played someone he knew in real life. "At one point, Robert and I had a really nice friendship," Slater said, "getting the opportunity to portray some role in his life was a genuine thrill for me and a big part of what pulled me into this."
Another draw for Slater was the opportunity to be connected on this story with Lewis and Wilson. "I'm a big fan of them both," Slater said, "their involvement made the project much more appealing."
The feeling, it seems, is mutual. "Christian is an amazing actor," Wilson told Newsweek in an interview, "I've always been a big fan of his, and I've known Juliette personally for a long time and think she's amazing. It was a really exciting cast."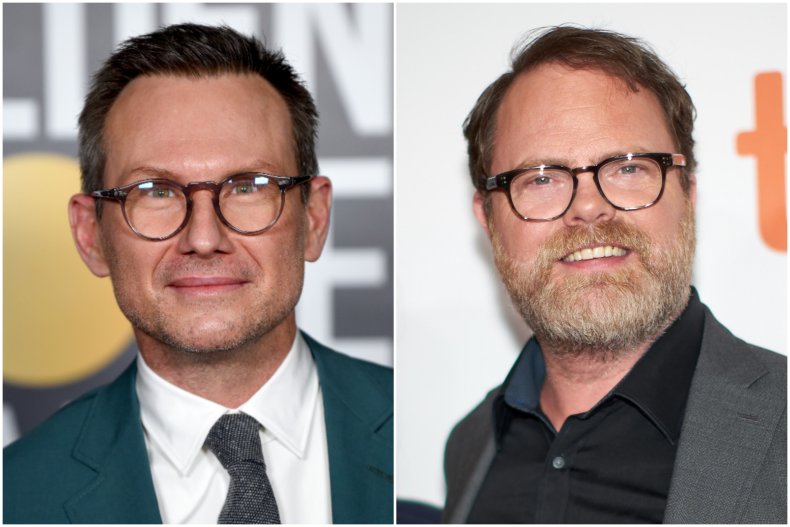 In the series, Wilson plays Roy Radin—a washed-up New York vaudeville theater producer looking for a fresh start in Tinseltown. His Hollywood dream finally becomes a reality when Lanie Jacobs (Lewis)—"a high-society Southern belle who also happens to be a cocaine dealer," as Wilson put it—introduces him to Evans.
"Neither Roy nor Lanie wanted to play by the rules or pay their dues to break into Hollywood," Wilson said, "they wanted instant superstardom and saw Hollywood's most infamous producer (Evans) as their ticket getting there."
For his part, Evans' star had faded after a few box-office bombs and a public drug arrest ("his career hit the skids," Wilson said,) and the once-prized producer couldn't secure funding for his bloated 180-page Cotton Club script. "Enter Lanie with her drug money and Roy with his New York theater money," Wilson said.
A recipe for disaster from the get-go spirals out of control as stories of kidnapping, changed identities, coerced confessions, botched investigations, and a gruesome murder unfolds in one episode after another. "There are so many unbelievable twists," Wilson said, "the audience won't believe they've never heard all this before."
In addition to their work on this series, Slater and Wilson have been busy during the pandemic on other projects, too. Slater has worked on Dr. Death—an upcoming TV series about medical malpractice based on the podcast of the same name. "I'm a huge fan of the podcast and was thrilled to portray another real-life person, vascular surgeon Dr. Randall Kirby," Slater said. Wilson has been busy with his hilarious, "scripted and improvised" dark comedy podcast Dark Air With Terry Carnation. "We've had some of the best comedic voices in Hollywood," Wilson said, "it's been a blast and audiences are loving it."
And despite all the pain the pandemic has caused around the world, "there's been a silver lining," Slater said, noting how much he's loved spending extra time with his wife and children. "I usually take the morning shift with my 20-month-old daughter," Slater said. "I've appreciated the opportunity to really see her grow up every day and to lay a solid foundation with her during this time."
Wilson has similarly enjoyed slowing down and spending additional time with his wife and teenage son. "I took my family on a giant RV trip to the Grand Canyon and the incredible National Parks in Southern Utah," he said, - hiding in plain sight as he did.
"No one expected to see Dwight Schrute fueling up his RV – with a beard," he said, "I didn't get recognized hardly at all."
As far as Dwight is concerned, Wilson said his beloved character from The Office actually has something in common with Roy Radin: "Neither of them really fit in, so they end up developing a peculiar world view and larger-than life personalities."
The latter a trait they share with Evans. "Though Robert is no longer here (he died in 2019 at age 89), I think he would appreciate this story," Slater said. After all, "Robert was a guy who would go to any lengths to be an artist in this industry and to have his vision realized," he said, "and this series captures that part of him fully."
Killing Hollywood: The Cotton Club Murder is available exclusively on Audible, starting May 27, 2021.