Christian TV In Russia Offers To Pay LGBT To Leave The Country For Good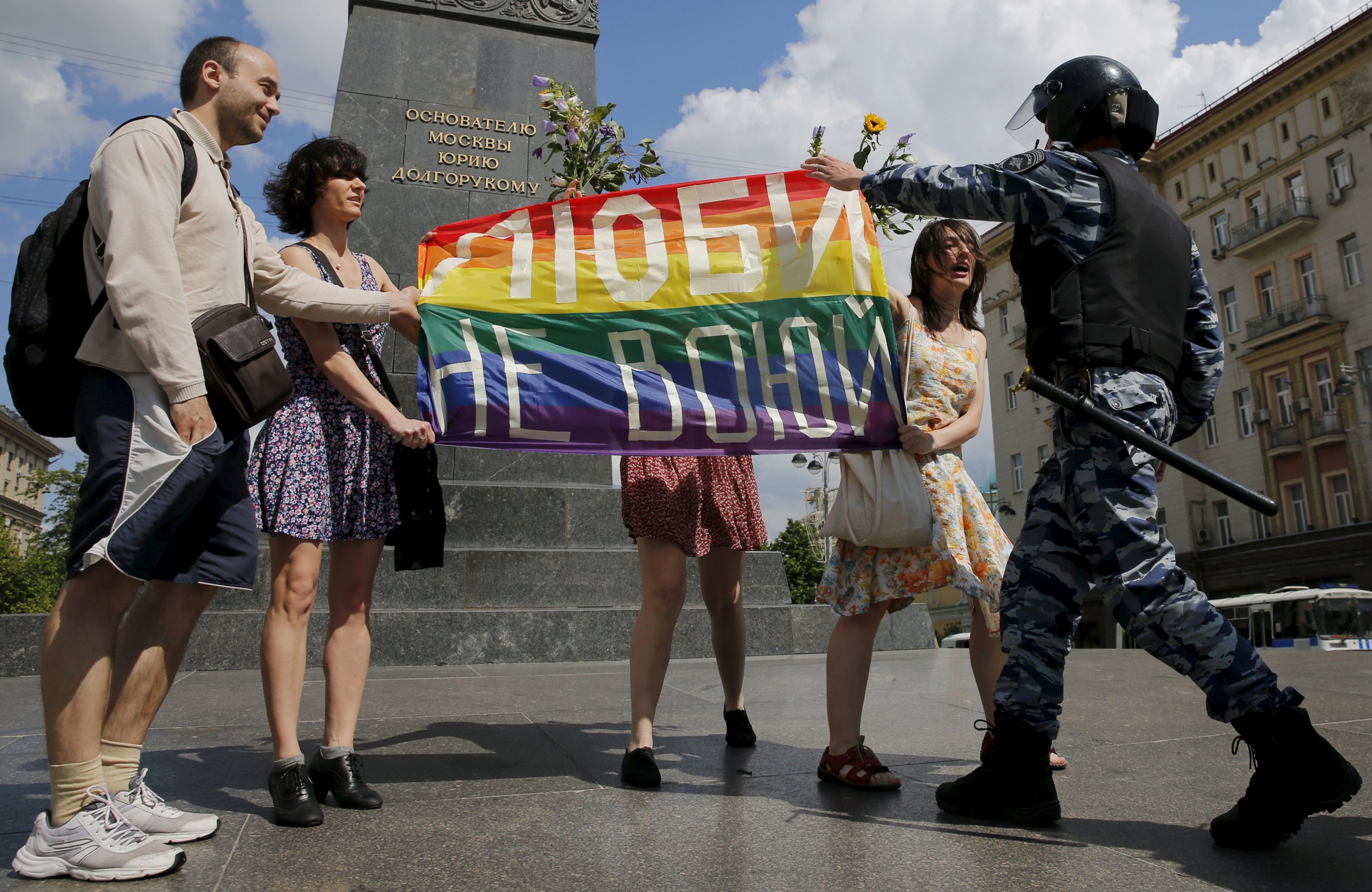 Russia's religious TV channel is offering to send LGBT Russians abroad for good, so they can "submit to their sins" outside Russia.
The ultra-conservative Tsargrad network issued a video message on Thursday to Russians of "non-traditional sexual orientations," calling them "perverts" and "sodomites" and inviting them to compete for a one-way ticket overseas.
Activists have called on Western nations to grant asylum to LGBT Russians in greater numbers amid reports that in Russia's Chechnya, gay men are secretly and systematically imprisoned. LGBT rights in all of Russia were dealt a serious blow in 2013, when public expressions and celebrations of LGBT Pride came to be regarded as adult propaganda.
Read More: Russia's Chechnya operates six "gay prisons," Russian journalists claim
In a video shared by the channel's Facebook page, entitled "Good riddance, sodomites," one of the channel's anchors encourages those who "lay with men" or have "some other perversion" to be in touch with the network to have a chance of being selected for the trip. The only requirement is providing a medical record of the "form of perversion" that the contestant "suffers from," according to the video.
Despite social stigma, homosexuality is not a crime in Russia nor an illness to be examined, so it is not the subject of a public record, medical or otherwise. The channel's offer may only be a publicity stunt, especially considering no destination for the ticket on offer is actually given. California is named as the place where westerners are sympathetic to Russian LGBT people.
"This is not a joke," Andrey Afanasyev, the anchor in the video insists. "We really want you to return there, where you can openly submit to your sins."
Ironically, in using footage of LGBT Pride marches abroad in the clip, some users questioned Tsargrad as to whether they could be charged under Russia's so-called "gay propaganda" law. The video is not labelled inappropriate for children as the law sometimes requires.
Russia's church has been one of the harshest critics of LGBT rights, with its highest cleric comparing marriage equality to Nazism last month. Due to the high number of LGBT Pride events in Europe this summer and a hepatitis outbreak among gay men, Russia has also instructed its citizens travelling to the "European region" to get vaccinated.