On Christmas Day, Joe Biden Warns Against Large Gatherings: 'Not This Year'
President-elect Joe Biden and his wife, Dr. Jill Biden, released their Christmas message Friday morning. In their well-wishes for the season, the Bidens also asked Americans to stay home this year and not have large family gatherings.
The video, posted to Joe Biden's official Twitter, has 1.7 million views as of this writing. The video shows the Bidens sharing a couch, addressing the camera.
"Merry Christmas, Happy Holidays. Jill and I wish you and your family peace, joy, health and happiness this season. But we know for so many of you in our nation, this has been a very difficult year," Joe Biden said, opening the video. "Many of our fellow Americans are struggling to find work, literally put food on the table, pay their rent or their mortgage. We're reminded we're on this Earth to care for one another, to give what we can and to be a source of help and hope to friend and stranger alike."
Dr. Jill Biden spoke of the losses of this year, but shared a feeling of hope, thanks to the new COVID-19 vaccines recently approved by the FDA, as well as Americans helping others.
"Many families are facing their first Christmas having lost a loved one. And Joe and I know that sorrow. And we know how in times of grief, a kind word can mean so much. This is also a season of gratitude. And we're so thankful for the frontline and essential workers who have put themselves at risk for all of us. And for the scientists and researchers who have worked to deliver vaccines that are an incredible scientific breakthrough. And we're thinking of our service members for far from home and the loved ones who miss them. Our family knows your sacrifice, and our hearts are with you," she said.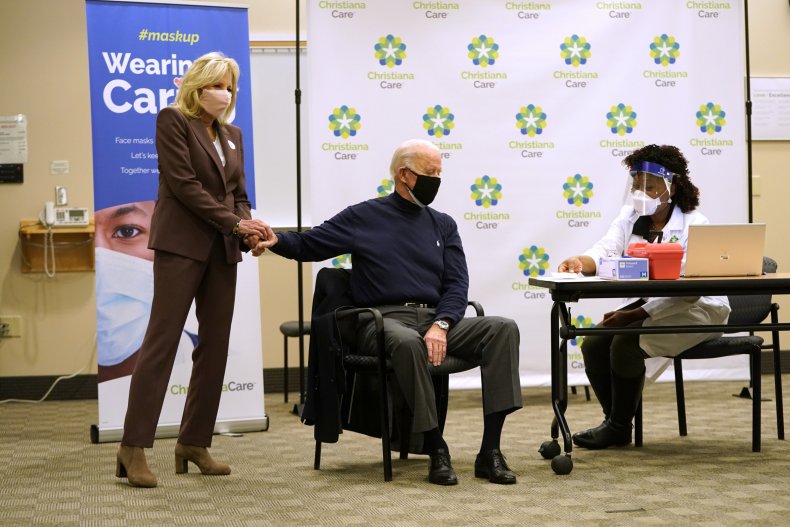 Joe Biden then urged people to stay home in order to slow the spread of COVID-19.
"We usually have 20 to 25 people over Christmas Eve for dinner, but not this year. Well, we're gonna miss our family, but it's what we need to do to keep our family safe. We hope you'll consider limiting travel and the size of family gatherings as well this year," he said.
Dr. Jill Biden added, "Even as our celebrations are dimmed, we know that this won't be forever, and brighter days are coming soon. On this holy day, we remember that love and joy can be shared across the farthest distances, we celebrate apart, but not alone, and look forward to next year, when we can come together with renewed appreciation for the people and the traditions we love."
Despite pleas from the Bidens and scientists, many people are not heeding warnings to stay home. The TSA reported that over 1 million travelers were screened at airports on Wednesday, the busiest air-travel day since March. Another 3 million were screened during the weekend, and the number of air travelers on Tuesday was just shy of 1 million.
COVID-19 cases and deaths have sharply risen this winter. The Johns Hopkins University Coronavirus Resource Center reports a case spike on December 10, with nearly 1.5 million new cases reported that day. As of Friday at 5:22 p.m., Johns Hopkins reports 330,149 total deaths in the United States and 18.7 million total U.S. cases. Hospitalizations in the U.S. have been at record levels since early November.
The Institute for Health Metrics and Evaluation at the University of Washington has predicted that by January 10, there could be over 1 million new cases in the U.S. per day. However, that number could be more than halved with "rapid vaccine rollout," the institute said.