US Sees Busiest Day of Airport Travel Since Pandemic Began as One Million Screened by TSA
More than one million travelers were screened at U.S. airports Wednesday, marking the busiest day of air travel since the pandemic first began in March.
The latest data from the U.S. Transportation Security Administration (TSA), showed that 1,191,123 travelers passed through U.S. airport security checkpoints on December 23. That number surpassed the previous record set for travel during the pandemic, when 1.17 million people traveled on the Sunday after Thanksgiving.
An additional 3 million more people passed through security checkpoints over the weekend, while 992,167 were logged on Tuesday.
The travel spike comes as COVID-19 cases and deaths continue to rise in many places across the country, and amid warnings from public health experts and the Centers for Disease Control and Prevention (CDC) that traveling for the holiday could make matters worse.
At least 3,411 new coronavirus deaths and 227,522 new cases were reported on Wednesday the U.S, while hospitalizations reached an all-time high. According to The Atlantic's COVID Tracking project, a record-breaking 119,463 patients are currently being hospitalized for the novel coronavirus across the country.
Over the past seven days, there has been an average of 213,472 cases per day, an increase of 2 percent from the average two weeks earlier, according to data from the New York Times. On Sunday, the country's seven-day average of deaths hit a record high of 2,628.
But public health experts have warned that the worst is yet to come.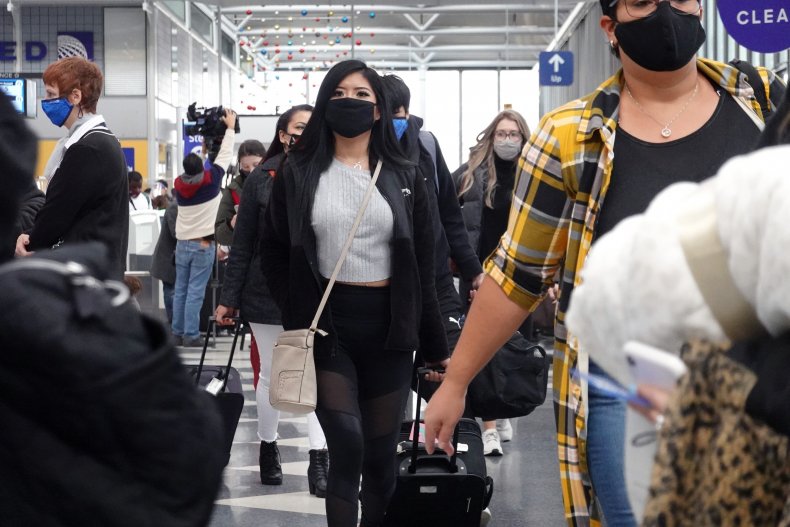 On New Year's Day, the country's daily case count is projected to reach around 614,367, nearly tripling the current average case tally.
A forecast by the Institute for Health Metrics and Evaluation (IHME) at the University of Washington, predicts that the U.S. could see over one million cases per day by January 10 if "governments do not re-impose mandates if cases increase" and "vaccine distribution is scaled up over 90 days."
Speaking to Newsweek earlier this month, Dr. Anthony Fauci, director of the National Institute of Allergy and Infectious Diseases (NIAID) warned: "January is going to be terrible," with the outbreak expected to reach its worst levels yet.
"I think January is going to be terrible because you're going to have the Thanksgiving surge super-imposed upon the Christmas surge. So it's entirely conceivable that January could be the worst."
Dr. Rochelle Walensky, the incoming CDC director under the Biden administration, said on Saturday that "dark" days lie ahead for the country.
"I think we all need to acknowledge that on January 21, things are going to be bad. It's going to be dark," Walensky told CNN's John Berman on Saturday. "Right now, we're already in some dark times. I do think that we're going to have more deaths, more surge after the Christmas and New Year's holidays. And all of those are going to manifest around the end of January."
The CDC has urged Americans to avoid Christmas travel, stating that "the safest way to celebrate winter holidays is at home with the people who live with you."
"Travel and gatherings with family and friends who do not live with you can increase your chances of getting or spreading COVID-19 or the flu," the agency wrote on its website.
In total, U.S. coronavirus cases have surpassed 18.4 million, while deaths have reached 326,871, according to data compiled from Johns Hopkins University.