Ted Cruz Says Columbus Didn't Commit Genocide—historians Say He Did
Senator Ted Cruz has defended Christopher Columbus and sparked a Twitter debate about his legacy after he took issue with claims by another lawmaker that the explorer had "started a genocide" against the indigenous people of America.
The Republican from Texas shared video of the statue of the explorer being pulled down in Minnesota's state Capitol grounds and tweeted the message "American Taliban," in an apparent reference to the actions of Islamist fundamentalists who have removed monuments they deemed heretical.
However, Minnesota representative Ilhan Omar took aim at Cruz and defended the actions of the protesters, retweeting the senator's post and adding the message: "This was organized and led by Indigenous people. Columbus literally started a genocide against them.
"What a sick thing to say about those taking down monuments to their own oppression."
Cruz hit back at Omar's comments, tweeting: "No, he didn't commit genocide, 'literally' or otherwise. He did discover the New World, which led to colonizers, some of whom inadvertently brought disease.
"Is it your position that it's inherently immoral to come to America from a foreign land?" he wrote in an apparent dig at her coming to the U.S. from Somalia. "I'm glad my Dad came from Cuba," Cruz added, referring to his own heritage.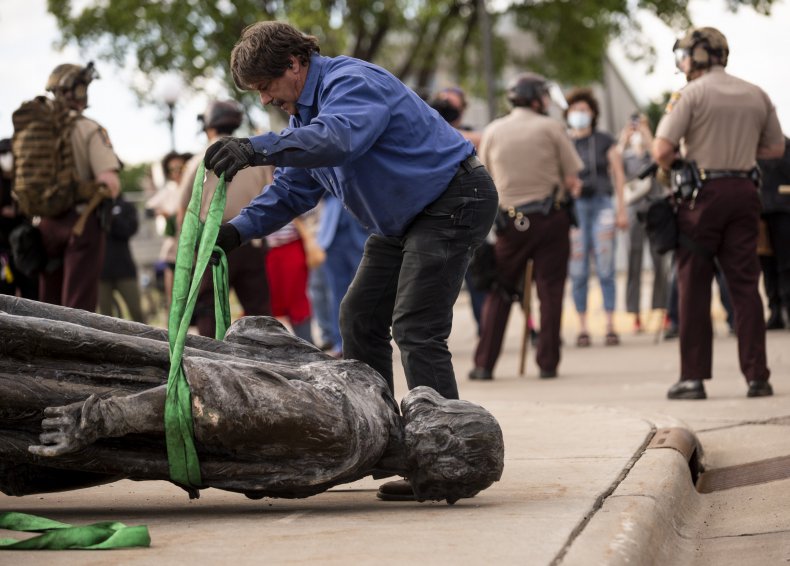 The exchange sparked a Twitter thread mostly backing Omar's opinion of Columbus, whose legacy of being credited with founding the Americas is marred by his enslavement of indigenous tribes.
There was a defense of Cruz's view, with one person tweeting: "This is a sad example of the left revising history to mean what they want it to in order to support their entitlement and oppression narrative."
But historian, Caroline Dodds Pennock, weighed in, tweeting: "Columbus enslaved many thousands of Indigenous people & transported between 3,000 & 6,000 of them to Europe. It would have been many more if the Spanish crown hadn't intervened. His abuses & tyranny were so notorious even in his own lifetime that he was arrested."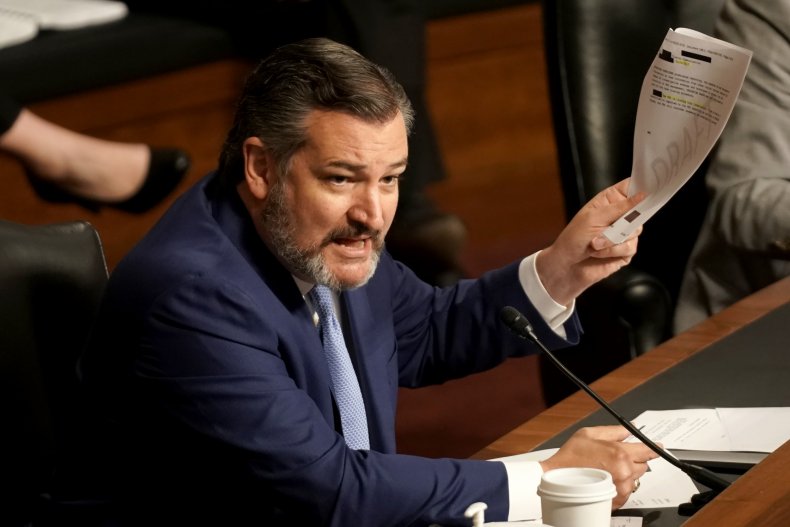 Historian Waitman Wade Beorn tweeted: Columbus DID commit genocide," while John Smolenski, who describes himself as a historian in his handle, tweeted: "Is it your position that slave trading is inherently evil? Because that's something Columbus did."
Thomas Lecaque, an assistant history professor, tweeted: "Columbus was an apocalyptic zealot who massacred natives, mutilated them, pushed African slavery on Hispaniola, engaged in tyranny,' and numerous other crimes."
Meanwhile, Max Berger tweeted a link to a study by Yale University which stated: "Within 25 years of Columbus' arrival in Haiti, most of the Taíno had died from enslavement, massacre, or disease. By 1514, only 32,000 [out of several hundred thousand] Taíno survived in Hispaniola."
Another tweeted links to studies "on the genocide of the Indigenous Peoples of North America," such as Jeffrey Ostler's Surviving Genocide and Benjamin Madley's An American Genocide. Newsweek has contacted Cruz's office for comment.
Columbus is at the centre of a debate about race and the U.S.'s colonial history, sparked by the death of George Floyd in Minneapolis. Also this week, a monument to the explorer in Richmond, Virginia was pulled from its pedestal, set on fire and thrown into a lake and another statue in Boston was decapitated.
Despite growing momentum to erase his presence from cities, New York governor Andrew Cuomo said he wants a statue of the explorer Christopher Columbus to remain in place to honor the contributions of Italian-Americans to U.S. history.
He did not specify whether he meant the statue dedicated to Columbus in the center of Columbus Circle in Manhattan or the one at the south end of the Mall in Central Park.