Ted Cruz Calls Protesters 'American Taliban' After Christopher Columbus Statue Pulled Down in Minnesota
Senator Ted Cruz has compared the latest ripping down of a statue of Christopher Columbus to the iconoclasm of Islamist fundamentalists, as debate rages about the status of monuments in the U.S. protesters say commemorate a racist and colonialist past.
The statue of the explorer had stood in Minnesota's state Capitol grounds in St. Paul since 1931. On Wednesday, a group of around 150 demonstrators attached rope to the monument to tear it from its base. Footage of it crashing down onto the pavement to protesters' cheers was shared on social media.
"This has been an ongoing conversation that we've been having for years with people who occupy [the capitol]," Mike Forcia from AIM of Twin Cities, a Native American advocacy group that organized the rally, said.
Cruz, a Texas Republican, tweeted a video of the protesters' action, with a succinct message that read: "American Taliban."
While it is not clear what action Cruz was comparing the falling of the Columbus statue to, in 2001, Taliban militants destroyed the Bamiyan Buddhas, the largest standing Buddha figures in the world. Newsweek has contacted Cruz's office for further comment.
Following the recent incident, Ohio Gov. Tim Walz said in a press conference that many considered the monument as a "legacy of genocide," but believed that the removal of the monument without proper procedure was wrong.
"Even in pain, we must work together to make change, lawfully. I encourage Minnesotans to have productive, peaceful conversations about the changes that need to be made to create a more inclusive state," Walz said.
The dramatic incident on Wednesday came a day after protesters removed a Columbus statue from Byrd Park in Richmond, Virginia, set it alight and threw it in the park's lake. They spray-painted a sign left on its foundation that read: "Columbus represents genocide."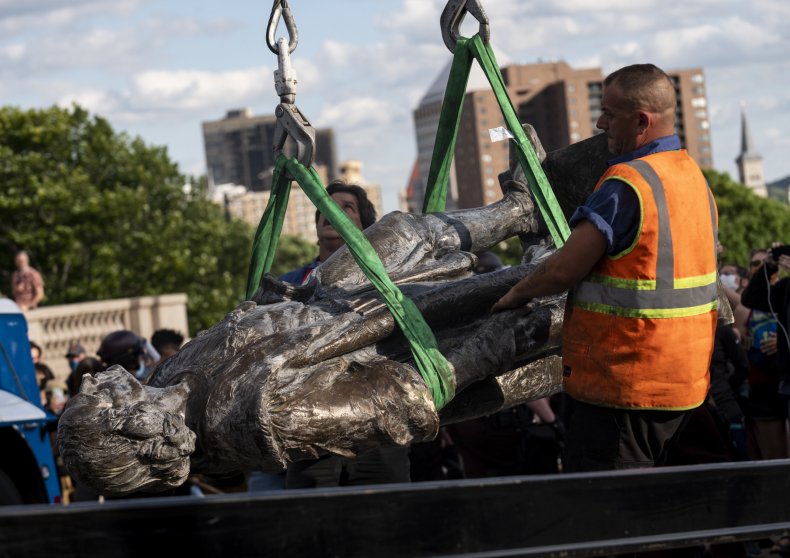 In another incident, a statue of Columbus, in Boston's Atlantic Avenue in Massachusetts, was beheaded.
A debate around the legacy of Columbus and whether he should be considered an explorer or a conqueror is raging as he is scrutinized for his actions towards the indigenous communities.
Many cities and states have replaced Columbus Day, which is celebrated on October 12, with Indigenous Peoples Day.
The protests come amid a reckoning sparked by the killing of George Floyd by a white police officer and increased momentum to remove Confederate monuments across the country.
Virginia Governor Ralph Northam announced the removal of a statue of Confederate General Robert E. Lee from Richmond, before a judge granted a temporary injunction preventing the move. Meanwhile, President Donald Trump has ruled out renaming military bases currently named after Confederate generals.