Who is Chrystul Kizer? Black Woman's Case Under Spotlight After Kyle Rittenhouse Acquittal
Protesters in Kenosha, Wisconsin, are calling for attention to be paid to the case of Chrystul Kizer, a sex trafficking victim accused of killing her abuser when she was 17, following Kyle Rittenhouse's acquittal.
On Friday, Rittenhouse was found not guilty on all charges stemming from killing two men and wounding a third during the unrest that erupted after the shooting of Jacob Blake, a Black man, by a white police officer in Kenosha last year. Rittenhouse, who was 17 at the time, successfully argued that he had acted in self-defense.
Protesters who gathered to decry Rittenhouse's acquittal on Sunday also invoked Kizer's name, the Milwaukee Journal Sentinel reported.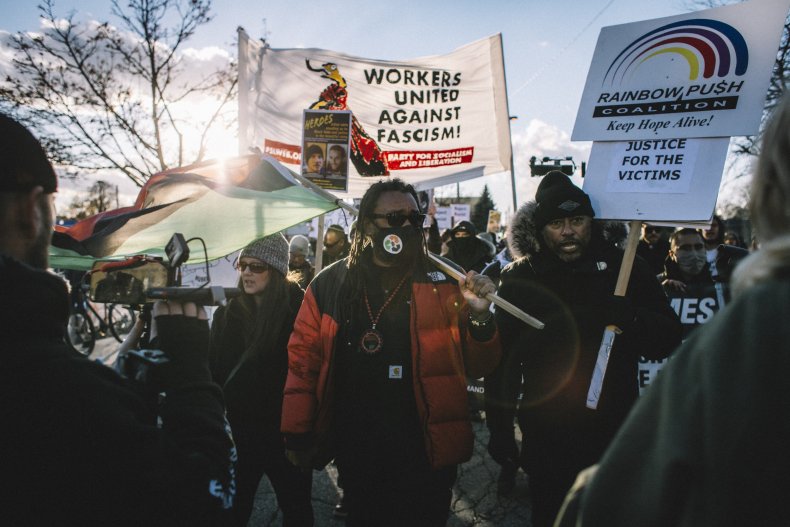 They argue that her case should have the same outcome as Rittenhouse's.
State Rep. David Bowen, a Democrat who is running for lieutenant governor, called on people to take up Kizer's cause with the same energy they put into those of Rittenhouse and Blake.
"I would see it as valuable for folks that were passionate around Rittenhouse to say, you know what, I'm going to support the freedom of a Black woman who was a minor in a situation where she was trying to escape from a clear history of abuse, and that she deserves to have the same type of focus, same type of resources raised, the same type of priority that was shown," he told Newsweek.
"We have a chance to rally around an individual that is being wronged by the system. We need her freedom to be prioritized just as much as his."
Kizer is awaiting trial on charges in the 2018 killing of 34-year-old Randall Volar III. Prosecutors allege Kizer went to his home in Kenosha, shot him in the head, set his house on fire and stole his car. At the time of his death, Volar was under investigation for sex trafficking underage girls.
Prosecutors contend Kizer's killing of Volar was premeditated and that she wanted to steal from him, but her attorneys are arguing that she acted in self-defense. Wisconsin law provides an affirmative defense for any crime committed as a "direct result" of being trafficked, but it has never been argued in a homicide case.
A Kenosha County judge had ruled in 2019 that Kizer couldn't use that defense. But that decision was reversed earlier this year by an appellate court, which ruled that Kizer could argue her actions resulted from being trafficked. The Wisconsin Supreme Court is reviewing the decision.
Julius Kim, an attorney and former criminal prosecutor in Wisconsin, told NPR that invoking an affirmative defense shifts the burden of proof onto the prosecution.
If the defense proves Kizer was a sex trafficking victim, then it falls on the state to "prove beyond a reasonable doubt that either she wasn't a victim of human sex trafficking or that the crime that she committed was not a direct result of that human sex trafficking," Kim said.
Kizer was released from jail in June last year after the Chicago Community Bond Fund and other supporters raised money to post her $400,000 bond.
A Change petition calling for the charges against her to be dropped has amassed more than 1.4 million signatures.
Update at 4.40 a.m. ET on 11/24/21: This article has been updated with comment from State Rep. David Bowen.