Republican Senator Chuck Grassley of Iowa has been taken to task on Twitter after lamenting that Senate business would force him to miss a "Grassley family reunion" for a second consecutive year.
Grassley tweeted on Friday that Democratic Senate Majority Leader Chuck Schumer of New York had, for the second year running, decided on a Senate schedule that will force him to miss his family reunion. The Iowa Republican said that he would need to remain in Washington, D.C., to "fight" the passage of the Inflation Reduction Act instead, although the bill is expected to pass regardless of Republican opposition due to united support from Democrats.
"Each Dec Schumer puts out schedule for Senate I set Grassley family reunion based on schedule," Grassley tweeted. "For 2nd yr in row I won't be at reunion I'm in DC to fight Dems irresponsible tax&spend bill. Need a Republican majority to hv schedule we can count on & A RESPONSIBLE FISCAL AGENDA."
Reactions to the tweet were largely negative, with many commenting that a large number of workers are regularly forced to miss family events due to work obligations. Some also urged the 88-year-old senator, who is running for reelection this year, to retire.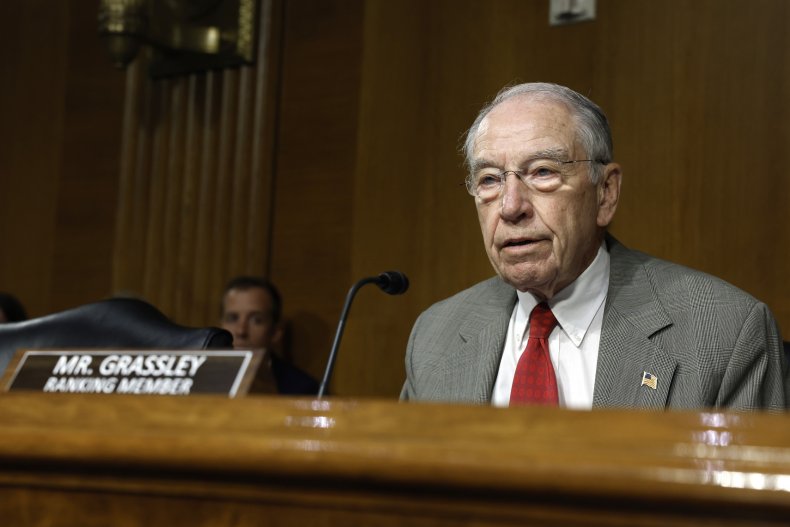 "Sen @ChuckGrassley tweets the people's business keeps him from a family reunion," tweeted Admiral Michael Franken, Grassley's Democratic opponent in the November 8 election. "What a travesty! The horror!! Try deploying for a year in inhospitable places doing the Nation's business. Try telling your 4YO you'll see her after kindergarten graduation. Try retiring."
"I feel pretty confident that a large contingent of Iowans would be more than happy to free @ChuckGrassley up to plan and attend all the family reunions he can possibly stand," writer Emily Hauser tweeted.
"Sounds like the job is a bit too much for @chuckgrassley to handle," tweeted political commentator Cheri Jacobs. "Time to put him out to pasture."
"Sir, I could not care less about your vacation," tweeted writer Charlotte Clymer. "Ask any service member who's had leave approved for a family vacation and then had it cancelled at the last minute because of needs of the unit. If our military can be called on to do this, so can you. Stop whining and do your job."
"You've been victimized!" the account of the rock band Wheatus tweeted. "How do you even cope? Imagine if there were families who could't afford to have reunions, because of money and work schedules. Would you even wanna live in a country like that?"
"Oh Chuck, just go home," tweeted author Elizabeth Bear.
"Ooooh!" University of Wisconsin professor Jonathan Senchyne tweeted. "You're just like millions of retail & food service workers whose managers demand they be available at any time for flexible scheduling each week rather than giving them reliable, repeating shifts that would make it possible to plan for childcare, school, 2nd jobs, etc."
Newsweek reached out to the offices of Grassley and Schumer for comment.