Chuck Schumer Begged Joe Biden to Boost Student Loan Forgiveness: Report
Democratic Senate Majority Leader Chuck Schumer of New York reportedly pleaded with President Joe Biden to eliminate as much student loan debt as possible ahead of an expected announcement to forgive up to $10,000 in loans.
Biden is expected to announce on Wednesday a long-awaited plan to forgive $10,000 in debt for Americans with federal student loans who make $125,000 per year or less, according to a Tuesday report by the Associated Press (AP) citing three people familiar with the plan. Although Biden pledged to forgive $10,000 in loans during his 2020 presidential campaign, many Democrats and progressives have been lobbying him to forgive a larger amount since he took office.
Schumer on Tuesday called the president, who is currently on a summer vacation in his home state of Delaware, and urged him to forgive the largest amount of debt possible, a Democrat with knowledge of the call told AP. The Democratic Senate leader reportedly argued that eliminating a larger amount of debt "was the right thing to do morally and economically." It was not clear if Schumer's reported last-minute plea had any impact on the final details of the forgiveness plan, which are still under wraps.
Biden is also reportedly expected to extend until January the pause on student loan repayments, which was set to expire on August 31. While additional details of the plan were not publicly available on Tuesday, reports that the president would be forgiving $10,000 in loans was met with a mixed reaction that varied significantly depending on political ideology. Some progressives were less than pleased that Biden was unwilling to wipe out all student debt.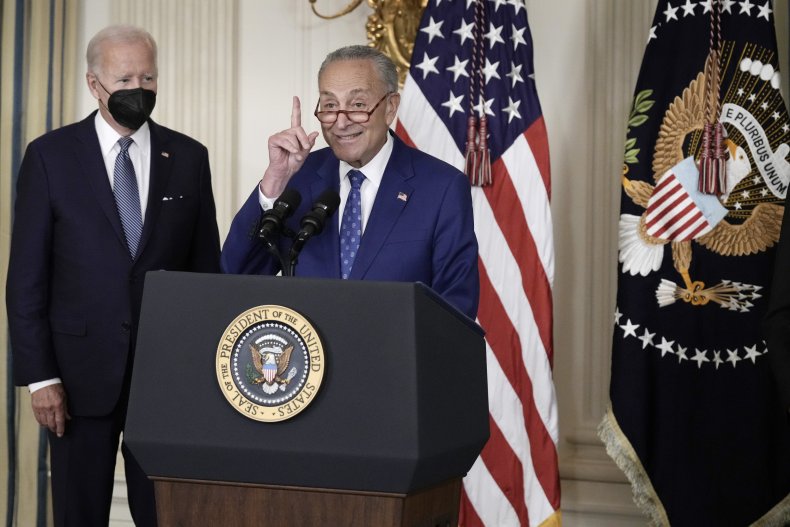 "If SoFI, a student loan refinancing company, could give its CEO a 92% raise last year paying him a grand total of $103 million in compensation and spend $625 million to put its name on the LA Rams football stadium, you know what President Biden can do?" tweeted Bernie Sanders, the independent U.S. senator from Vermont and former Democratic presidential candidate. "Cancel all student debt."
"Kanye West, Tom Brady, Jared Kushner, and Paul Pelosi (Nancy's husband) all got their PPP loans forgiven," self-described leftist and former Democratic congressional candidate Salem Snow tweeted. "If they can cancel debt for celebrities, politicians, and billionaires, then they can cancel student debt for you. All of it."
Meanwhile, a number of Republicans and conservatives were outraged over the plan to offer any kind of broad student loan forgiveness. GOP Senator Kevin Cramer of North Dakota suggested during a Fox Business interview on Tuesday that the plan would reward college dropouts and encourage "reckless decisions."
Other conservatives on social media described the plan as unfair to those who will not have debt forgiven because they did not go to college, or expressed resentment at having previously repaid their own student loans.
"Didn't go to college or already paid off your debt?" Republican Representative Bill Johnson of Ohio tweeted. "Too bad. Democrats want you to foot the bill for student loans someone else took out voluntarily."
"If #StudentDebt gets cancelled, who will ever pay their loans back again?" tweeted Steven Ehrlich, director of research for digital assets at Forbes. "I sure hope that #biden plans on sending checks or offering tax credits to those of us that took responsibility for our financial obligations."
About 45 million Americans currently owe an estimated $1.7 trillion in combined federal student loan debt. About one-third of borrowers owe $10,000 or less, while more than half owe less than $20,000, according to AP.
Economist Larry Summers and Art Laffer, who served during the Clinton and Reagan administrations, respectively, both predicted this week that the plan to forgive student debt would increase the national inflation rate.
Newsweek reached out to the White House and Schumer's office for comment.