Republican Slams Forgiving Student Debt for 'Reckless' College Dropouts
Reports that President Joe Biden will potentially cancel thousands in debt for particular borrowers are drawing ire from some economists and conservatives—including one Republican senator who says it will enhance "reckless decisions" that contribute to students not graduating from college.
Biden is considering forgiving $10,000 worth of student loans for eligible individuals making less than $125,000 annually. Senator Kevin Cramer told Fox Business' Maria Bartiromo on Tuesday that the economic effects associated with government-provided student debt relief don't make sense considering the number of people who take out loans but never graduate.
"If you look at the statistics of freshmen who don't finish college but they take out student debt in order to experiment with college—if you start forgiving that first $10,000 for people, that just enhances these reckless decisions," said Cramer, a North Dakota Republican.
"We oughta have people making more thoughtful decisions and applying good economic principles, as well as their personal circumstances. Then you have fairness and a much more economically literate electorate."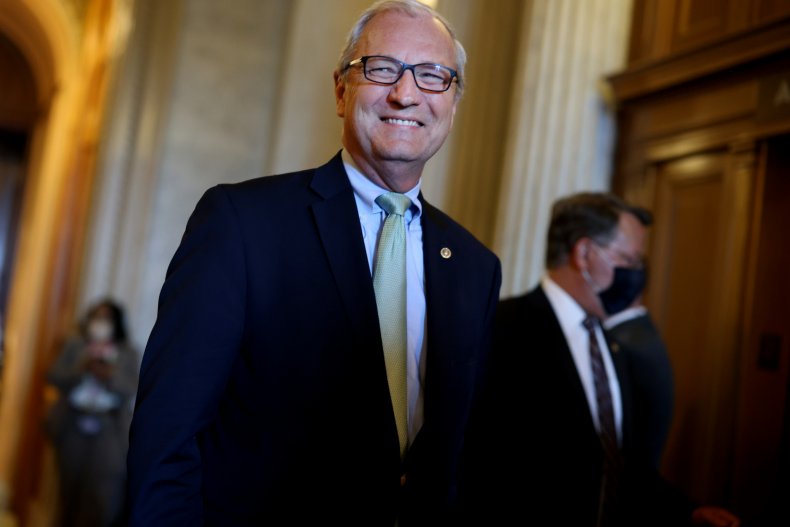 An estimated 45 million Americans owe $1.7 trillion combined in federal student loan debt. A poll by CNBC/Momentive found that 59 percent of Americans were concerned about how loan forgiveness could negatively impact inflation, with 32 percent of respondents in favor and 30 percent wanting no forgiveness for anyone.
The Education Data Initiative (EDI) reported that most college students who drop out do so during their freshman year, with for-profit schools having the highest dropout rate among all first-time freshmen—about 34.2 percent of students left school between the fall semesters of 2019 and 2020.
The average annual cost of college in the U.S is $35,551 per student, per year, according to EDI. The amount, which includes books, supplies and daily living expenses, increases 6.8 percent every year, EDI said. In-state students who attend four-year public colleges are expected to spend about $25,707 during just one academic year.
Forbes reported that less than 60 percent of students who attend four-year institutions graduate on time, while less than 20 percent of students at community colleges earn associate degrees or certificates.
If students' parents lack college degrees, statistics show that three-quarters of them also don't graduate. Also, more than two-thirds of college dropouts are low-income students with family adjusted gross income (AGI) of less than $50,000, while high-income students with a family AGI of more than $100,000 are 50 percent more likely to graduate.
Larry Summers, who was former President Bill Clinton's treasury secretary, said widespread cancellation of student debt would be "inflationary by raising tuitions" and "could be better used helping those who did not, for whatever reason, have the chance to attend college."
The Republican National Committee seized on comments made by Summers and former advisers for President Barack Obama, saying "canceling student loan debt would be a regressive, inflationary bailout for wealthy Americans."
Cramer agreed with Summers, telling Bartiromo that student loan forgiveness would create "so many perverse incentives," including tuition increases.
A Cramer spokesperson referred Newsweek to comments he made in February of 2021, when he said that the unilateral cancellation of student debt "would encourage others to needlessly rack up more loans while doing nothing to address the real inadequacies in our higher education system."
In Cramer's home state of North Dakota, residents are 15 percent less likely to be college dropouts compared to the average American, according to EDI.
For some organizations, like the nonprofit Student Debt Crisis Center, a cancellation of $10,000 does not nearly go far enough.
"Today we remind [Biden] that $10K is not enough and an income-limit will exclude many borrowers who need help," the organization tweeted on Tuesday.