Special Agent Details Chuck Schumer, Proud Boys Close Encounter on Jan. 6
Court filings have shed further light on how close a member of the far-right Proud Boys group got to then-Senate Minority Leader Chuck Schumer during the January 6, 2021 riot at the Capitol.
Joshua Pruitt, 40, will be sentenced on Friday, August 26, after pleading guilty in June to one count of obstruction of an official proceedings in relation to the insurrection.
New filings submitted by prosecutors over the weekend, seen by CNN, feature a Capitol Police special agent, identified only as M.L., detailing the moment Pruitt came face to face with Schumer while the Democrat was being evacuated on January 6 for his safety.
M.L. described pulling Schumer out of his chair on the Senate floor as they and two other members of the senator's security detail headed to the basement of the Capitol while trying to escape the building during the riot.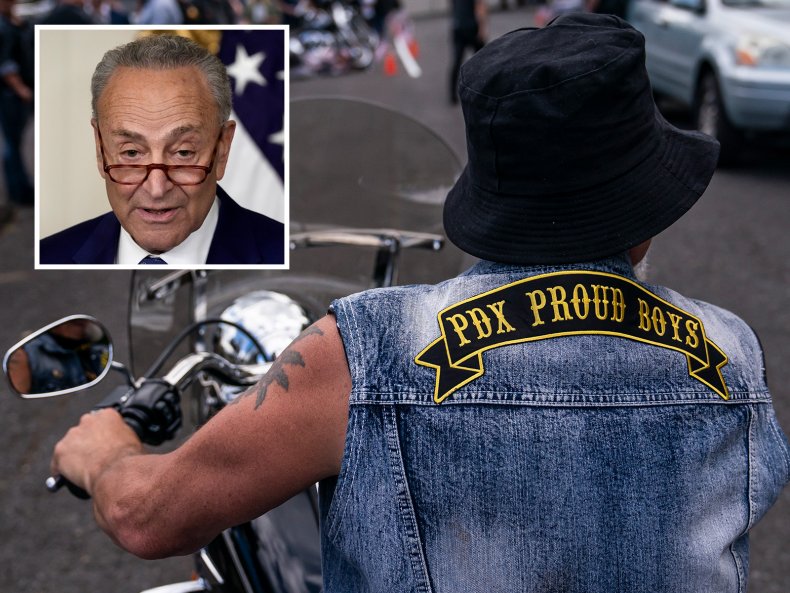 The court documents say Schumer and his detail were "crouch[ing] behind the recessed walls for cover" while they waited for an elevator to take them to a vehicle so they could escape.
The leader of Schumer's detail, a sergeant identified as K.F., then saw Pruitt approaching them. K.F. made eye contact with the Proud Boy and yelled out "evac, evac, evac," prosecutors said.
While fleeing the area with Schumer, K.F. described hearing Pruitt "getting louder behind him," and that "he felt as though they were being chased."
Schumer and his security detail quickly then ran down a ramp and shut a set of double doors behind them while fleeing from Pruitt, resulting in the Proud Boy turning and walking away.
Then-Senate Majority Leader Mitch McConnell had approached the same double doors while attempting to move to a secure location shortly afterwards, before also turning back.
M.L. said that he believed Pruitt was just around four or five seconds away from reaching Schumer during the incident.
Details of the encounter were previously mentioned in Pruitt's statement of offense.
The document described how Schumer and his security detail headed towards the elevators in the northern part of the Capitol Visitor's Center in an attempt to get the senator to a secure location.
After Schumer and the detail ran back down the ramp, Pruitt proceeded southbound through the Capitol Visitor's Center, toward a set of double doors that officers were guarding.
Pruitt eventually left the Capitol after being made aware by police that shots had been fired during the disorder on January 6.
While inside the Capitol, Pruitt threw a "Quiet Please" sign across an atrium, as well as a chair across a room in the Capitol Visitors' Center. He was also present as rioters confronted Capitol Police officers inside the building during the riot.
In his victim impact statement, M.L. described how his family feared he could have died on January 6, and that he still recalls the encounter he had with Pruitt.
"My wife and daughter understand that their husband and father could have died that day, like some of my colleagues. They will never rest easy whenever I go to work again," he wrote, reported NBC News.
"Every day I enter the beacon of our country, the U.S. Capitol, I relive the memories of that day, and none are as impactful as the moments I saw Mr. Pruitt approaching us with the intent to inflict harm to the Majority Leader," M.L said. "It was only due to our teams preplanning of alternate evacuations procedures and quick actions that this impending meeting did not result in blood shed or serious bodily injury."
Schumer has been contacted for comment.