Chuck Schumer Says Ending Filibuster Still 'On the Table' But We'll 'Test' GOP First
Democratic Senate Majority Leader Charles Schumer of New York has said that eliminating the filibuster will be "on the table" if Republicans fail to vote for legislation meant to "test" them.
Progressive Democrats have supported eliminating the filibuster in order to bypass Republicans opposed to President Joe Biden's legislative agenda. However, Republicans and some moderate Democrats say that eliminating the filibuster will kill any hope of senatorial bipartisanship.
In a Monday night interview with MSNBC commentator Rachel Maddow, Schumer said that if Senate Republicans don't support some of the Democrat's soon-to-be-debated legislation, then the caucus will explore its options—including eliminating the filibuster.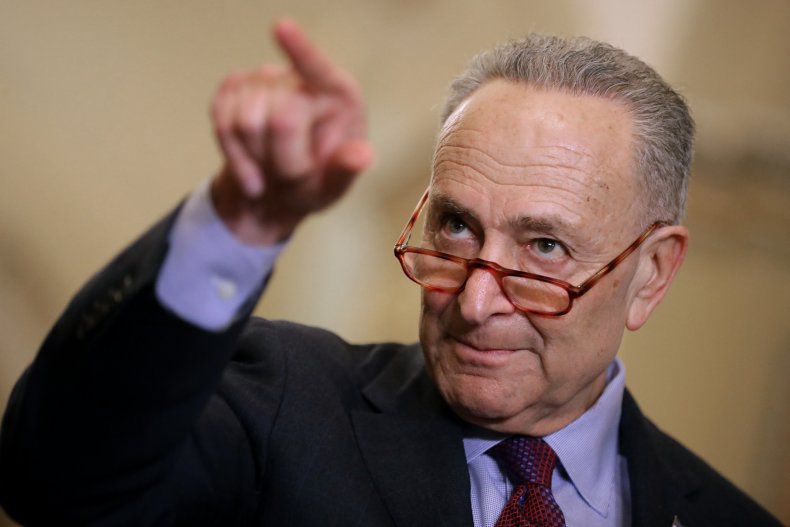 Specifically, Schumer said that Democrats will soon introduce a bill proposing background checks for firearms. Schumer told Maddow that 90 percent of the American people support such background checks as do 80 percent of gun owners.
Schumer took his percentages from a June 2017 Quinnipiac University poll and a 2015 Public Policy Polling (PPP) poll. PPP is a Democratic polling firm.
"We would welcome Republican support, no question about it.... If [Republicans] go along with us, great," Schumer said about the proposal. "But if not, as I said we're going to have to put our caucus together, put our heads together in our caucus and figure out the best way to go. Everything's on the table."
The Senate majority leader added that some Democrats want to test the Republicans for a longer period of time and others want to test them for a shorter period. Schumer said that he regularly discusses the issue in his weekly Monday evening meeting with his "leadership team."
The team includes Democratic Massachusetts Senator Elizabeth Warren, Independent Vermont Senator Bernie Sanders, Virginia Democratic Senator Mark Warner and Democratic West Virginia Senator Joe Manchin, Schumer said.
Last week, Manchin reiterated his commitment to "protect the filibuster" but said on March 7 that he was open to reforming its use. Manchin said he hoped to make using the filibuster more "painful."
On January 25, a spokesperson for Democratic Arizona Senator Kyrsten Sinema said that she is "against eliminating the filibuster, and she is not open to changing her mind about eliminating the filibuster."
Democratic Montana Senator Jon Tester has also said that he supports keeping the filibuster, but added that he would only support eliminating it if Republicans use it to obstruct Democratic legislation.
Comparatively, progressive Democratic Minnesota Representative Ilhan Omar wrote in a January 25 tweet, "Don't let Republicans' calls for bipartisanship fool you. When they were in power, they used every tool imaginable to pass their agenda. We must do the same. Abolish the filibuster, and let's pass bold, progressive legislation to deliver on our promises."
Newsweek contacted Schumer's office for comment.
Correction, March 16, 2021 2:44 p.m. EST — This story was corrected to say that Chuck Schumer is a Democrat, not a Republican.