Former CIA Official Says Russia Benefits Most From Trump Foreign Policy, Putin Must Wake up Thinking He 'Must Be Dreaming'
A former CIA official who oversaw the agency's Russia operations has claimed Vladimir Putin benefits the most from Donald Trump's latest foreign policy moves and suggested the Russian president wakes up in the middle of the night and thinks he must be dreaming.
Steven L. Hall, a retired CIA chief of Russian operations and CNN national security analyst, told network anchor Anderson Cooper that Putin likely believed Trump's decisions around Syria and Ukraine have been "absolutely fabulous."
He also criticised Trump for reportedly consulting with Putin and "two-bit autocrats" like Hungarian Prime Minister Viktor Orban on Ukraine, and described the U.S. president's overall dealings with Ukraine as a "veritable buffet of horribleness."
The Washington Post reported that President Trump's view on corruption in Ukraine was influenced by conversations about the country with Orban and Putin, according to unnamed officials.
It also revealed that George Kent, a deputy assistant secretary of state, had made similar assertions at a closed-door testimony in front of the House impeachment inquiry.
Asked by Cooper whether the decision to seek advice from the two leaders had jeopardized national security, Hall said: "You've got this veritable buffet of horribleness in front of us, and it's difficult for me to say which is the most horrible thing.
"That is certainly a terrible, terrible thing when you've got the president of the United States of America reaching out to a foreign leader and asking for that help, regardless of whether there's a quid pro quo."
The former CIA official went on to say there had been a "decimation" of Trump administration officials who understood Ukraine and Russia.
After criticising Trump for reportedly consulting with Putin and Orban over Ukraine instead of State Department officials, and mockingly describing the leader and his personal attorney Rudy Giuliani as "brain surgeons," Hall said: "[Trump] says, yeah I believe what Vladimir Putin tells me about this, and so I'll hold the [Ukraine aid money] money they need so badly.
"Why? To thwart Russian invasions and for their annexation of Crimea. How is this good for U.S. security? I do not understand."
When Anderson Cooper tried to draw the former CIA official's thoughts on whether Trump was a "puppet" of Putin, Hall said "none other than Vladimir Putin" had benefitted from Trump's harsher view on Ukraine and his decision to pull U.S. troops from northeastern Syria.
"Vladimir Putin is now running up and down the Syrian border with his military forces opposite Turkey with Russian flags, going into abandoned U.S. bases there and making a big propaganda deal of it," the retired CIA operative said.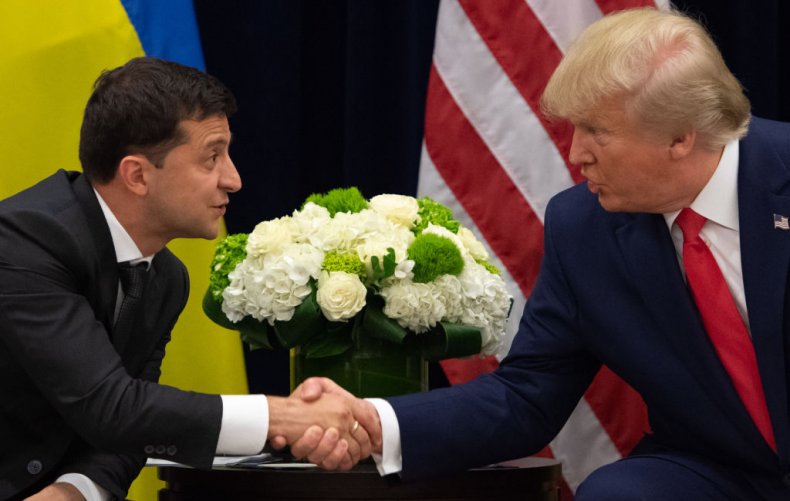 After pointing out that witholding funding from Ukraine would have benefitted Russia, Hall added: "Vladimir Putin must wake up in the middle of the night and think: 'I must be dreaming, this is absolutely fabulous.' It benefits nobody more than Vladimir Putin, in my assessment."
The former CIA official's comments followed a calamitous week for Donald Trump and his administration during which acting Chief of Staff Mick Mulvaney told a press conference that the White House had withheld military aid to Ukraine because it wanted the country to open an investigation into a debunked conspiracy theory about the Democratic National Committee and interference in the 2016 presidential election.
House Republicans also rebelled over the president's decision to withdraw troops from Kurdish-controlled Syria, with 129 voting with Democrats to condemn the move that has been viewed as an abandonment of a key U.S. ally in its fight against the Islamic State militant group.