Ex Trump Official Describes Mulvaney As 'Teenager In a Horror Movie' Writing 'Help Me' On Shower Door
Former Trump administration official Anthony Scaramucci argued that the president's acting Chief of Staff Mick Mulvaney should resign, saying he looked like a "teenager in a horror movie" who was writing "help me on the fogged shower door."
"I feel bad for him," Scaramucci, who served briefly as President Donald Trump's White House communications director, said Monday in an interview with CNN. "He's a good guy," he argued, but said that Mulvaney is "working for a terrible person."
"Let's just be honest, you can't work for a guy like that," Scaramucci said, referring to Trump. "He's a horrific manager. He's like a porcupine, and so every time you go to touch the guy you get cut up some way," he continued.
Discussing Mulvaney's controversial Thursday press conference and later defense of his performance in the briefing, Scaramucci used the "horror movie" reference. "Mick Mulvaney was like that teenager in a horror movie that was like scratching out help me on the fogged shower door."
The ex-Trump official additionally said that Mulvaney should "resign" and "go to confession."
Last Thursday, Mulvaney gave a press conference from the White House, during which he said that military aid to Ukraine was held up by the White House this summer because Trump wanted to pressure Ukrainian leaders to open an investigation into a debunked conspiracy theory about the Democratic National Committee (DNC) and 2016 election interference. The Trump official's remarks appeared to fly in the face of a key Republican talking point that there was "no quid pro quo" in the president's pressure campaign against Ukraine, which is at the center of a fast-moving impeachment inquiry led by Democrats in the House of Representatives.
Mulvaney asserted that Trump had "absolutely" mentioned "the corruption related to the DNC server" in relation to Ukraine military aid. "That's why we held up the money," he said. "The look back to what happened in 2016 certainly was part of the thing, and he [Trump] was worried about corruption in that nation," the acting White House Chief of Staff added later in the press conference.
When pressed by a reporter, who said what he was saying sounded like a "quid pro quo," Mulvaney shot back: "We do that all that time with foreign policy." He argued that people concerned about political interference in foreign policy should "get over it."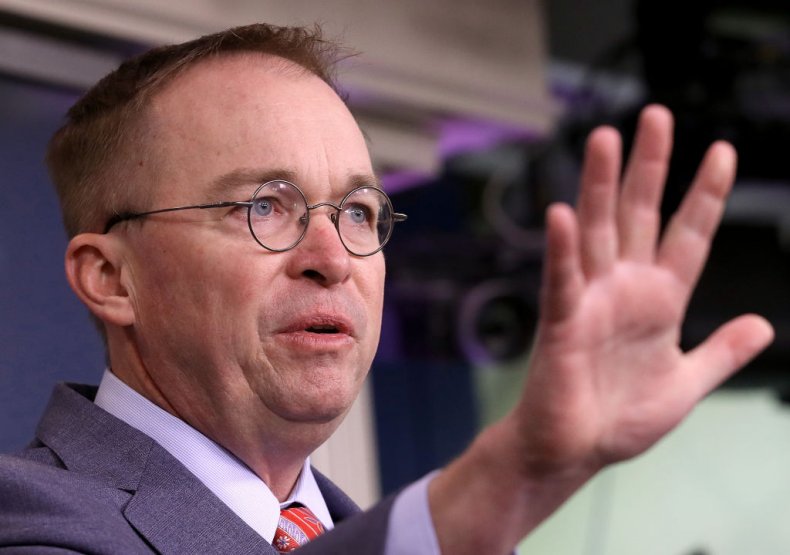 After significant backlash, Mulvaney attempted to clarify his comments later on Thursday, arguing that they had been mischaracterized. "Once again, the media has decided to misconstrue my comments to advance a biased and political witch hunt against President Trump," he said. "Let me be clear, there was absolutely no quid pro quo between Ukrainian military aid and any investigation into the 2016 election."
During an interview with Fox News Sunday anchor Chris Wallace this weekend, Mulvaney tried to explain himself further. "Reporters will use their language all the time," he said. "My language never used 'quid pro quo.'"
However, even some Republicans in Congress have expressed concern about Mulvaney's apparent admission. "I don't see how you walk back something that's clear," GOP Representative Francis Rooney, who represents Florida's 19th District, said during a Sunday interview with CNN. "I would say game, set, match on that."