'Cinderella': Release Date, Cast, Trailer, and Plot
We all know the classic fairytale of Cinderella, a young girl who is mistreated by her step-family but finds love with Prince Charming after her foot fits into the glass slipper she lost at the end of the ball.
Amazon Prime Video is hoping to give the folk tale a modern twist for the new generation.
The film is the first major live-action remake of the story to be made since Kenneth Branagh's 2015 live-action flick starring Lily James and Richard Madden as Cinderella and Prince Charming.
And Newsweek can now reveal everything you need to know about the film, including cast, plot, and release date.
When Is Cinderella Out?
On August 27, Amazon Prime Video announced via Twitter that the film would be released on the streaming service worldwide on September 3rd.
Promoting the film ahead of its release, the VOD platform wrote in a Tweet: "If it's a Million to One, @camila_cabello is gonna be that one. #CinderellaMovieis coming to @primevideo September 3."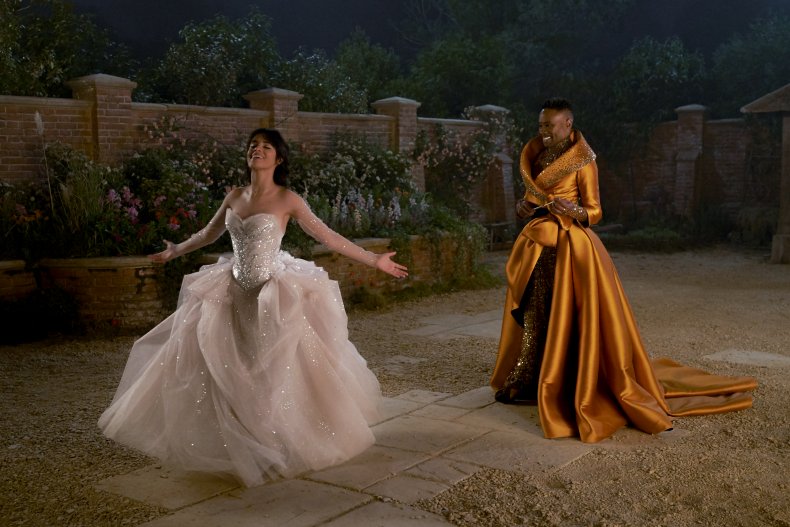 Who Will Star in Cinderella?
Singer Camila Cabello makes her acting debut in the title role, and Broadway star Idina Menzel will portray her stepmother Vivian.
Billy Porter, meanwhile, has taken on the role of Fab G, a gender non-confirming fairy godparent to replace the usual fairy godmother.
Minnie Driver will play Queen Beatrice, with Pierce Brosnan portraying her husband King Rowan, and Nicholas Galitzine takes on the role of their son Prince Robert.
Comedians James Acaster, Romesh Ranganathan and James Corden will also appear as mice-turned-footmen John, Romesh and James, respectively.
Other cast members include Maddie Baillio and Charlotte Spencer as Cinderella's stepsisters, and Beverley Knight in an as-yet-unknown role.
What Will Happen in Cinderella?
Cinderella is a classic fairytale, but given the film is a modern retelling of the story it doesn't just focus on her love story it will also see her trying to achieve her own dreams of becoming a dressmaker.
The character is keen to pave her own path and open up a store named "Dresses by Ella," but after meeting Prince Robert at the ball she will have to decide whether she wants to follow her heart or pursue her dreams.
Is There a Trailer for Cinderella?
Yes, Amazon Prime Video have released a trailer for the film, which has already amassed over 10 million views on YouTube.
Like all good trailers, the clip gives fans a taste of what's to come in the revamped version of the story without giving away too much.
Cinderella is set to be released on Amazon Prime Video on September 3, 2021.