Circus Elephant Nearly Crushes Audience After Being Pushed By Two Others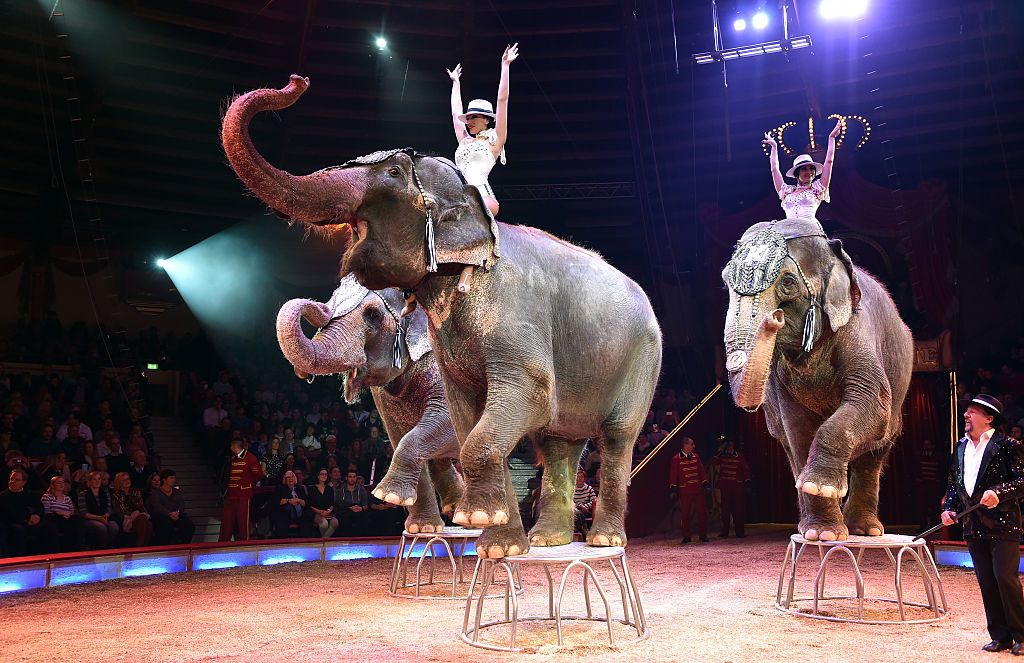 A circus elephant performing in Germany nearly crushed audience members when two others pushed her into the audience last week.
People for the Ethical Treatment of Animals (PETA) shared the video Friday, calling on the German government to outlaw circuses from forcing wild animals to perform.
"The country is one of the last in Europe that has not yet imposed such a ban," PETA said on its official website.
In a video of the incident, spectators can bee seen rushing from their seats as the elephant, named Tompteusen, carrying a female performer topples into the seating area. According to Metro, nobody was seriously injured but at least one man suffered cuts on his leg, circus organizers said.
Circus staff quickly stepped in to control the elephant using a chair and bullhooks. After the animals were brought under control, the performance continued, The Independent reported.
PETA said that Tompteusen's leg was injured and swollen, causing her to be off balance. The organization urged lawmakers to take steps to ban animals from such performances, arguing that being forced to perform under the threat of violent punishments leads to such scary situations.
The incident occurred at a show organized by Circus Krone in the town of Osnabrück on Wednesday. In June, the same circus had an elephant named Kenia escape and wander through a nearby town. Although nobody was injured and traffic was only temporarily disrupted, the circus company has faced increasing criticism of its treatment of animals.
"PETA Germany has been exposing cruelty to animals at Circus Krone for years. Elephants used by the circus are reportedly tied up for 18 to 20 hours a day," PETA said. "Authorities found that when not on tour, it keeps animals in conditions that violate numerous animal-welfare regulations, including confining them to small enclosures."
Wild animals seem to be exceptionally restless in Germany as of late. At the beginning of June, residents in the town of Lünebach were urged to stay indoors after two lions, two tigers, a bear and a jaguar were on the loose. The animals escaped after a storm flooded the zoo and damaged their enclosures overnight.
The Local reported that there have also been several other wild animal escapes in Germany in recent months.
Two zebras ran away from a circus in Ludwigshafen, another town in western Germany, back in March. Prior to that, in December, three camels also got loose in the municipality of Aldenhoven.