How Does It Feel to Be on ISIS's Hit List?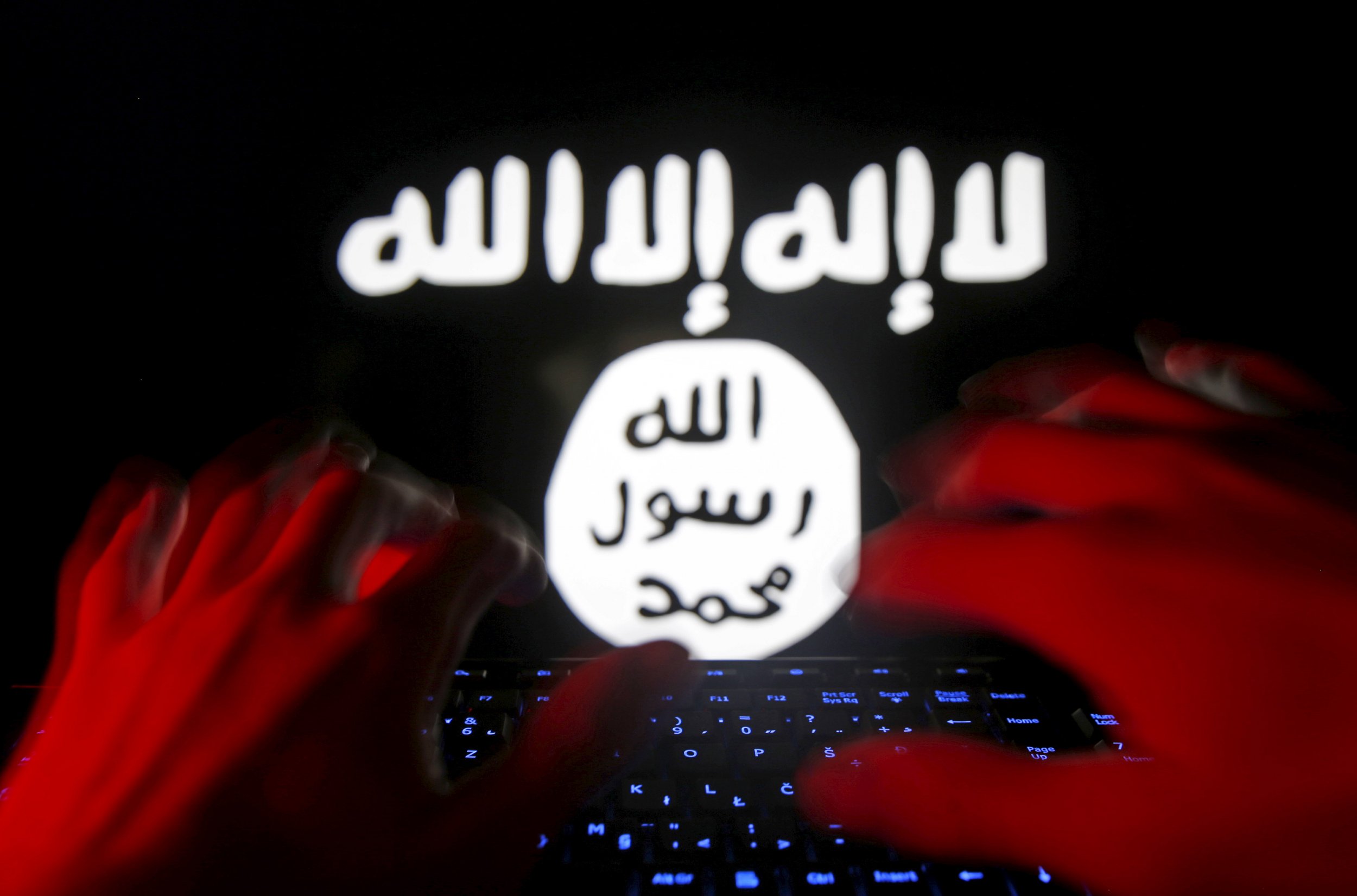 After every tragic extremist attack in a capital city, be it Paris, Brussels or Beirut, dark thoughts inevitably creep into our minds. A sudden jolt as the tube stops in a dark tunnel, unexpected turbulence on a plane, or the sight of armed police patrolling the streets can make you briefly wonder how it might feel if you, or someone you love, was caught up in the carnage of a militant attack. But what if supporters of a radical Islamist group knew your name, where you lived and your phone number, with the order already given to target you?
Thousands of New Yorkers are now coming to terms with this terrifying prospect after a hacker group affiliated to Islamic State (ISIS), calling themselves the United Cyber Caliphate, published a seemingly random list of some 3,500 New Yorkers, the majority Brooklynites, several weeks ago on the encrypted messaging app Telegram. The threat is serious enough that the FBI and the NYPD are visiting and notifying all of those on this hit list.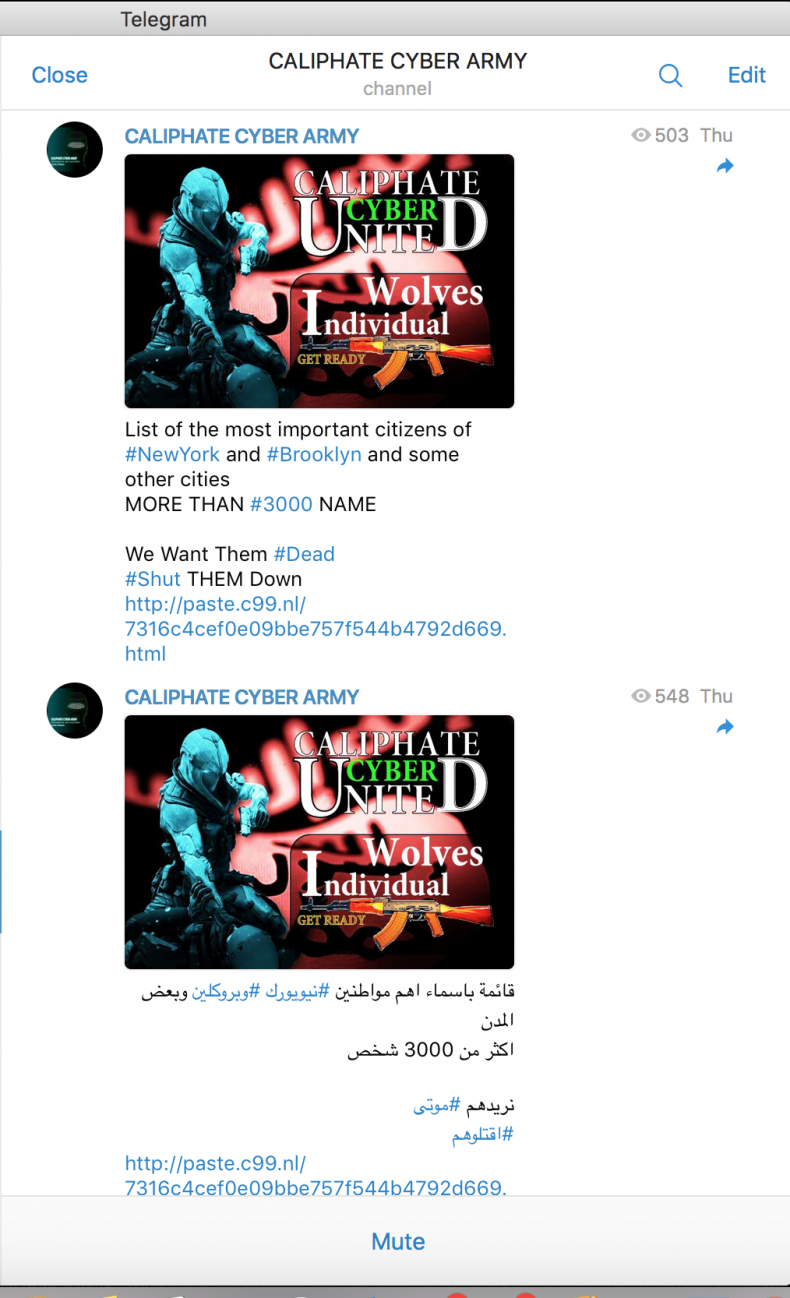 Newsweek secured access to the ISIS hit list, which the hacker group released alongside the message: "List of the most important citizens of New York and Brooklyn and some other cities. We Want Them Dead. Shut THEM Down." The list includes many outdated phone numbers and addresses but Newsweek was able to confirm that many are indeed authentic. It remains unclear how the hacker group managed to obtain the database of New Yorkers and their personal information.
The group has previously released sensitive information of key United States security personnel, such as Director of National Intelligence James Clapper, Director of the CIA John Brennan and even a possible future President of the United States, Hillary Clinton.
Now, its scare tactics have evolved to include targeting ordinary people, with this leak marking the biggest release of civilian data since ISIS rose to global prominence in 2014. This highlights the group's emphasis on persuading its supporters to conduct attacks on American soil. In response, the U.S. Department of Defense in March announced plans to use its superior cyberwarfare capabilities against ISIS to damage their online operations.
The psychological impact on those included on this macabre roll call could be seriously damaging, playing on any emotional fears they might already hold about radical Islamist groups. Others might just shrug it off—seeing the list simply as a scaremongering tactic.
A creative residing in a New York borough identified on the list, who asks not to be named, falls into the former category. The NYPD paid her a visit, offering her a FBI number to call if she felt threatened and followed up their visit with an email. But this did little to calm her fears.
"I'm such a scared rabbit that I've never even had a traffic ticket in my life," she says. "Basically when they saw how freaked out I was, they said that they don't believe this is credible."
She says that the news brought on a fear that has affected her life. She feels helpless because there is little she can do to protect against this cyber-threat. "When they told me this I was very anxious. I am shaking again. Basically, what can I do except continue to live my life? There's really nothing I can do to change."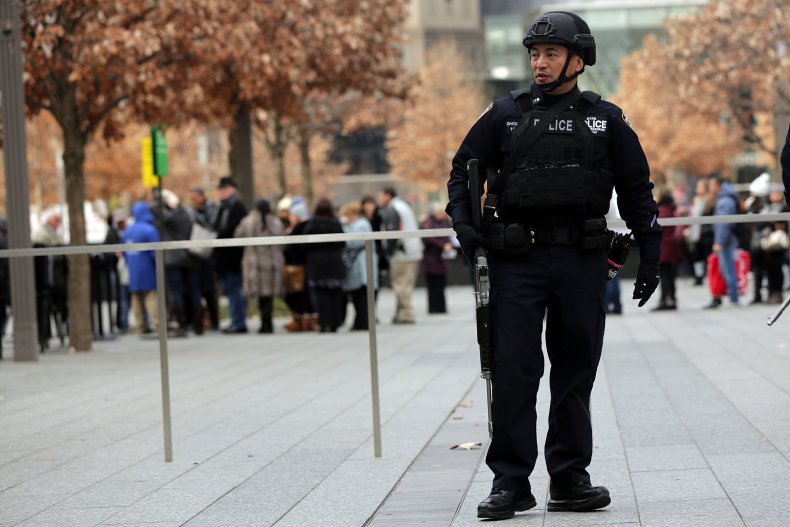 While her fears will surely be shared by many on the list, others expressed defiance and seemed relatively unfazed by their visit from the FBI.
Another New Yorker listed, who also wishes for his information to remain anonymous as he does not "want any publicity from this," says that he was visited by the FBI and laughs at being contacted about the list, saying how little attention he has been paying to the online threat.
"I don't take any of this very seriously. Everything was outdated regardless of what they found," he says. "I had forgotten about it and I don't think it's that big of a deal."
An artist from Brooklyn listed by ISIS initially decried the group's new tactic of releasing the personal information of civilians as "lame" and that she feels little threat from the group in New York because of the sheer size of human activity in the Big Apple.
"I totally forgot about it. It's remote over here and just gathering my information is easy, anyone could do it. My information is available to everybody through my website. So them gathering it is like so what?" she says. "I just don't feel any threat from ISIS over here, because I'm in New York and this whole city has so much going on anyways, it's difficult. I just don't see them scratching the surface."
After publication, the artist requested that her identity be removed because of security concerns, showing the fear-inducing power of this sinister tactic on ordinary people.
The group's strategy of releasing such lists was started by the group's prominent British hacker Junaid Hussain, who the U.S. coalition killed in an August 2015 air strike. The call for foreign ISIS supporters to launch individual attacks in their home countries was launched by the group's external operations chief and spokesperson Abu Mohammed al-Adnani in an audio statement released in September 2014. He called for ISIS' cult followers to "kill a disbelieving American or European—especially the spiteful and filthy French—or an Australian, or a Canadian...in any manner or way however it may be."
Michael Smith, an adviser to the U.S. Congress and co-founder of national security firm Kronos Advisory, says that the hacker groups affiliated to ISIS are now acting as enablers for the group's online supporters, something that is more dangerous than the low-level cyber attacks they have been attempting, such as hacks of Twitter accounts or websites.
"The most serious of the threats posed by this network of hackers is their ongoing efforts pumping out these hit lists. By publishing these lists, they are increasing the ease with which somebody can act by providing targets," he says. "If you suddenly decide, Oh, I want to support this group, and ask, What is the best way to do it, they are saying, Here are targets—go kill these people."
Smith says that the group is increasingly promoting these lists on Twitter and Telegram, the lifeblood of their propaganda machine, in a coordinated effort between the group's propagandists and the ISIS-affiliated hackers to direct their members, as well as prospective recruits.
"It's sending out a signal that's very important to a global audience: There's an opportunity to support the Islamic State by using your knowledge and skills to do potentially catastrophic damage..." he says. " If [a supporter] were to obtain these lists and use that information to identify a target or various targets for an attack, it will increase the fear factor, and that's part of the theater of terrorism."
The FBI, in a statement released to Newsweek, would not comment on the credibility of this particular threat but said that visits to those listed are a normal procedure. "The FBI routinely notifies individuals and organizations of information collected during the course of an investigation that may be perceived as potentially threatening in nature," it reads. "Potential threats may relate to individuals, institutions, or organizations, and are shared in order to sensitize potential victims to the observed threat, and to assist them in taking proper steps to ensure their safety."
Whether ISIS' latest list of New Yorkers and their details is a simple scare tactic to reach those in the heart of the group's most coveted target, the United States, remains to be seen. But some New Yorkers are clear that they have more realistic threats to contend with in the near future.
The Brooklyn artist, who initially refused to be cowed by her inclusion on the list, says that a particular New York native is more of a threat than the radical Islamist group could ever be to America's national security. "I am more threatened by Donald Trump and more terrorized by his existence than by ISIS," she says. "He's a terrorist and I am so frightened of him. I speak for a lot of people."
The original version of this story included the name of a person on the hit-list. Upon publication, that person became concerned for their security and Newsweek has removed their name from the story. The article has been amended to reflect their change of heart.